Jun 26, 2013
Last summer, I fell madly in love with the Torrance Farmer's Market. I love it because it's big so there is a lot of selection, but not so big that you can't get to know the vendors. I looooove that it's a year-round market (since you know, 2 weeks of rain is 'winter' down here) and most of all I think that the concept of local citrus, and local avocado and omg local dragonfruit (whaaaat) is so so otherworldly. It is very temping to walk through your local farmer's market and buy healthy, delicious produce at random. If you eat a lot of raw fruits and veggies that can probably work for you, but if you're aiming to make meals from as much of your haul as possible, it's generally wise to show up with a list.
Yeah, I know. But I'm making lists again!
This is what I brought home with me this week…
Beets, carrots, kale, cucumbers, lemons, limes, oranges, blackberries, blueberries, strawberries, ginger, shallots, garlic, onions, white peaches, white 'donut' peaches, apricots, grapefruit, purple grapes and avocados. Not pictured whole wheat pita bread, whole wheat pita chips, jalapeño feta (I know right??), a layered feta / sundried tomato / pesto dip, artichoke hummus and beet hummus.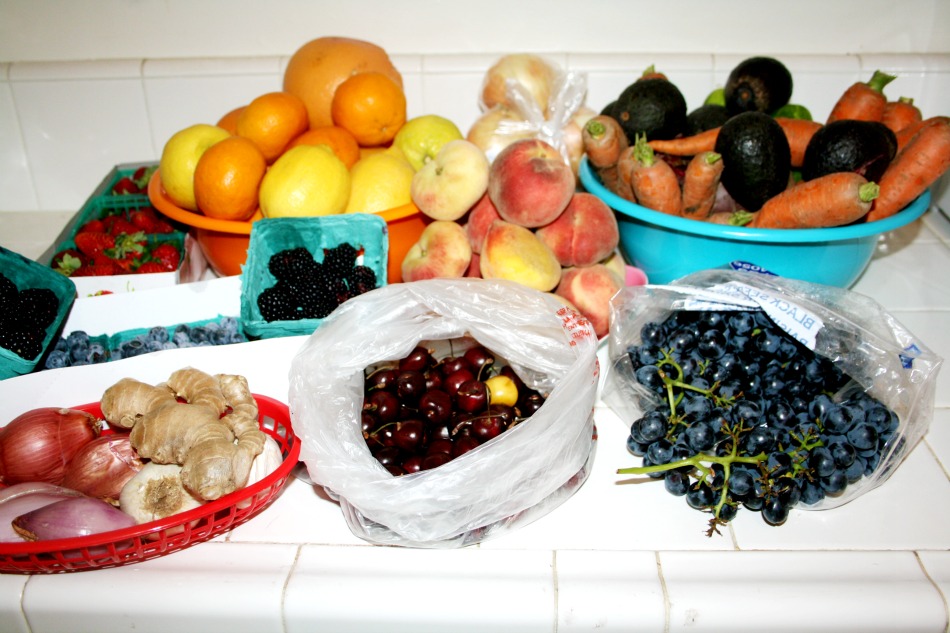 Of course, the very first few recipes that run through my mind when I stood back to look at my loot were from Peas and Thank You, a few Deceptively Delicious recipes came to mind too and naturally, Undressed Skeleton. Here are some things I've already posted about that will end up happening this week here, and I'll follow it up with a loose plan for the week.
Ideas for this week's meals and snacks! I will take pictures and post about them next week!
Adding beet puree to whole wheat pancakes (made with flax and almond milk instead of eggs and cow milk) for breakfast is a hit with all of us!
Dressing up rice cakes or flatbread with non dairy 'cream cheese' and fruit
Dressing up rice cakes or flatbread with smashed avocado and nuts
Dressing up rice cakes or flatbread with jam and berries
I'm going to swap my berry smoothie for some fresh beet / carrot / apple juice – apparently, it's amazing (and amazingly healthy, natch)
Whole wheat (from scratch) garlic bread.
Frozen grape skewers topped with non dairy vanilla pudding and dates or prunes or raisins (I haven't decided yet) 😉
Chick pea and kale falafels
Red velvet cupcakes with beets and non dairy 'cream cheese' frosting
I will also make some candied carrots for the kids as a side for dinner and mix some beets into mashed potatoes for pink potatoes!
Oh and pies!! I promised my husband pies!
Lemon meringue pie!
Cherry pie!
Blueberry tarts!
Maybe a peach pie too, we'll see!