May 23, 2012

Pretty
,
Window Shopping
Just LOOK!! I love, love, love every single item in this shop. Octopurse is based in Belgium and kicks out adorable purses, pouches, card holders and paperback book covers. Everything is so cute! I am especially in love with these little purses and card holders, but there are pages and pages of cuteness in this shop.
I love the Little Red Riding Hood purse and London card holder more than everything on my wish list right now (Sleeping Beauty is pretty amazing too). Ah. Door. A. Bull.


Mar 14, 2012
This week's Window Shopping Wednesday is a special one!! I love this shop and have bought Scrabble tiles and trays for crafts and baker's twine for wrapping up kitchen creations here. Keeley, of Keeley Behling Studios not only agreed to do an interview with me about her shop and crafting in general, but she's going to give one of you a present! I know right?! You're so lucky!

As you know, I have a serious weakness for baker's twine and Scrabble tiles. What item do you find you sell the most of?
Twine, twine, twine! There are so many color options and so many things you can make with it! I think it is also one of the things I use most in making other items. It's great for card making, gift wrap, embellishment, and so much more. It's the first thing I grab when I am in a rut when making something.

Do you ever buy stuff for your shop and love it so much you can't part with it?
All the time! That's actually how I started my little shop. I would go treasure hunting (thrifting) for vintage items and craft supplies, bring all the wonderful treasures home and have them sit around and never be used or enjoyed. One of several reasons for starting my shop was to sell some of those items to others who truly had the time/ space to enjoy them. It's gotten easier over the years to let things go but occasionally I will find something and hang on to it.

What is your favorite item in the shop right now?
I would have to say my favorite item in my shop right now is the really small cobalt blue jars. I love the deep blue glass and there are always so many uses for them. Right now I have some that I am using to make my own essential oils.

What do you find yourself crafting when you have the time?
I really enjoy crocheting. I am one of those people who can't just sit and watch TV, I have to do something too. I constantly need to keep my hands busy so my mom taught me to crochet when I was really young and I have not stopped since.
Starting your own business can be challenging under the best circumstances, what spurred you to get started?
I had wanted to start my own business for several years but didn't know really what I wanted to do or how to go about all the details. I was asked to do a show at a friends house and found that all the things I was worried about were not as difficult as I had originally thought. Within six months I had my etsy shop up and running. There was very little focus in the beginning for me. After all, it started out more as a hobby and something that I just enjoyed doing. It took me a year to discover where I really fit and how I wanted my shop/ business to become, a place where others could find unique, quirky, and unusual items.

How do you keep personal crafting / life separate from the shop?
Well my personal crafting and the shop have to share a room like siblings. It can get a little chaotic at times but it all works out in the end. Usually my personal crafting becomes a gift, something I put in my shop or take to a show. As far as my life and my shop that's a bit more difficult. Because I run my own business it's up to me to keep everything afloat. There are never enough hours in the day to do everything I would "like" to do, but in the end the have to's get done and the rest can wait til tomorrow.
What is your favorite dish to cook or bake?
I have a bit of a sweet tooth so when we go to large gatherings I love to make this yummy chocolate fudge brownie trifle.

What are you reading right now (or what was the last book you read)?
Well I'm not much of an avid reader. I enjoy perusing design books and cook books for inspiration. My husband and I recently purchased our first house so I am always looking for ideas, how to fix something or the grand idea, "I could make that…". I started receiving a subscription to Better Homes and Garden's this year and have thoroughly enjoyed reading the latest issues. Pinterest also takes me to some amazing blogs and articles that help in my inspiration process


Feb 15, 2012

Domestic
,
Window Shopping
That's right, Window Shopping Wednesday is back!!
I just love handmade and vintage shops too much to not post about them. I also have an incurable addiction to baking/crafting supplies so there's that too. Lately I have been drooling over the vintage kitchen gear at French Attic Finds. It all reminds me of my grandmother and makes me want to do my entire kitchen up with items from this shop.
French Attic Finds is a weekly updated Etsy shop with treasures from France!
Just look!!


Nov 3, 2010
This is part nine of my Window Shopping Wednesday series, this time focused on a single store, Little One Books. I'm featuring this store because their selection is unlike any other in that all their books are handpicked by the couple that created it! They have over 700 books, music and videos and they have all been chosen based on content and readability. Each book even has a 'why we chose this book' write up explaining in great detail what made this book stand out.
Before I go any further, I want to mention that the book I was sent was packaged well and in perfect condition! I am mentioning it because all too often I'll order something with a set of expectations because it's from a well known company and when it arrives it's falling apart. Very well done on that front, Little One Books!
The book I requested when I was given the option? Where the Wild Things Are, of course! I have loved this book since I was first read it as a child by my parents, who had read it to their Godchildren before I was even born! Timeless and fun!
They have also put together bundles of themed books, music and videos! From Quiet Time to Let's Sing and Dance, they've got a nice selection and they are well matched up!
Want a $25 gift certificate to Little One Books? Here are all the ways you can enter this giveaway – just be sure to comment here and let me know what you did to enter!
1. Head over to Little One Books and sign up for their newsletter. (1 entry)
2. While you're there, have a look around and let me know in the comments which book you'd pick if you win. (1 entry)
3. Head over to Little One Books on Facebook and become a fan. (1 entry)
4. Follow Little One Books on Twitter. (1 entry)
5. Tweet that you've entered this giveaway! Mention me (@soverydomestic) and Little One Books (@littleonebooks). (1 entry)
Remember, you don't have to do all five things to enter, each one counts as it's own entry!
This giveaway will run for two weeks, closes November 17, when a winner will be chosen by random.org. I will email the winner immediately and they'll have 48 hours to claim the prize – if the winner does not claim their prize within 48 house, we'll use random.org to choose another winner. Good luck!

Oct 20, 2010
I have fallen head over heels for recycled glasses. I came across an Etsy shop called BootleHood and am even more in love. These Dr Pepper bottles-turned-glasses are swoon-worthy. I looooove them.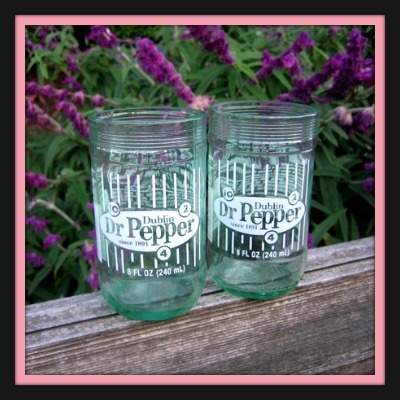 These recycled wine glasses are beautiful too. As much as I love the prints on the other glasses that make it obvious they are recycled, these ones are proof you can made recycled goods look better than new. They're lovely and clean so they'd work in a modern kitchen, but pretty much all glass wear will work in any kitchen theme.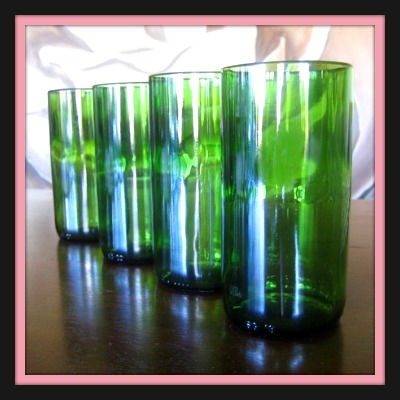 Now, proof that new, modern pieces like the recycled glasses above can co-exist happily with fun vintage finds! These ashtrays (or candy dishes), found at Stock in Trade are vintage but well kept and they would be perfect alongside any of these glasses! These dishes were meant for game night, yes?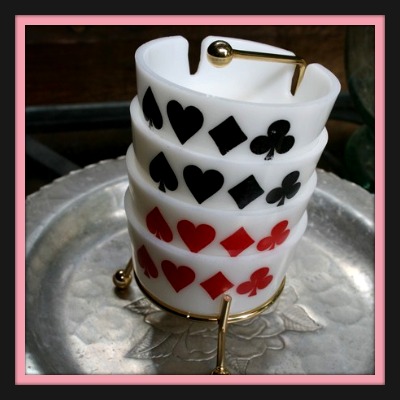 Another item from the same shop, hi-lighting the same idea, vintage and modern, happily ever after. I would run off with this pot. I'd make sauces in it all day.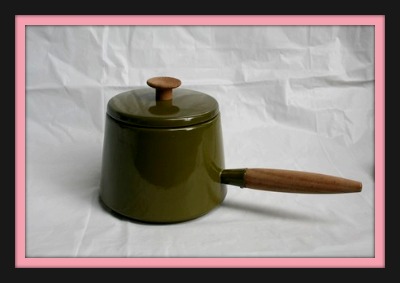 Naturally, I can't have a kitchen edition of Window Shopping Wednesday without aprons!! In keeping with the modern meets vintage theme of this week's installment, here are three much-loved aprons from Mia Sorella Aprons. All three would work in either a modren or retro kitchen.
I am, no surprise, especially in love with this one.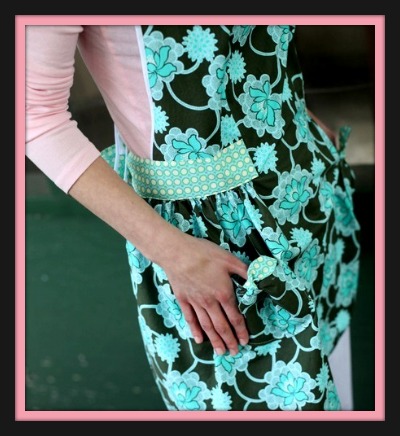 Gear up for a post tomorrow about what I made for the kids' school for Thanksgiving!

Oct 13, 2010
I have been itching to sew, but there is knitting to finish up and some random bloggy stuff to attend to first, so for now, I will just drool over fabrics and patterns. <3
I had six more images in this post, but I took them down because I they were crowding these patterns! I want to order every pattern from this shop and sew them all for my girls. Anyone want to come keep my house as impossibly clean as my husband has come to expect? That'll teach me. 😉
I have an overwhelming urge to sew up some cute dresses from gnome fabrics!!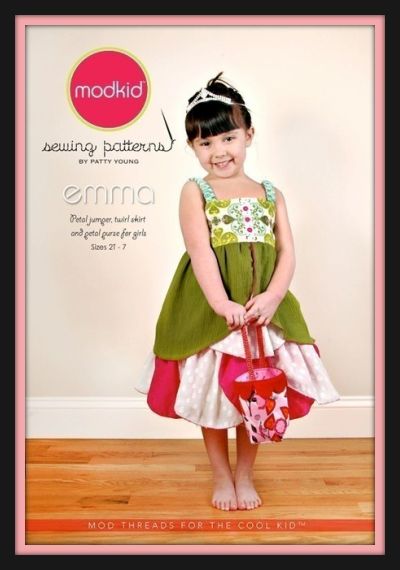 Oct 6, 2010
Living out in the middle of nowhere has made me more grateful for my friends than ever before. Some of them I'd see literally every weekend, some even more often than that (hi Gill!) and some friends about once a month. Now that I've moved a couple of hours away and some of those friends have moved even further (hi Talea, hi Brigitte!), we are all about texting and emailing and talking on the phone – and letters!! That's right, good old fashioned letter writing! Talea mailed one a few days ago and texted me that I'd be getting it 'when the pony express made it's way through town'. So, naturally, I'm now on the hunt for stationary and fun letter writing gear!
I found this neat organizer that looks perfect for stamps, a pen, post cards and an address book or note book. I have found that while a letter writing box or area at home is great, you really need all your gear on you and quickly accessible when you want to send post cards on road trips.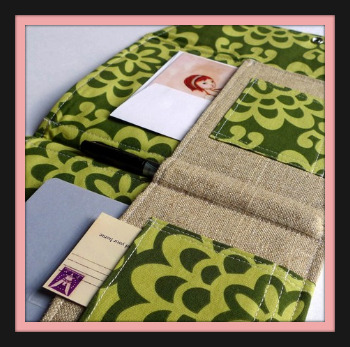 My husband is always off to the next town after we pick up post cards, so if I want the post mark to match the town on the card, I have to get that sucker in a mailbox and fast!! This little number just jumped to the top of my wish list!
This sweet Etsy shop is probably for scrapbooking, but I can only see the endless possibilities for other paper crafts! Cards and stationary galore! Super cute papers!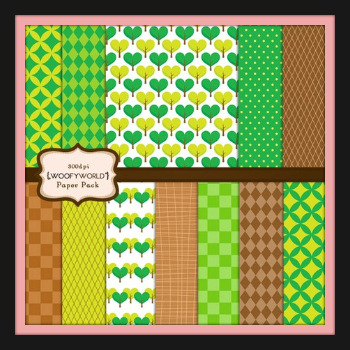 I am also in love with the clip art.
Now that I have a bean field out my back window, this clip art is so fitting it hurts!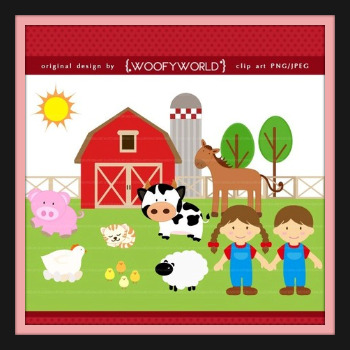 These wee notebooks are too cute to not post, though I'm not totally sure what I'd put in them. Maybe a nice, long, catch-up style letter? Or maybe they could be shared, long distance journals (!), now there's something I haven't done since junior high!
it occurs to me that I have no actually posted any stationary! Maybe next week I'll have some to post. For now, I'm loving these finds and maybe I'll spend part of this week making some stationary for my friends!! I will keep you posted!

Sep 29, 2010

Domestic
,
Window Shopping
This Window Shopping Wednesday is all about my kitchen. My new country kitchen feels like it could fit into any era, with the knotty pine cabinets and white walls and floor. However, when it comes to all things domestic, I am hopelessly trapped in decades past – except my kitchen power tools! I do love to pick up my mixing bowls and attack them with a wooden spoon from time to time, and I always make pie crust the old school, but I need my Kitchen Aid, just sayin.
I'm posting items from two Etsy shops here, Our Retro Toybox and Betty's Kitschen, I want every item from both stores, just FYI. 😛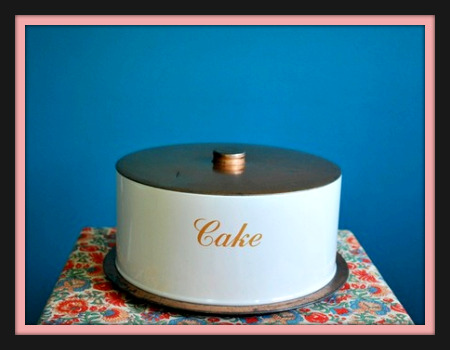 If this cake carrier found it's way into my kitchen, I'd proudly leave it out all the time in the counter between the microwave and my Kitchen Aid. I also bet I'd cheat and after a few weeks of cake, there would be a pie in it – or tarts! It is beautiful in its vintage charm and clearly useful in that living in the country now, I totally have flies in my house (not gross ones though!)
If this set happened to be set out on my kitchen table one day, I'd make Greek coffee (or instant Starbucks Italian roast in a pinch) and invite a neighbour over. Or at the very least, since we live in cottage country and most of our neighbours are back in their Sept-May lives somewhere far away from here, I'd make some coffee cake and hang out with my husband. <3
And even though they're not kitcheny, I really adore this vintage sewing basket, this copy of the Wizard of Oz and this trinket box.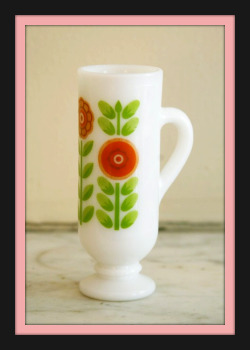 This cup makes me very, very happy. Happier than a photo of a cup should, but it's so cute! I also love that it's not a set, and if I had it it'd be my morning espresso cup (I don't do cappuccino when the cup allows for espresso).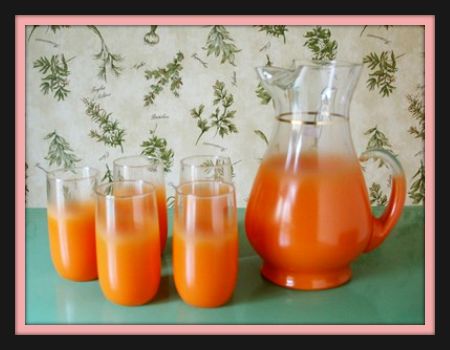 Cuuuuuute. This pitcher set makes me squeal with delight. Gah! It's so sweet!
This shop has fun non-kitcheny stuff too. Top loves; white rose pins, milk glass vases, and this ceramic planter.
I love Window Shopping Wednesdays! I can't believe it's been so long since I've done one!!

Apr 7, 2010
Part 4 of this new weekly venture features a seemingly random collection of wish list worthy gear I found while digging through a 'must have' folder in my bookmarks. Some items have sold out, but there are so many other treasures to be found with these sellers!
I was looking for ribbons to use as handles on a knitted bag and I found Griffith Gardens, full of beautiful ribbons and crocheted flowers. I especially love the double sided black satin ribbon! The crocheted flowers are well crafted – most of the stock at this shop is crocheted; scarves, letters even (love this!), coasters, throws and on and on.
I adore this bag more than any other in this week's collection. Love, love, love it! It's so sweet and girly and then you look a little closer and BAM, skulls. <3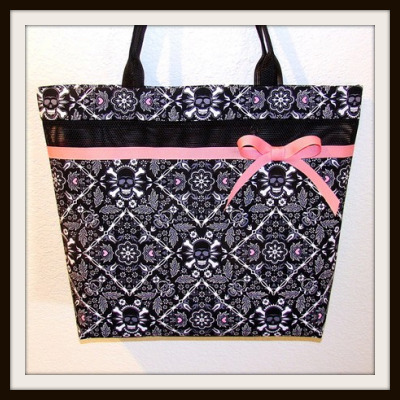 Once on a bag rampage, I came across HautTotes, and immediately I was in love and I think these four examples can help explain why. Especially the Christmas pin up girls and the zebra print. I'd wear them all. the. time. The wee bows on the collection are sweet, enough to make them part of a set but not so much that it takes away from the bag. Pretty!
This apron is officially on my personal wish list. Last time I posted something here hoping I'd get it for Christmas the hint was not taken (joke's on me) so this time around, I will buy this for myself! There are even matching pot holders!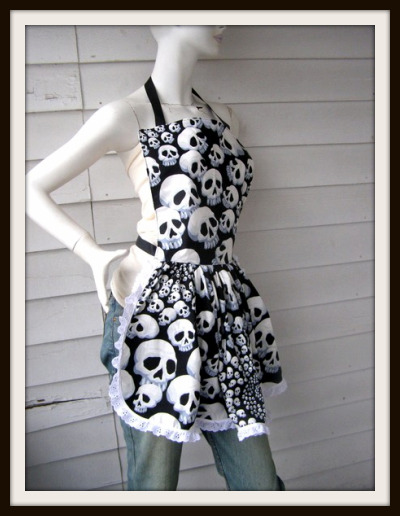 Of course this little gingerbread number stole my heart, but seems to have been moved or taken down or lost in the dark recesses of the internet, but it was lovely and so very festive! The Zelda pillow is really close to home for me. Mr. SoVeryDomestic has an original Nintendo comforter that we still use from his childhood. On it are Mario and Luigi of course, the Princess, Bowser and hilariously, Link! I can't think of a good reason to wear a vendor apron, aside from being a vendor, but they're so cute I'd love to wear one.
Naturally, the next event in this chain is shopping for fabric to make amazing aprons! Duh! I was going for robots and man, did I ever find them over at Voodoo Rabbit. Not only robots but, 'fabric, buttons & sewing supplies for the dark arts & craftist'. Fantastic! We'll start with robots and move on to Spidery Web, Pink Skull Pinstripe, How to Get a Husband fabric is beyond amazing. <3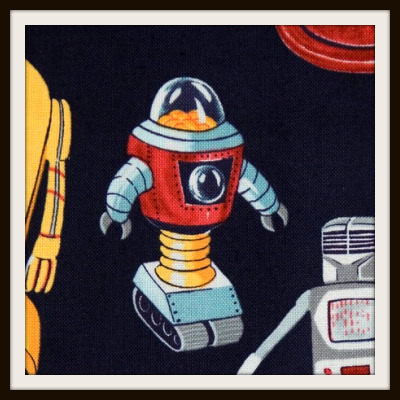 Feb 24, 2010
It's Window Shopping Wednesday again! I love writing these posts because essentially, it's just a really detailed version of my wish list! Because I link directly to the items I'm talking about, you'll often find them sold out when you click on them. All of these shops are full of fun, so you'll find other amazing gear, also sometimes shops will re-list what's already sold so poke around.
Today's collection of found gear is all stuff I'd *love* to have for Easter, though it's pretty obvious even to me that I can't possibly use it all. 😛
I came across Cupcake Social a few months ago when looking for snazzy cupcake liners. I found these really sweet mini tulip ones and thought of Easter right away. Doesn't even matter how you decorate the cupcake with liners like these! Of course the cupcake toppers, both of the plastic and royal icing varieties are must haves and these ones are all so cute. I love the vintage feel of the plastic ones, and the other ones really help pull together a finished cupcake treat! And seriously, how pretty is the blue sanding sugar against the pink frosting in that last pic from this shop? Very, would be the correct answer.
The Easter selection over at Hey Yo Yo is a wonderfully retro, blindingly neon assortment of all the weird Easter stuff my Grandmother had when I was little. I vividly remember that bunny head cake topper (or one amazingly close to it) and the sugar buttons. She had tiny little sugar treasures like that in all sort of shapes and sizes. These ones are the brightest I've ever seen and for sure I'll be ordering some for my kids this year. My Grandmother is going to love seeing them. The toppers are sweet and ideal for the kids Easter party at home (so I can keep them and use them again!), and those carnival ducks may end up on the windowsill in my kitchen permanently. They are darling. I just said darling. Apparently, I'm even more stuck in the 50s than I thought. 😉
I also need to note now that because this is an Easter Window Shopping post, I'm not going to go on and on about all the other amazing gear in this shop. Hello vending machine capsules, kissing dolls, and paper straws!
I have been a little ok totally obsessed with Bake it Pretty since I found it sometime last year. The four items here are a great example of why I love them so (not to mention all their wonderful packaging supplies)! These cookie cutters are perfect for sugar cookies for wee one #2's kindergarten class! Either decorated with seriously detailed icing or just sanding sugar. I'm thinking white and pink for the bunny (gotta have the pink ears of course) and bright yellow for the chick. Gah! So cute!
The kits are such a great idea. The 'Happy Easter Treats Kit' has wee gift tags and themed twine. The 'Easter Fun Kit' has two different kinds of cupcake liners (24 total) and two different toppers (24 total). This is fantastic if life hits you with too many things at once but you still want to make something sweet!
Muffin Top Bake Shop, the name is enough to fall in love with it, right? These little hopping bunnies are almost retro, and if you use them at home they're totally reusable! I love how small they are and their wee ears. The edible glitter is always a good idea and this shop has nine colours – including black!
We'll see in the next month or so how much of this I end up ordering and using. I am excited to try out some of this gear with some recipes I've wanted to try for a while as well.