I recently mentioned that this year for my Christmas baking, I am only going to use recipes from all the cookbooks and food magazines I've collected over the years. All foodies have stacks of Martha Stewart Living books and magazines, piles of Gourmet magazine, Everyday Food, maybe even Bon Appetit, Better Homes and Gardens and Family Circle (and if you live in Ontario you've got a collection of Food & Drink magazines as well!)
This recipe is no different, and comes from one of my all time favorite cookbooks – Betty Crocker's Best Christmas Cookbook
, this one is an oldie but goodie. It came out in 1999 and was one of the first gifts my husband gave me. I knew he 'got' me when he gave it to me, I have used it all year long for 11 years now, but there are some extra Christmasy recipes in it that I tend to use just at Christmas.
Peanut Butter Bon Bons – from Betty Crocker's Best Christmas Cookbook
(p.262)
1 1/2 cups icing sugar
1 cup graham cracker crumbs
1/2 cup butter
1/2 cup peanut butter
1 cup semisweet chocolate chips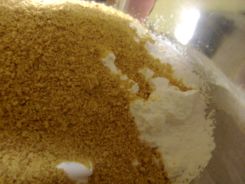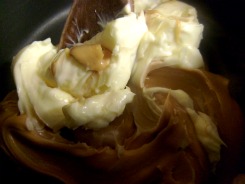 Mix the icing sugar and the graham cracker crumbs together. Then in a small pot, melt the butter with the peanut butter – and pour that onto the crumb mixture!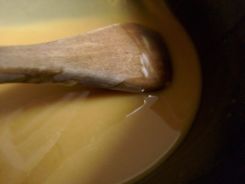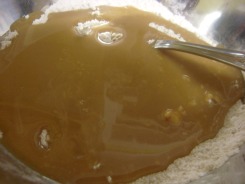 Rolling them into balls requires wet hands and a little time. I have three kids and a stack of Christmas knitting taller than my third child. Soooooo, I used a deep tablespoon and scooped out perfect little balls without any mess or issue – I saved a whole lot of time too I'd imagine.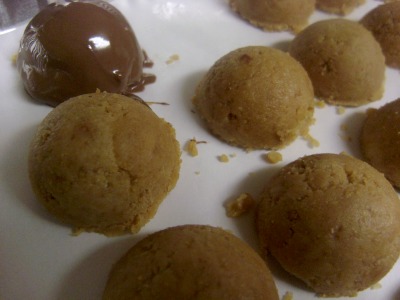 Next, naturally, you melt down some chocolate and dip! Easiest and neatest way to do this also makes them look as pro as possible. Put your peanut butter ball on a fork, hold it over your bowl of melted chocolate and use a big spoon to pour the chocolate over it. Give it a second to drip off, slide the excess off the bottom of your fork with a butter knife and then slide the bon bon off the fork.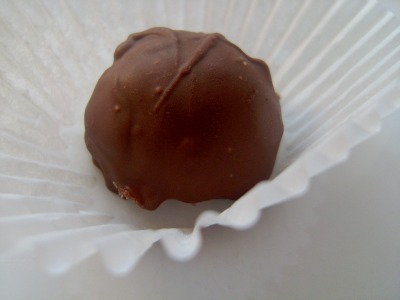 Then, eat eleventy billion of them because ps, they're only about 95 calories each!