Oct 1, 2013

Kids
Let the countdown to Halloween begin!!
These little cupcakes are so cute!! I really like to get crafty with kid food, and holiday kid food is my favorite! I used one of my go to chocolate cake recipes. This one is from Robin Hood and I've been baking it since 2009 at least. It is one of those wonderfully simple 'dump all the ingredients in one bowl, mix, pour and be done' recipe. However, unlike most of those recipes, this one actually comes together with no lumps and it comes out just perfect.
Stir and Bake Chocolate Cake
via Robin Hood
1/2 cup flour
1 cup granulated sugar
1/4 cup unsweetened cocoa
1 teaspoon baking powder
1 teaspoon baking soda
1/2 teaspoon salt
1 cup warm water
1/3 cup oil
1 tablespoon vinegar
Start with the flour, sugar, cocoa, baking powder, baking soda and salt. Whisk it all together. Then mix in the water. Then mix in the vinegar. Whisk, whisk, whisk and pour into 12 cupcake cups (cups you have previously lined with black or otherwise Halloweeny liners) and bake for about 30 minutes.
To make them witchy you'll need:
green buttercream icing
decorative chocolate wafer cookies
Hershey kisses
black sprinkles
M & Ms
black shoestring licorice
candy corn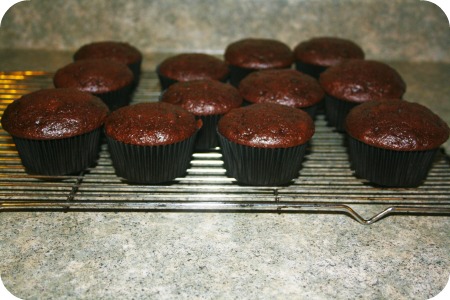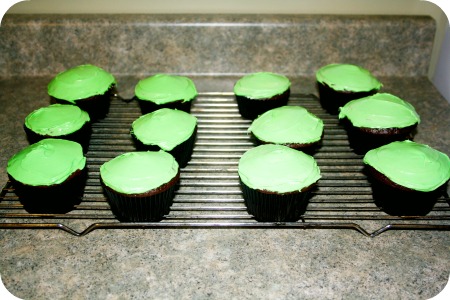 First I frosted the cupcakes, then I made their little hats by 'gluing' the Hershey kisses to the chocolate wafer cookies with a little dab of buttercream icing. Then I piped orange frosting around it to secure it.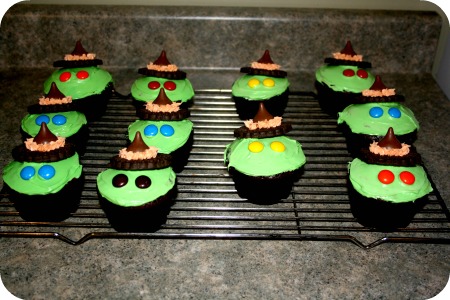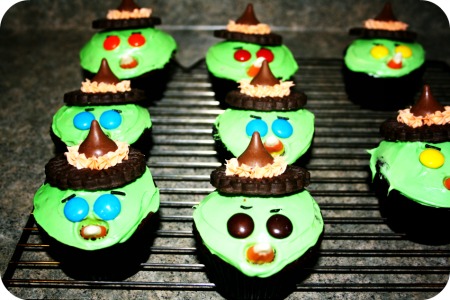 Next I added their black sprinkle eyebrows, M&M eyes and their candy corn noses! The personality is all in the eyebrows, amirite?! Some of them look confused but I think the overall effect of grumpy witches worked out.