Oct 8, 2010

Domestic
Both recipes in this post are amazingly fun (and super easy) to pull together. The Love Cakes are pretty standard cocoa cakes and simple to make. I've posted a similar recipe before, but this one is a little different and the Lemon Meringue is a recipe I've never done before.
All plain chocolate cake in this house is referred to as Love Cake, because my husband's favourite cake is plain chocolate. Not chocolate fudge, or chocolate chip or chocolate mocha or any variation from straightforward 'hold the fancy pants' chocolate cake. He does like a little icing sugar dusted over the top. Much like the rest of his personality his sweet tooth favours the classics.
It can either be be fantastically boring to bake the same cake all the time, or fantastically fun if the recipe is one that you can do over and over with ease. Like this one, called Stir and Bake Chocolate Cake! It's from the Robin Hood site, they must have a good test kitchen because their recipes always work!
Stir and Bake Chocolate Cake – From Robin Hood
1-1/2 cups flour
1 cup sugar
1/4 cup cocoa
1 tsp baking powder
1 tsp baking soda
1/2 tsp salt
1 cup warm water
1/3 cup veggie oil
1 tbsp vinegar
Preheat to 350 and grease an 8″ square pan.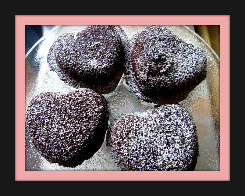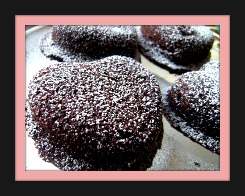 Whisk flour, sugar, cocoa, baking powder, baking soda and salt. Add water, oil and vinegar and mix till smooth.
Bake for 35-40 minutes. This cake is so moist it really doesn't need anything – though a little ice cream is always a good thing – and it's even better the second day!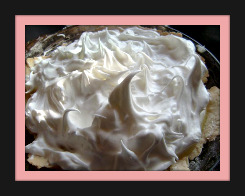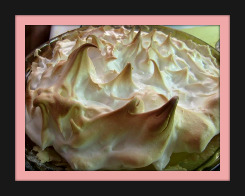 Just as he loves standard issue cakes, my husband LOVES standard issue pies and I really, really love baking pie – any kind of pie really. In no specific order, he loves pumpkin, blueberry, apple, cherry and lemon meringue. Lemon meringue was the very first pie I ever learned to bake in my Grandmother's kitchen, and as 'from scratch' as her kitchen was, she always used Sheriff lemon pie filling. Always. So I never actually learned to make it from scratch! I know, the horror! So I spent years using that same pie filling, and while there is a whole lot of nostalgia around using that filling mix, I just can't bare to keep using a box. So, enter this recipe.
Lemon Meringue Pie – from Dad 🙂
6 tbsp corn starch
1/4 tsp salt
1 cup + 6 tbsp sugar
2 cups water
3 egg yolks
1 tbsp butter
6 tbsp lemon juice
1 tbsp grated lemon zest
3 egg whites
1/4 tsp cream of tartar
1 baked 9″ pie crust
Mix cornstarch, salt, 1 cup sugar and 1/2 cup cold water in a saucepan. Slowly add 1-1/2 cups hot water. Cook over medium heat, stirring constantly until the mixture comes to a boil and thickens. Boil for about a minute, then add a little hot mixture into the egg yolks. Blend the egg yolks into the sugar mixture.
Cook and stir for another minute, then remove from heat. Add butter, lemon juice, lemon zest and rind. Cool slightly, and pour into your baked pie shell. Set aside and make meringue.
Combine the egg whites and cream of tartar, beat until soft peaks form. Gradually add remaining 6 tbsp sugar, beating until stiff peaks form. Spread it over the filling, and make sure you seal the filling by spreading the meringue right to the crust. Pop it in the oven at 400 for about 5-10 minutes. Watch your meringue people – you don't want to wreck your beautiful pie on the last step!
Have a great weekend!! I'm very excited about Marriage Monday next week!