This recipe kicks off our year of baking through Baking With Kids
. I guess I should say 'their year' of baking though this book. I have promised to be there for any and all things the cookbook tells them must be done by an adult, but otherwise it's totally their thing.
Wee One #1 started with the very first recipe in the book, Apple Crumble Muffins.
Apple Crumble Muffins – from Baking With Kids
(p. 10)
Muffins:
2 cups all-purpose flour
2 tsps baking powder
7/8 cup superfine or granulated sugar
1 unwaxed lemon
10 tbsp unsalted butter
2 extra-large eggs
1/2 cup whole milk
2 medium apples
Topping:
4 tbsp unsalted butter, chilled
1/4 cup coarse brown or superfine sugar
1/3 cup all-purpose flour
1/2 cup sliced almonds, ground (optional)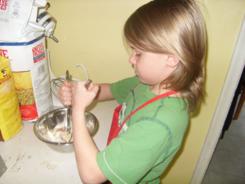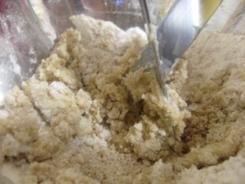 First, make the crust by mixing all of the topping ingredients together. Set that aside to sprinkle on later.
Then sift your flour into the mixing bowl, add sugar and mix with a wooden spoon. Grate the lemon zest (being careful to avoid the white pith), mix in and make a well in the middle of the ingredients. Melt the butter (either in the microwave or stovetop) and pour into the well. Then break the eggs into a small bowl and mix them with a fork till they're broken up. Add the eggs and milk to the well and mix with a wooden spoon. Or in our case….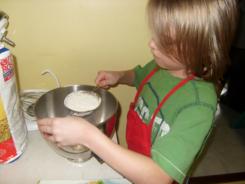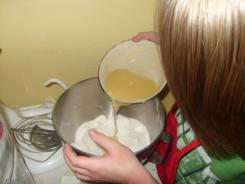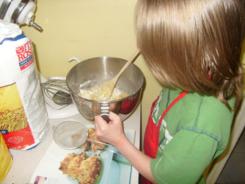 …mix with a wooden spoon until it becomes really tricky, and then turn to the trusty Kitchen Aid!
Once all the ingredients are combined, spoon the batter into your paper muffin cup lined tray. Using all of the batter, and almost filling the cups, you will have 12 good-sized muffins.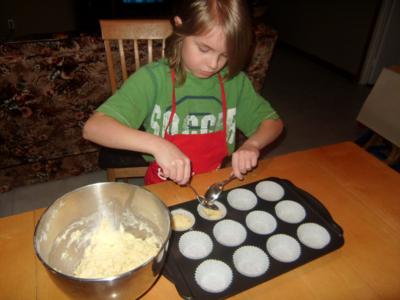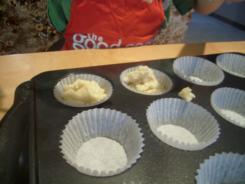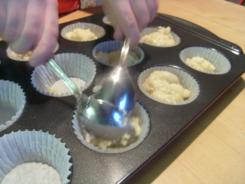 Now, chop up the apples and sprinkle the pieces over the batter. We left the skin on for a little burst of fiber, and we had about half an apple's worth of pieces left over.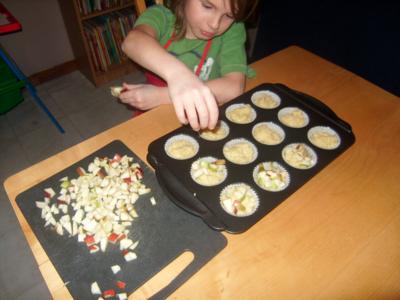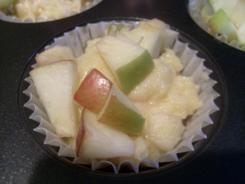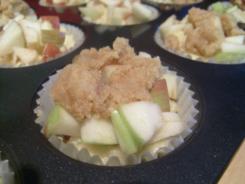 Now, on top of the apple pieces, sprinkle the topping mixture you made earlier! He tried a spoon, but soon realized that clean hands were much, much easier to sprinkle with!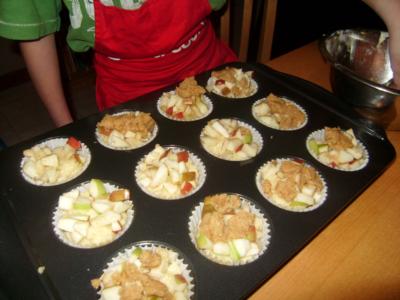 Now bake them at 375 for about 30 minutes. These were done in 20, in my crazy supernova oven. 😉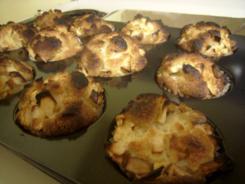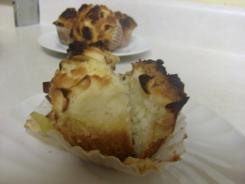 I helped just the brown sugar and the baking powder, and that was only because my containers are a little tricky to get into. This entire recipe was done by my 10 year old – aside of course from putting in and taking out the pan from the oven. He even poked a tested into the muffins to check if they were fulled baked!
The topping burnt a little, as you can see, but I think in hindsight the topping should go in a little later through the baking. Other than that, this recipe was good! The muffins are dense, and 2/3 the kids didn't love them, but Wee One #3 loves them!
1 recipe down, 52 to go!