Sep 8, 2009

Crafty
,
Interviews
Manic Muffin Totes is a sweet Etsy shop stocked with super cute owls, pillows and other fun quilted items. Run by Nomi, everything is handmade – all quilted items are hand quilted! All of the treasures in this shop are so cute and the attention to detail is mind blowing.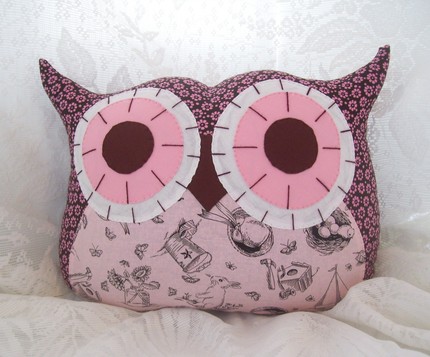 1. Your 'Lil Hoots' owls and pip Squeaks are so cute it hurts, how was the idea for these wee creatures born?
My lil hoots started out as purse I designed. I found out very fast, that I hate sewing in zippers. After fighting with this one impossible zipper, I just stuffed it, sewed the owl closed, and lil Hoots were born. They are cuter as pillow/plushies anyway.
My pip Squeaks are one of my newer designs. I collect mice, so I thought I would make a mouse pincushion, after a few attempts, I actually made something really cute, and I didn't want to stick it full of pins so I gave it to my niece, who loves it. So I thought these little guys might do well on Etsy, and I gave they a try. They make really great baby shower gifts.
2. Your quilted items are hand quilted! Holy cow. Where did you learn that?
I am a self-taught quilter. A very good friend of mine gave me her grandmothers quilt books when she passed away, and I fell in love with quilting. I absolutely love to lap quilt, I average 12 stitches per inch, but I can actually get 15 stitches per inch! But that is serious over kill, and really not practical. I just like to brag that I can do it. J Quilting keeps me sane and grounded. I think it is the repetitive motion, that is much like meditating.
Continue Reading »