Sep 8, 2009

Crafty
,
Interviews
Manic Muffin Totes is a sweet Etsy shop stocked with super cute owls, pillows and other fun quilted items. Run by Nomi, everything is handmade – all quilted items are hand quilted! All of the treasures in this shop are so cute and the attention to detail is mind blowing.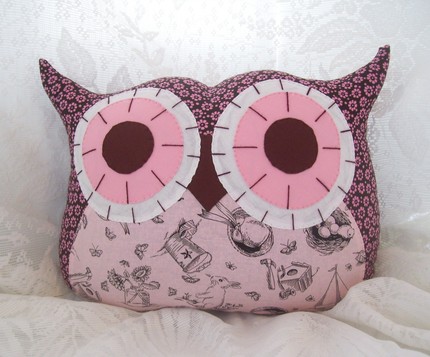 1. Your 'Lil Hoots' owls and pip Squeaks are so cute it hurts, how was the idea for these wee creatures born?
My lil hoots started out as purse I designed. I found out very fast, that I hate sewing in zippers. After fighting with this one impossible zipper, I just stuffed it, sewed the owl closed, and lil Hoots were born. They are cuter as pillow/plushies anyway.
My pip Squeaks are one of my newer designs. I collect mice, so I thought I would make a mouse pincushion, after a few attempts, I actually made something really cute, and I didn't want to stick it full of pins so I gave it to my niece, who loves it. So I thought these little guys might do well on Etsy, and I gave they a try. They make really great baby shower gifts.
2. Your quilted items are hand quilted! Holy cow. Where did you learn that?
I am a self-taught quilter. A very good friend of mine gave me her grandmothers quilt books when she passed away, and I fell in love with quilting. I absolutely love to lap quilt, I average 12 stitches per inch, but I can actually get 15 stitches per inch! But that is serious over kill, and really not practical. I just like to brag that I can do it. J Quilting keeps me sane and grounded. I think it is the repetitive motion, that is much like meditating.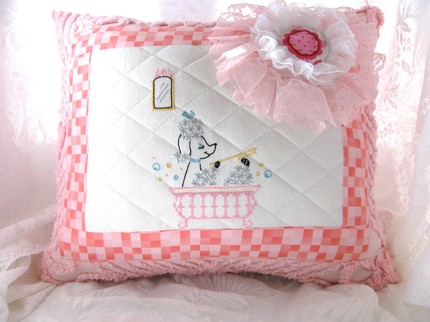 The Gigi Pillow
3. Have you always been crafty?
Yes, but I thought I would end up being a painter.
My Grandmother was a seamstress and she taught me to sew around the age of five.
I owe everything I know about sewing to her. At the time, I actually remember thinking, I am not doing this when I grow up. But now look what I love to do…I seriously find this funny, because I really hated sitting there having my grandmother show me how to sew on a button, or hem blue jeans. At the time I just could not imagine, wanting to sew, ugg.
4. What drove you to open your shop?
My family. They were always telling me how talented I was.. And of course I would roll my eyes and say "Yeah, ok."
After my husband started taking some of my quilts to work, and they were selling constantly, I thought "Well, maybe, I can do this."
I have been on Etsy a year now, and I am pretty pleased with my results.
I am also going to have a shop in Lollishops (which is a wonderful new online website) opening soon this holiday season. I am excited about that, two shops!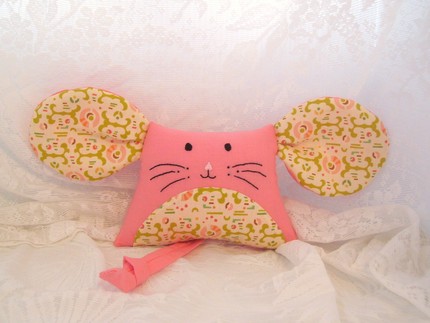 Pip Squeak
5. What are your favorite materials to work with? Why?
Fabric of course. I love every type, texture, and designer.
I have a huge wall stacked with tons of fabric. I am a very lucky girl.
6. Which items in your shop now are your current faves?
My baby Bloomers and my pip Squeaks.
But I do have a few new designs about to be out for the Holidays, and I am very proud of them.
7. Where do you draw your inspiration for your creations from?
Everyone always has deep answers for this question.
Me, I have no idea. I love to sketch, and doodle, a lot of my creations are from my sketch book. The creative part of this is turning your silly little sketch into a design template that works. Then it is all fun with fabric, pins, and needles.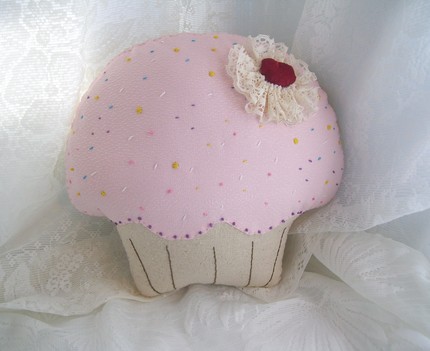 Cupcake Pillow
8. Where do you craft? Is your business crafting space separate from your personal crafting space?
I have my very own room for my work. It once was a dining room which we never used, so my husband put up shelves for my much loved fabric stash, and now it is all mine. But I really hate being tied down to one room, and even though I own five sewing machines, I really don't use them much. I hand appliqué ,hand quilt, and hand embroider everything. After using my sewing machine for about 5 to 10 minutes I can't wait to get away from it. I wish I could say my personal space or my family's personal space never got involved in my crafting, but the truth is I can not stand to have idle hands. When ever we are watching TV, I am still either sewing or quilting. Sometimes I do forget that I stuck a quilting needle in the arm of the couch, and someone ends up getting stuck.