This week I'm linking up with Organizing Junkie!
First thing on my mind this morning was hitting up random.org to choose a winner for the Williams Sonoma / Sur la Table giveaway, sponsored by Country Crock. We had 5 entries, I numbered each person 1-5 and the random number generator picked…..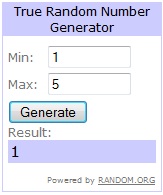 Congratulations Julie! Email me back and Country Crock will get your prizes out to you!
So most of you know we are going to Vegas for Thanksgiving this year to celebrate with a dear friend and her children. A dear friend who just happens to be a real, live, Southern Belle! Please note the capitalization. She's from the south, y'all so our very first American Thanksgiving is going to be a down home American Thanksgiving. We will be spending the whole day cooking and cleaning and then cooking and cleaning and cooking and baking and cleaning – all with 7 children underfoot. I will do some prep here since I'm not sure it's physically possible to do the entire menu in a single day at her house. We are, both of us painfully, overachievers. Expect epicness next Thursday.
Anyhoo, so since we have so many kids between the two of us and since arts and crafts will only distract them for so long, I'd love for them to jump into the kitchen for a kid-friendly recipe! This comes from Linda Collister's Baking with Kids
(the best kid's cookbook we've ever used). My kids have made this recipe so many times I've lost count. Not So Wee One #1 likes these with a little butter, Wee One #2 likes them with jam and Wee One #3 likes them with maple syrup – and they all like them still warm! They're a hit with grown ups too, especially good with gravy – you know, like with a serious turkey dinner!

Popovers – via Baking with Kids
1 cup whole or half fat milk
1 cup all purpose flour
1/4 teaspoon salt
1 tablespoon wheatgerm or oat bran
3 extra large eggs
2 tablespoons melted butter
Preheat your oven to 425 and add the milk, flour, salt and wheatgerm (or oat bran) to a food processor or blender and process just to mix them.

Now it's egg breaking time and they're really serious about it.

Melt the butter and add it and the eggs to the processor and pulse again until it's well blended together. If your food processor has a spout (or you used a blender), you're set. Otherwise, pour the batter into a pitcher to make it easier for the kids to pour it into the (lightly greased) muffin cups. Each muffin cup should be about half full.

Now carefully watch them puff up. 🙂 Bake for 25 minutes and then without opening the door turn the oven down to 350 and bake for another 15 minutes.

They are best just a few minutes out of the oven, which is perfect for impatient wee ones, but they are still good later the same day!
Now, since it's menu Monday after all, here's what's up this week around here!
This Week's Menu (Nov 12 – Nov 18)
Monday – Beef Stew with Cheesy Pull Apart Bread and Boston Cream Whoopie Pies for dessert
Tuesday – Chicken Alfredo with Ceaser Salad and Fudgey Oreo Brownies for dessert
Wednesday – Toasted Ravioli with Parmesan Knots and Sugar Cookie Bars for dessert
Thursday – Chicken Crescent Rolls with Hush Puppies and Triple Chocolate Pound Cake for dessert
Friday – Chicken Florentine Bowtie Pasta with Garlic Cheddar Biscuits and Rolo Cupcakes for dessert
Saturday – Old Fashioned Chili with Bacon Cornbread and Cookie Dough Brownies for dessert
Sunday – Chicken Parmigiana with Scalloped Potato Stacks and Nutmeg Donuts with Berry Icing for dessert