This was the first year I hosted a Chinese New Year party, and while there were a few ideas I didn't get to bring to life, I did do a lot of them and we all had a great time with it. The general idea going in to this was to incorporate some of the traditions of our Asian friends' families, with a very May-style twist on them.
First, the menu. I roasted a whole chicken (for family unity), made peanut-broccoli chow mein noodles (for long life), Nigella Lawson's clementine cake, Martha Stewart's fortune cookies, and the standard chocolate bunt cake. This week's pie was chicken-free chicken pot pie!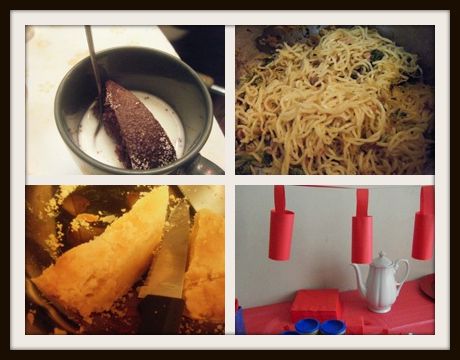 Nothing special about the chicken or the noodles or even the chickenless chicken pie (two veggie friends really love chicken pot pie, so, sans chicken, it's a serious hit!). The cake and the cookies however, were a lot more interesting than I thought they'd be.
I have loved Nigella Lawson for years and I'm always into testing out her weirder recipes, though when I went looking for a recipe for some kind of desserty thing made from small citrus fruit I had no idea what I was looking for. I was reading Smitten Kitchen a couple of weeks ago and there it was, a clementine cake! The recipe seemed so very odd to me though, you boil the clementines for 2 hours and then mash them all up, rinds and all?! Also, the whole thing is essentially held together with just ground almonds and eggs – no flour at all. It was fantastic, and honestly, it was really refreshing.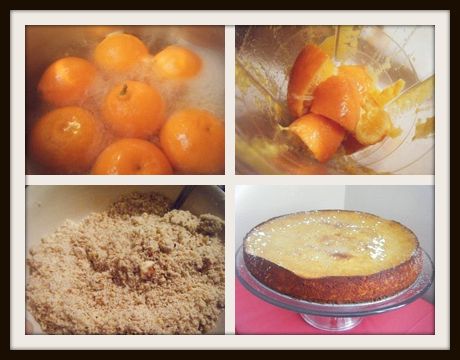 Smitten Kitchen says 'It is ridiculously moist, not bitter and surprisingly popular at a dinner party. You know, until you tell people they're eating a cake of boiled rinds.' Not surprisingly, my friends didn't seem to care in the least and a few had seconds.
The fortune cookies were painful. I love Martha, I really do, I always have. I just feel that sometimes her instructions are not very helpful. Since I've been dealt that horrifying blow of starting a recipe only to have it not make any sense in practice, I decided to look it up. The originally recipe is here, though there is a whole lot of helpful info to be found here. Without Pattie Tierney's tips, I would have been cursing even more than I was. I ended up using a 3″ circle cookie cutter as a guide for the gooey batter (which ran, of course, once I removed the cutter but it worked out well). Also, while Martha suggests baking 4 at a time for 8 minutes, and Pattie says 4 at a time for 6 minutes. I found that 2 (and then later 4 when I was better at shaping) or 4 minutes was perfect. I agree with Pattie that using the smooth side of the little pancake is much prettier than the rough side.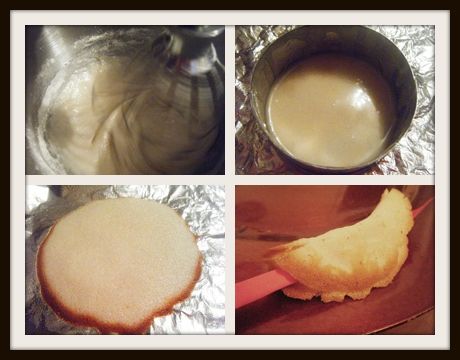 The funniest part of this for me, (once I discovered that the skinny end of the IKEA 365+ water glasses are the best surface to shape the cookies over), was making the fortunes. I made all mean fortunes (except the two for the kids, I gave them super nice ones). Some of my faves were; you look tired, you will be surprised by a loud noise, you are confused but this is your natural state, that secret you've been guarding isn't, you will have a long and uncomfortable discussion with your supervisor…and on and on. Gill had us all sign the backs of the fortunes we got and she saved them in her new sock monkey bank from Talea. Oh it was a fun evening!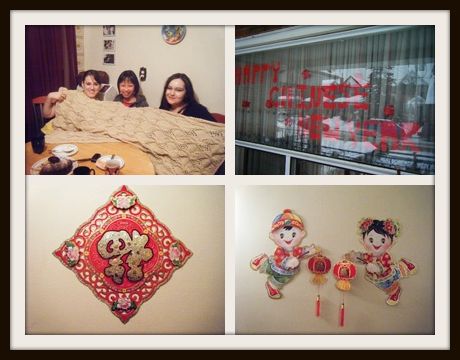 I spent the last 2 weeks knitting up Gill and Andrew's afghan, as you already know, and I actually finished it on time on Friday night! Talea, Gill and Nikki posed with it to show off the size and the pattern. It's my biggest project and thankfully they love it! The kids and I did up the front window, as we do for every occasion. My husband machine is really good at origami and he showed me how to make balloons! We made a bunch and hung them with red curling ribbon in the window. I tried to make some Ox, but it wasn't happening. Gill's entourage also brought over some authentic decorations for me to re use over the years and I couldn't be more excited! A lucky sign that's meant to be hung upside down (that the hardcores keep up all year long), creepy kids with lanterns, and a really pretty lantern hanging under my kitchen light. Thanks guys!
So now I will finish up the wee person I mentioned I'm making for our friend Brant, get on the hot water bottle cozy I'm knitting up for my Uncle's birthday this week and move on to two small monsters for two small friends before I get to leap into Valentine's Day and my parent's 30th anniversary.
Yes, I'm purposely not planning the welcome to the world party for wee one #3 because honestly, I thought she'd be here already. I'm not due until the end of the month, but with my previous pregnancies I have not gone full term. It's tricky because I would have hosted a huge party for my Dad's 60th a couple of weeks ago if I had known she wasn't coming yet and I'd like to host a party for my parent's 30th, but I'm nervous to plan a big party and have no idea when she'll be here. The more I think about it, the more sense it makes to just throw caution to the wind and plan a small scale anniversary party for my folks with my sister. Hmm, stay tuned.