How sweet are these little guys?! I made them once for a fundraiser for our dance company in the spring and then this summer, two of the songs our girls danced to were from Despicable Me 2 so I had to make them again. When I posted these on Instagram the first time, one of my besties texted me to ask if I had extra twinkies left. Haha, little did she know I had already set them aside for her. Duh. Bestie love! Natch, the second time she knew I had already hid hers from the children.
They are so simple to make but I keep getting asked how I did it, so here you do. One of the most simple tutorials ever. 😉
Minion Cupcakes
24 cupcakes
12 Twinkies (or just half as many Twinkies as cupcakes)
toothpicks
Smarties candies (in Canada these candies are called Rockets)
Chocolate icing (make it slightly thicker than you would to ice a cake)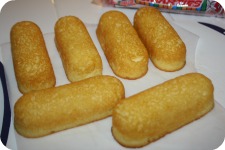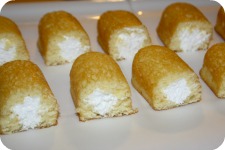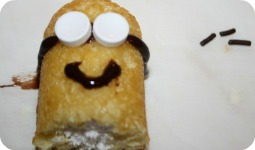 First upwrap (duh) and cut all the Twinkies in half, as evenly as possible. If they're not even, you'll end up with some mini Minions! This is when I arrange them assembly line style and give them their little personalities! I have found the easiest method is to use a little icing as glue to stick the Smarties on for the eyes, and then draw the arms of the glasses on with the same icing. Then I used a toothpick to scoop just the absolute teeniest amount of icing and make their pupils, then they need smiles ooooof course.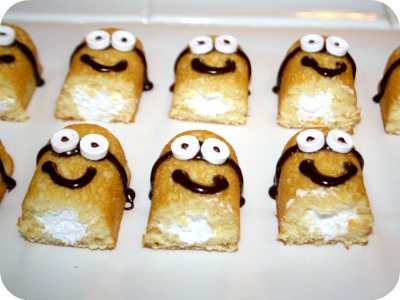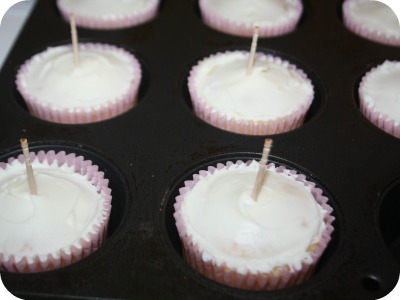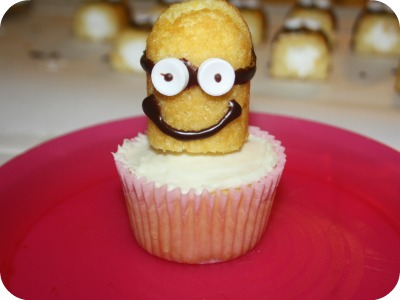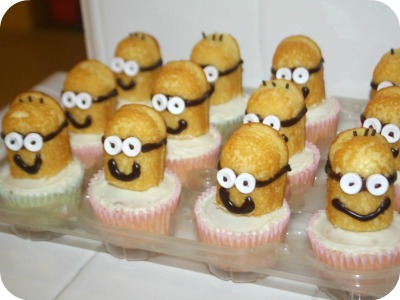 This part is pretty simple, just be careful while you do it! Once you have frosted the cupcakes with plain buttercream (or whatever you feel like using), poke a toothpick into each cupcake. Now, very carefully, pick up each Minion and impale him onto the toothpick. 😉 This is when you bust out your kitchen tweezers and use chocolate sprinkles for tiny little tufts of hair. Not all Minions have hair, so you can leave some bald if you'd like. Be prepared for cuteness overload, these guys are adorable and always a hit.