Jan 18, 2009
One of the reasons I'm blogging again, as I think I've mentioned, is that I want to make something for every occasion and I think blogging about it adds some more pressure to do it. Right now, I'm 8 months pregnant with wee one #3, and basically on lock down. All I'm supposed to be allowed to do is take my oldest to school and back, but I can't take #2 with me so she stays home with the husband machine. This leaves A LOT of time for knitting, and I've been soaking it up!
The first FOs of the year were actually left over Christmas gifts, which I suppose is not at all surprising. 😛 I made my first pair of Jaywalkers for my dear friend Gill, who loves them to the point of not being able to wear them. Sigh, if they don't get worn at least they're appreciated.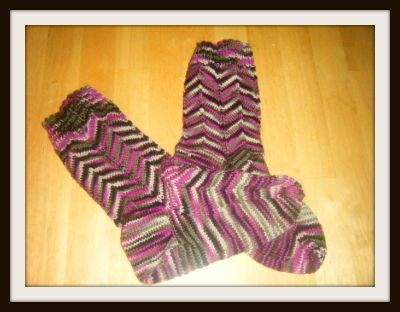 Gill's Christmas Jaywalkers
They took about 1 and a half hanks of Lorna's Laces in Vera (that I picked up from my fave local and online yarn shop, Red Bird Knits). I should have enough left over to make a pair in a toddler size, but I wont get to that till I've done some more birthday knitting. She got these last weekend, but her beau only got a sneak peak at his gift because I wasn't finished yet!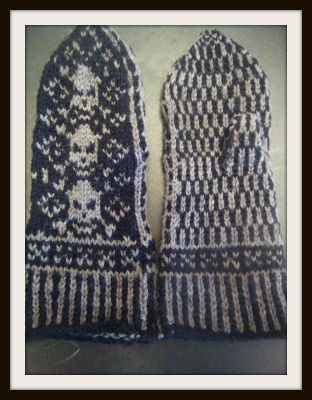 Andrew's Christmas Pirate Mitts
These, I know he'll wear. He's got an issue with wearing hats and mitts and scarves, lest they cramp his style. Ovbs, these will not, they are simply too rad. The pattern is from Hello Yarn and is only minimally fiddly. As soon as you wrap your head around white squares = black stitches, you'll be just fine.

Continue Reading »