Jan 18, 2009
One of the reasons I'm blogging again, as I think I've mentioned, is that I want to make something for every occasion and I think blogging about it adds some more pressure to do it. Right now, I'm 8 months pregnant with wee one #3, and basically on lock down. All I'm supposed to be allowed to do is take my oldest to school and back, but I can't take #2 with me so she stays home with the husband machine. This leaves A LOT of time for knitting, and I've been soaking it up!
The first FOs of the year were actually left over Christmas gifts, which I suppose is not at all surprising. 😛 I made my first pair of Jaywalkers for my dear friend Gill, who loves them to the point of not being able to wear them. Sigh, if they don't get worn at least they're appreciated.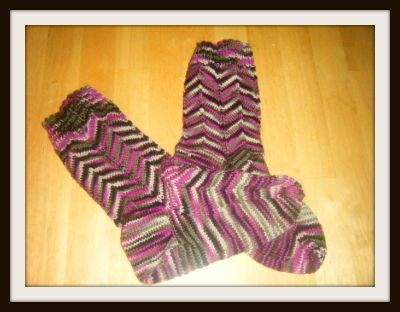 Gill's Christmas Jaywalkers
They took about 1 and a half hanks of Lorna's Laces in Vera (that I picked up from my fave local and online yarn shop, Red Bird Knits). I should have enough left over to make a pair in a toddler size, but I wont get to that till I've done some more birthday knitting. She got these last weekend, but her beau only got a sneak peak at his gift because I wasn't finished yet!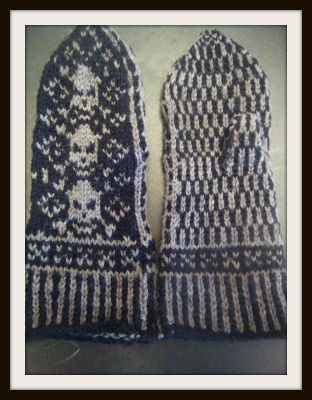 Andrew's Christmas Pirate Mitts
These, I know he'll wear. He's got an issue with wearing hats and mitts and scarves, lest they cramp his style. Ovbs, these will not, they are simply too rad. The pattern is from Hello Yarn and is only minimally fiddly. As soon as you wrap your head around white squares = black stitches, you'll be just fine.

This week's Stitch n Bitch was canceled last minute due to a combo of Em having a scary old man cough and pretty terrible snow. I had baked already anyway (of course), and another friend had popped by without even knowing it was a SnB night, so we cut into the weekly pie ourselves, sorry Talea. This is the 8th week I've made a pie, though before I made them more often than not. So, in the past 8 weeks I've made Very, Very Blueberry, Graham-Apple Crumble, Lemon Meringue, Blueberry Pie with 3 Domos on top, Cherry Pie for Christmas Eve, Chicken Pot Pie for my in laws visit, Apple (with the Apple Computers logo cut out of the crust!) last week, and this week was Cocoa Pie with Cocoa Crust! I've never made a cocoa crust before, all I did was take 1/4 c of flour out of my usual recipe and subbed 1/4 c of cocoa – and it was divine.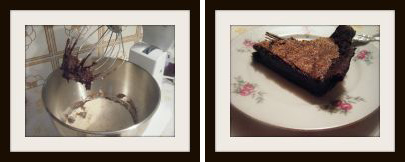 Week 8 – Cocoa Pie with Cocoa Crust
This was a fun pie to make because I got to use my new 70s apron from Brigitte, and wee one #2 got to try out her new apron as well. We also broke in the whisk attachment on the Kitchen Aid! Woot for kitchen power tools!
I've managed to make a serious dent in the birthday knitting so far this year, even though I am a wee bit behind. The first birthday of the year is my friend Melissa, who I only get to see once a year – though we make a point to make a seriously fun once a year road trip to get up to the middle of nowhere to see her and her husband and their acres and acres of nature. It's below zero in her neck of the woods pretty much from October to April every year, so I made her the same cute wristlets fro 101 Designer One Skein Wonders that I made for Talea. They live far enough away from each other to make that ok, and I made Mel's in black. Her bday was last Monday, so if I pop them in the mail tomorrow, the post mark is exactly one week late – much better than last year!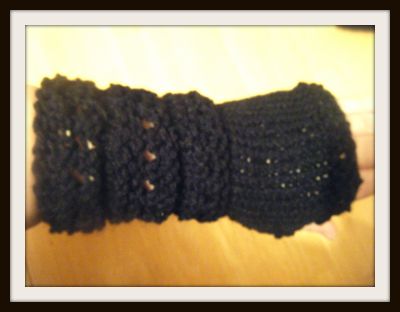 Melissa's Birthday Wristlets
Next up is my Dad's birthday, the very next day, he's a veggie lover, so I made him a bowl of veggies. Well, I'm in the process of making him a bowl of veggies. So far I've finished his eggplant, celery and corn (though the corn needs it's husk still).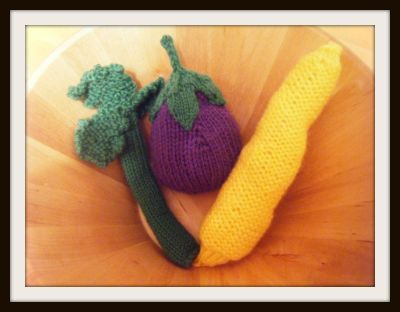 Dad's Veggies
Still on the to do is a carrot, peas in a pod, a tomato and maybe a radish. If I magically have another day or so, maybe a felted bowl to put them all in, since I am so not giving him my cute wooden Ikea bowl I took their photo in! I will see him either during the week or this weekend so I've got some time.
The husband machine's bestie's birthday is tomorrow, and I think the best I can do is have his package post marked tomorrow, which again, is a marked improvement from last year. I'm making him Tux, clearly the man is a Linux geek. This should come together tonight while watching Star Trek (no honesty)! I've got 2 cards to make this week for birthdays this weekend, and a batch of cookies for one of wee one #1's friends at school.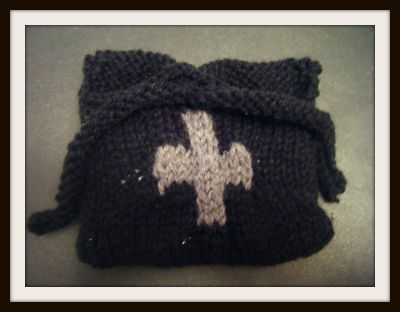 Jason's BlackBerry Case
The only birthday I'm early for so far this year is Talea's fiancee's, and the really odd thing about that is how I fretted over having no idea what to make for him. It's a rough situation for a crafter, you want to make something for a new friend/someone close to a good friend, but with limited contact and limited info what's a gal to do? Well, he's in med school so that's something, and the one thing I know for sure we have in common is we have the same Black Berry and that he's dropped his recently and cracked the screen. I thought of the case around 9pm and a couple eps of Star Trek later I was weaving in my ends! His bday isn't till next week! Woo-hoo!
As anxious as I am to have this baby already, the longer she stays put the more knitting I'll get done!