Before I get into showing off some neat stuff I made, I have to show off a couple of neat things my dear friends made and gave to me. Talea made me a knitted apron. This is exactly the kind of kitsch I adore the most, and since picking up stitches is the bane of her existence, receiving this made me feel super special!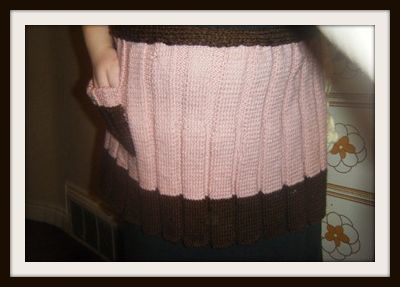 I also think this deserves a couple of detail shots. My giant 8 month pregnant tummy in the first shot doesn't really do it justice. Pink is hands down my fave colour, and in my (not so humble) opinion brown is the best compliment to it. Also, how cute is the wee white ruffle on the edge?! Love this, though I am a little terrified to get it dirty and actually wash it, I will because that's why she made it. Thanks Talea!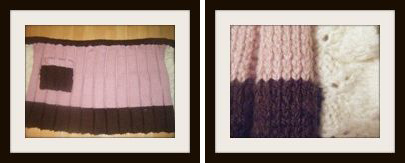 Another handmade gift that totally killed me this year I got from Brigitte. I've wanted to sew like her since high school when she'd whip up a new flawless dress for herself before a party, alas I am not there yet. She, along with everyone else who has ever seen it, is both taken aback and enthralled with my 70s kitchen. I used to hate it, but I'm learning to embrace it, and it really does look fab in food photos.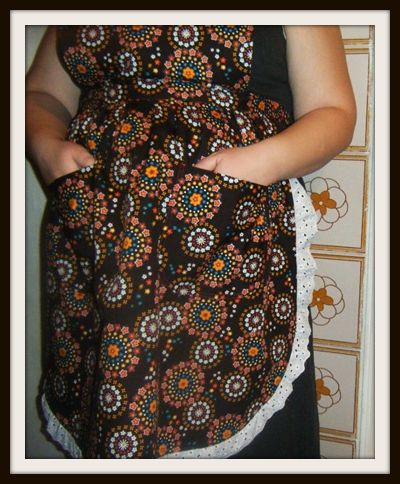 Here we go, my stylin 70s apron, if I could marry it, I would. I love that it's constructed in such a way that I can just tuck it up and wear it over my baby belly!
I was going over the list of stuff I want to make this year and was thinking about all the rad gear and treats I made last year when I wasn't blogging. So many snazzy little treasures only seen by a handful of people. The handful that got to see them are a fantastic group mind you, but I figured this was my last chance to post these pics before the parade of '09 begins. I've already knocked off 2 pairs of socks and I'm 1/3 of the way through my second pirate mitten. They are not at all in order, more like the order I thought of them (influenced heavily by the order in which I found the photos).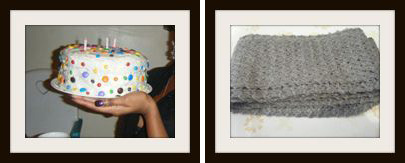 (l-r): Tanisha/May Birthday Cake, 101 Designer One Skein Wonders Herringbone Scarf
Tanisha and I are just a couple of weeks apart so we usually celebrate our birthdays together. The cake is layered chocolate and vanilla, just like us! The scarf was for a BFF's brother's Christmas gift this year, last year I gave him a few hundred Rocket candies and he was much less impressed than I had hoped. He loved this scarf though, thankfully!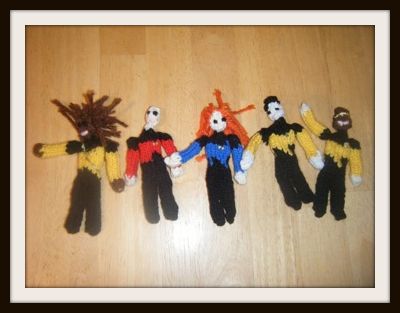 Chris' Star Trek: The Next Generation Peeps
Another Christmas gift here, this is some of the bridge crew of ST Next Gen, which we both grew up with and both still adore (maybe a little too much). Jordi's visor was the biggest pain in the butt. I got the pattern from Kimberly Chapman's site.

Continue Reading »