Before I get into showing off some neat stuff I made, I have to show off a couple of neat things my dear friends made and gave to me. Talea made me a knitted apron. This is exactly the kind of kitsch I adore the most, and since picking up stitches is the bane of her existence, receiving this made me feel super special!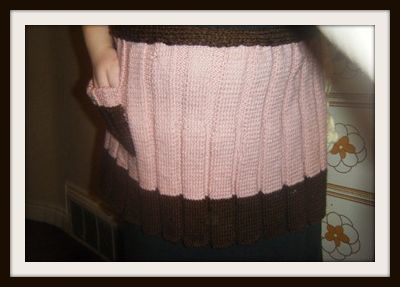 I also think this deserves a couple of detail shots. My giant 8 month pregnant tummy in the first shot doesn't really do it justice. Pink is hands down my fave colour, and in my (not so humble) opinion brown is the best compliment to it. Also, how cute is the wee white ruffle on the edge?! Love this, though I am a little terrified to get it dirty and actually wash it, I will because that's why she made it. Thanks Talea!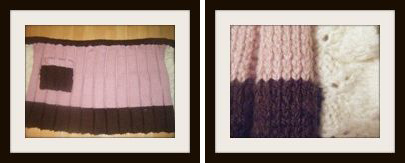 Another handmade gift that totally killed me this year I got from Brigitte. I've wanted to sew like her since high school when she'd whip up a new flawless dress for herself before a party, alas I am not there yet. She, along with everyone else who has ever seen it, is both taken aback and enthralled with my 70s kitchen. I used to hate it, but I'm learning to embrace it, and it really does look fab in food photos.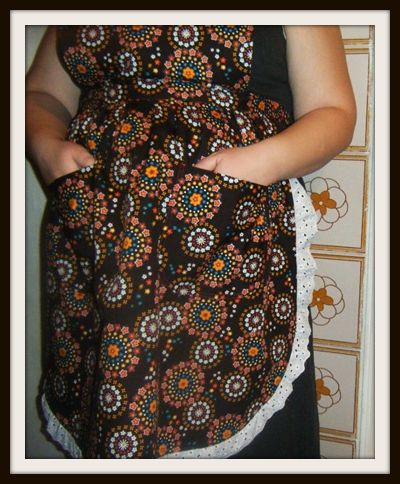 Here we go, my stylin 70s apron, if I could marry it, I would. I love that it's constructed in such a way that I can just tuck it up and wear it over my baby belly!
I was going over the list of stuff I want to make this year and was thinking about all the rad gear and treats I made last year when I wasn't blogging. So many snazzy little treasures only seen by a handful of people. The handful that got to see them are a fantastic group mind you, but I figured this was my last chance to post these pics before the parade of '09 begins. I've already knocked off 2 pairs of socks and I'm 1/3 of the way through my second pirate mitten. They are not at all in order, more like the order I thought of them (influenced heavily by the order in which I found the photos).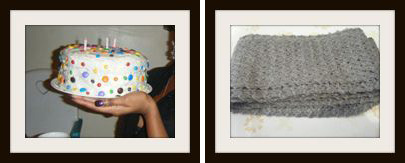 (l-r): Tanisha/May Birthday Cake, 101 Designer One Skein Wonders Herringbone Scarf
Tanisha and I are just a couple of weeks apart so we usually celebrate our birthdays together. The cake is layered chocolate and vanilla, just like us! The scarf was for a BFF's brother's Christmas gift this year, last year I gave him a few hundred Rocket candies and he was much less impressed than I had hoped. He loved this scarf though, thankfully!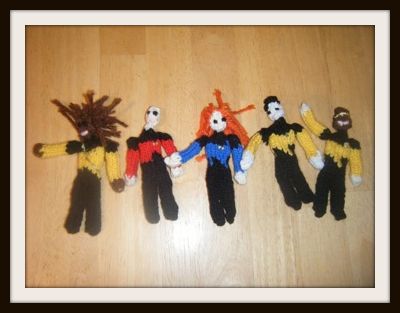 Chris' Star Trek: The Next Generation Peeps
Another Christmas gift here, this is some of the bridge crew of ST Next Gen, which we both grew up with and both still adore (maybe a little too much). Jordi's visor was the biggest pain in the butt. I got the pattern from Kimberly Chapman's site.

In keeping with the wee creatures theme, I also made these!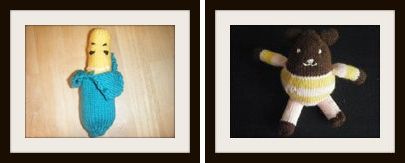 (l-r): Corn in the husk (again from Kimberly Chapman), and Kate (from Knitty)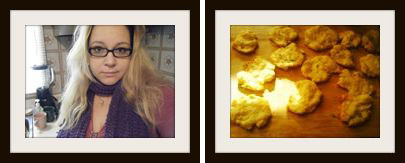 (l-r): Grimace Purple Yarn Over Scarf (modeled by moi), Cheese and Chive Crackers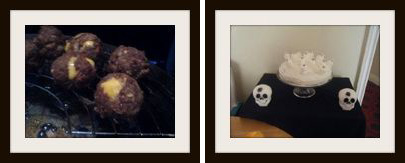 (l-r): Cheesy Meatballs and Martha's Ghost Cake
Now back to knitting, both of these were Christmas gift as well, the mitts are only the second item I've ever cabled and they came out really nice (a gift for my Dad) and the socks are actually a much darker blue than the play room sun would have you believe, they're also cabled and for wee one #2's Godfather.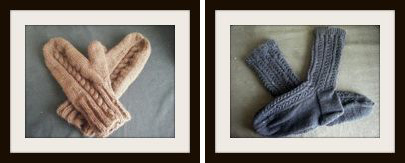 (l-r): Cabled Mittens and Horseshoe Cabled Socks, both from 101 Designer One Skein Wonders
Back to food again! The muffins I've been making since I got Nigella Lawson's How to Be a Domestic Goddess: Baking and the Art of Comfort Cooking
a few years ago. They are so delish for kids and adults alike, but because of the peanut content and the no peanut rule everywhere we go, I only have the opportunity to serve them here at the house, really. The cookie is from Great Cookies: Secrets to Sensational Sweets
, another cook book I refer to often. Both were made for my very dear friend Gill's birthday.
(l-r): Peanut Butter and Snickers Muffins, Chocolate Espresso Spritz Cookies
More knitting (and the table for Gill's birthday party last year!). The dishcloth is an old pattern from my husband machine's aunt, and the hat and wristwarmers are both from 101 Designer One Skein Wonders (I didn't realize how much I used that book last year).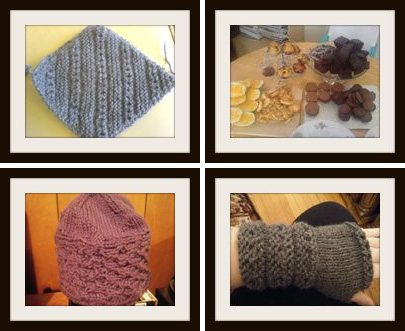 (clockwise from top left): Aunt Debbie's Eyelet Dishcloths, Gill's Happy Birthday, Basktweave Hat, Little Black Grey Wristlets
Mixed knitting and baking/cooking, mostly made in the spring and summer.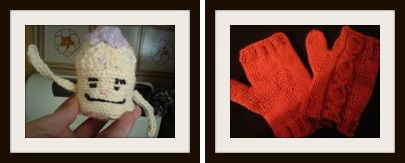 (l-r): Knitted Tough Guy Cupcake, XOXO with Love Wriswarmers (again from that One Skein Wonder Book)!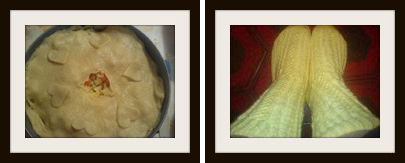 (l-r): Heart-y Chicken Pot Pie, Hedera socks from Knitty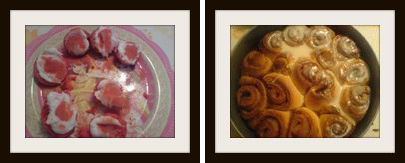 (l-r): Easy Bake Oven Pink Cakes, Cinnamon Buns with Icing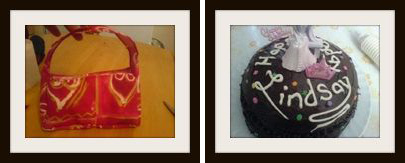 (l-r): Wee Pink Purses for Lindsay's Birthday Loot Bags and Lindsay's Princess Birthday Cake
More birthday love, hilariously out of order, it's all sweet stuff so it doesn't matter, right? 😉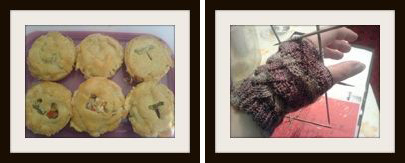 (l-r): Talea's Birthday Lunch Pies, Monkey wristwarmers
A note about Talea's birthday party last year, it was the first of many children's-style birthday's that I threw for my friends in their 20s. It was a hilarious year, there were helium balloons, cake, and loot bags involved in these parties, and it all started here. These wee paper bag creations were filled with mix CDs, a movie and two different kinds of thumbprint cookies (raspberry and lemon).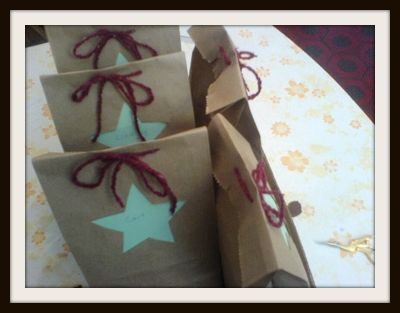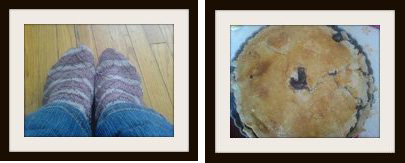 (l-r): Ma's Monkey socks, Josh's Blueberry Birthday Pie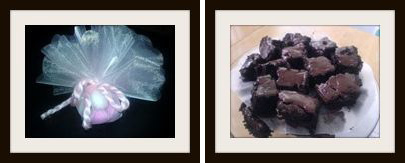 (l-r): Kofeta in Tulle for our Religious Extravaganza, Super Fudgy (Only Talea Can Eat Them) Brownies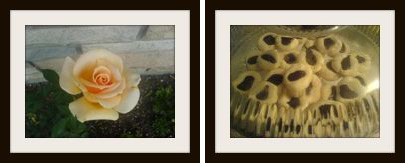 (l-r): My First Rose, Ganache Thumbprint Cookies
We'll end the year with socks, as it started, and not surprisingly, how 2009 has also started for me. Behold Emerald's Moc Crocs, from Knit Picks (in a green blend, natch!)
There are heaps more, but these are my faves, I can always get better at knitting and sewing and playing in the kitchen so 2009 will be a year of marked improvement. My husband machine got me heaps of yarn from Red Bird Knits for Christmas and I imagine it'll be several months before I get through all of that. I was also given a gift certificate to Mary Maxim and used it on even more yarn and some cross stitch Christmas stocking kits, we'll see how much actually gets done this year but I've got high hopes and I've got my fingers crossed that blogging about my to do craft list will help me get it done.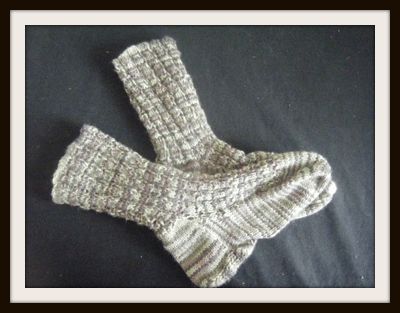 Moc Croc Socks