Oct 5, 2010

Domestic
In this post, I'm participating in Tempt My Tummy Tuesday, and Tuesdays at the Table
I made this supper for my friend Jade and her boyfriend (now fiancee) in July, before we even found this house, but I'm calling it a Smell You Later Supper, because although I didn't know I was leaving, we all knew he was leaving for Vancouver for school in the fall.
When a good friend meets a nice guy and things work out, the Greek girl in me takes over and I absolutely must make them supper and break bread with them. It's clear to see that this guy is a wonderful match for her and I can't wait to see what the future holds for them. He likes my cooking, so I'm down with him!
I went fairly down home with this supper and started with onion buns. I like to make dough in my bread machine and then add in the details and let it rise myself before putting it in the oven. Plain bread I'll just let the bread machine take over and do the whole nine, but it's also great for the prepping of dough – this way I can be doing other stuff at the same time.
The recipe I used for these came from the Robin Hood website, and I've been using it for a few years now.
Onion Rolls – from Robin Hood
Dough:
1-1/4 cups water
1 egg, beaten
2 tbsp butter
4 cups flour
2 tbsp sugar
1-1/4 tsp salt
1-1/4 tsp bread machine yeast
Filling:
1 cup onion, chopped
1 tbsp vegetable oil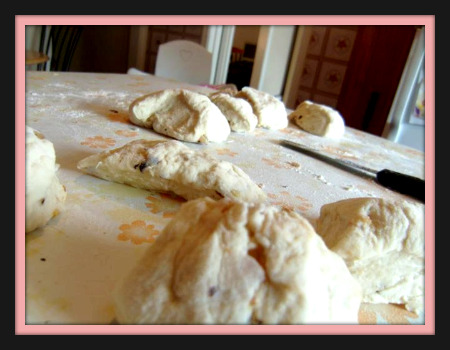 For the dough, just pop all the dough ingredients into your bread machine and select the dough cycle. Mine is about an hour.
Meanwhile, saute onions in the oil till they're that delicious golden brown, then set aside and let them cool off. When your dough cycle is finished, roll it out onto your floured counter, cover it with a tea towel and let it sit for 5 minutes.
Set aside 2 tbsp or so of your onions to sprinkle on top of the buns later. Knead the rest of them into the dough. You'll probably need to add more flour.
Once the onions are mixed into the dough, divide the ball into 12 small ones, put them on your cookie sheet, sprinkle with onions you set aside earlier and cover them up with a tea towel again.
If you're already baking, your kitchen is likely warm enough to for the buns to double in size after about 45 minutes. Then pop them in the oven at 375 for 15-20 minutes! Careful not to burn them, I came dangerously close!!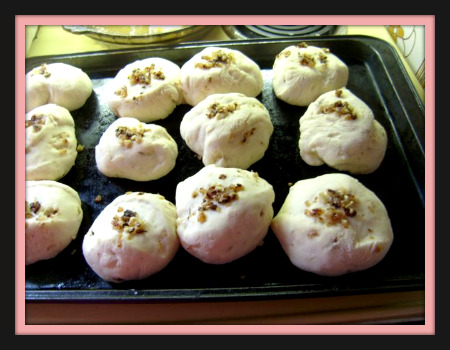 Cheesy Tuna Casserole with Rice
2 cans tuna
2 cups cooked rice
1 cup shredded cheese
1 can cream soup (you pick the flavour)
This is one of those non-recipe recipes, where you really can just eyeball. I know there are a lot of recipes out there for this type of meal that call for raw minute rice, but cooked parboiled is just so much yummier, especially alongside the tuna and cheese!
Use your favourite rice, tuna and cheese in this, just steer clear of really overwhelming cheeses. Cheddar, mozzarella and marble are obvious choices for their melty factor. You'll need about two cups of cooked rice, a cup (or more if you really love it) of shredded cheese and a can or two of tuna. I'm wild for tuna, so I used two cans, and just like the cheese, you choose the soup. I used cream of celery, it's a good clean base and will work with pretty much any other flavour.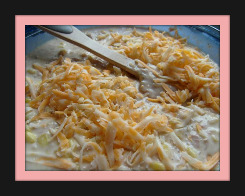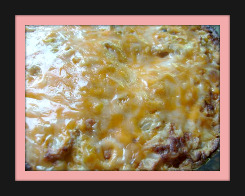 Mix the canned soup with a cup of milk (unless you're using ready tio serve, of course). Drain your tuna and mix that with the soup and cooked rice in a casserole dish. Add 3/4 cup of shredded cheese to the mixture and sprinkle the rest over the top. Bake for about 20 minutes or until the cheese on top has baked into a nice crusty top layer. Mmmm.
This apple crisp recipe is from one of my Granny's cookbooks – one she gave me before she passed. 😀
May's Granny's Apple Crisp
Topping:
1/2 cup flour
1/4 cup white sugar
1/4 cup light brown sugar
1/2 tsp cinnamon
1/4 tsp nutmeg
6 tbsp cold, unsalted butter
1/3 cup old fashioned rolled oats
Filling:
6 cups peeled and cubed apples
juice of 1/2 lemon
1 tsp lemon zest
3 tbsp brown sugar
1/2 tsp cinnamon
Prep the topping first. Either put all the topping ingredients in a food processor and pulse till crumbly (but not dusty) or cut it all together with two knives the way you would a pie crust dough. Even though I've got the giant blender, I like to use knives for this topping and others like it because it's so easy to go too far and have a dusty topping accidentally. If you use the knives, just make sure there are no chunks of butter and if you use your food processor or blender, make small pulses so you can keep an eye on the consistency.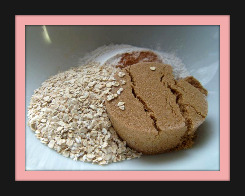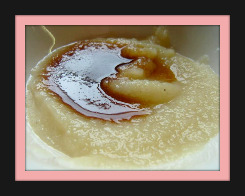 Put the apple cubes and lemon zest in a mixing bowl and toss with the lemon juice, sugar and cinnamon. Pour into a greased casserole dish or pie pan and cover with the topping. Bake for about half an hour – till the filling is bubbling around the edges and the topping is crispy.
Serve with ice cream or fresh whipped cream. Do not ruin this with cool whip!
We had a lovely little supper and then had coffee on the front porch for a couple of hours chatting about nothing specific. I love those chats the best. 🙂 I wish them well, he's got the May stamp of approval and just a few months after this supper they're engaged. How exciting!! <3 I am so excited for next Tuesday's post, I'll have my daring chef food up and all the treats the kids and I are creating for Thanksgiving!