We spent New Years Day playing board games and the little ones ate way too many cookies and chocolate almond milk, but I tried to level it out with some hidden kale in dinner and I'm going to go ahead and call that a win! Two of the games we played on Tuesday were the Pinkalicious Cup Cake Party Game
, super fun for Wee One #2, and the Super Why ABC Letter Preschool Game
, which totally worked for both Wee Ones #2 & 3. The Pinkalicious game reminded me a lot of Partini
, but for kids. You roll the dice and you draw a card from the deck that matches the icon you rolled. You're either doing charades, drawing, rhyming or dancing. After you perform the task on the matching card you earn a cupcake and the first person to get 6 cupcakes wins! You also have the possibility of rolling two other icons (duh), one gives you a free cupcake, one takes a cupcake away. Wee One #3 wasn't huge on the rhyming or the charades and seemed to think it was pretty lame. Yeah, my three year old was too cool for it – and that's fine because this game was technically for Wee One #2 who loved it so much she insisted we play it again after her menacing toddler sister went to bed.
| | |
| --- | --- |
| | |
The game we picked up specifically for said menacing toddler was the Super Why game, since that is one of her favorite shows and one of the few shows that actually teaches kids something useful! The show (and the game) focus on letter sounds and early reading. My seven year old liked this game because it was easy for her, but the littlest one liked it a lot too and it's so neat to see the connections she makes and the little spark that goes off when she finally 'gets' something. In this game, there is a spinner instead of dice and you move around the board and land on one of four Super Why characters. Each of the four characters has their own deck of cards and each has the kids practicing a different reading skill – either you match a lower case on your card to the upper case of the same letter on the board, find the letter that the picture on the card starts with, rhyme with the words on the card or you replace a silly word in a phrase with a word that makes sense.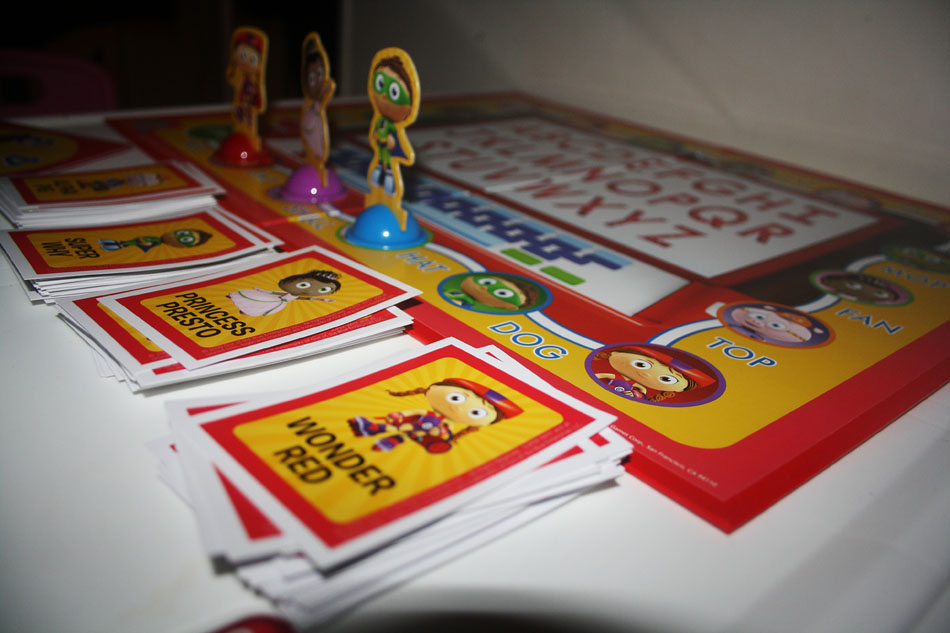 This recipe is my first cookie of 2013. Technically, I made these for New Years Eve, but since they ushered in the new year I'm counting them! It shouldn't come as a surprise at all that I am posting a Martha Stewart recipe as my first of the year since I've been cooking and baking my way through her books since I was a teenager at my parent's house cooking for their friends on Friday nights!

Soft & Chewy (M&M) Chocolate Chip Cookies – via Martha Stewart
2 1/4 cups all-purpose flour
1/2 teaspoon baking soda
1 cup unsalted butter, room temperature
1/2 cup granulated sugar
1 cup packed light-brown sugar
1 teaspoon salt
2 teaspoons pure vanilla extract
2 large eggs
2 cups semisweet and/or milk chocolate chips
1 cup plain chocolate M&Ms
My granny would dump M&Ms into her standard chocolate chip cookies sometimes if I was in the kitchen with her. It kept the grown ups from eating them all and my sister and I loved them even more this way. This is your standard sift together the dry, cream the butter and sugar, add eggs and then add dry to wet style cookie recipes.
To clarify…whisk together the flour, baking soda and salt. Cream the butter and both sugars together, then add the eggs one at a time and the vanilla. Mix the dry ingredients into the wet and then stir in the chocolate chips and M&Ms. Bake at 350 for about 11 minutes.