In the last few months, I have mastered my husband's favourite lasagna – his mother's recipe. Last summer, I was buying frozen lasagna and now I'm making it myself! Doing more and more from scratch around here has really inspired me to keep going. So now, I'm breaking down the ingredients to make them from scratch too – which just means the sauce, stock and the pasta, really.
The pasta and stock will wait for another day, this week I made the sauce from my father's classic recipe.
May's Dad's Pasta Sauce
2 lbs ground meat
(beef, chicken, pork, turkey or a combo)
1 onion
4 or 5 cloves of garlic
2 cans tomato paste
1 cup chicken stock
5 tomatoes
1 red pepper
1 green pepper
1/4 tsp nutmeg
oregano to taste
Chop your onions and garlic first. It's a big joke in my family that my father will chop onions and garlic before he even knows what he's making, so all his recipes start like this. Anyhoo, once your onions and garlic are browning a little, add your meat. My dad tends to use pork and beef or turkey and chicken. I sometimes use pork and beef, but this time around I just used beef. Let that cook on a back burner, stirring from time to time to keep it from burning horribly.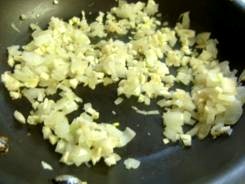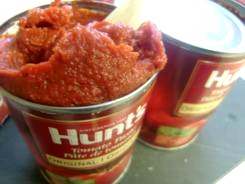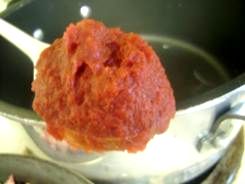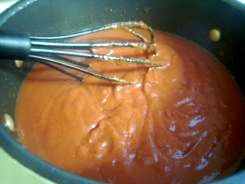 Then put the tomato paste and chicken stock in a large pot and whisk together. As I was emptying the cans of tomato paste into the pot, I thought about making my own tomato paste too, because even though the ingredients on the side of the can just say tomatoes, we all know the can is full of chemicals. Eww. Next round, I'm doing the paste too! You decide if you use store bought chicken stock or homemade. I love homemade chicken stock and I swear you can taste the sodium in the store bought stuff after tasting scratch stock. I had no scratch stock though, so I went with the new little jelly-style stock from Knorr. It actually worked out really well and the sodium content wasn't bad. While that's simmering, chop your veggies, then add them to the sauce. Now sprinkle in your nutmeg and oregano, maybe salt and pepper if you feel the need. 😉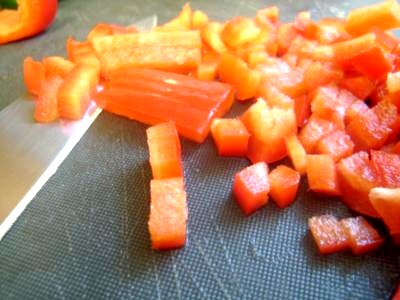 Meanwhile, your meat is probably cooked through now and the smell of garlic and onions have no doubt filled your kitchen at this point. Mmmm. Drain your meat through a colander lined with cheesecloth (or paper towel) and then add it to your sauce.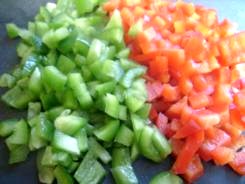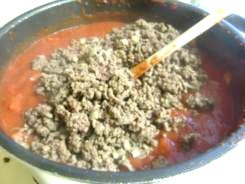 The sauce can sit as it is for as long as you'd like on a very low simmer, as long as you keep stirring. I left it simmering for about an hour or so, while I cleaned up my kitchen and got the cheese and pasta and all that ready for the lasagna I was making.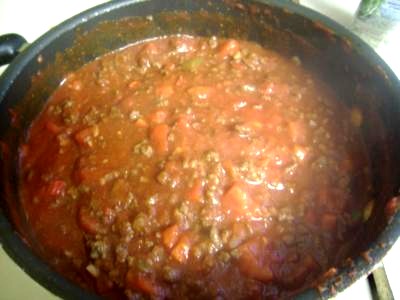 This recipe made about 4 mason jars full. I say 'about', because I usually go through 2 jars when I make it with store bought and here I used a bit more than typical and I still had 2 mason jars full.
It was fun to make, my kitchen wasn't too much of a disaster and it makes lots. You can do two big lasagnas with it or four pots of spaghetti!