Jan 7, 2011

Domestic
In this post I'm participating in Social Parade.
I don't mean that as in, these peanut butter brownie biscotti are the #1 cookie, I just mean that they're the first official cookie in my Cooke Year 2011 series. Yes, I have a cookie series and yes, I know that's weird.
I made these first for Christmas, but loved them and tore into them with the kids. I dunked in coffee and they dunked in hot chocolate (how cute is that?!), so I had to make more. Then my husband discovered that he liked biscotti after all, and we tore through the next batch too. The third time, I didn't even intend to include them in our Christmas cookie tins, and I made them just for us.
Peanut Butter Brownie Biscotti – from Christmas Cookies Magazine (BHG)
(p. 68)
Biscotti:
1/3 cup creamy peanut butter
1/4 cup butter, softened
2/3 cup sugar
1/3 cup unsweetened cocoa powder
2 eggs
1 tsp vanilla
1 3/4 cups flour
1 cup chopped semi-sweet chocolate
Peanut Butter Frosting:
1/2 cup icing sugar
2 tbsp peanut butter
1-2 tbsp milk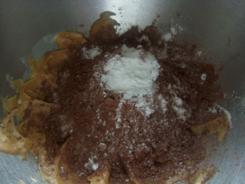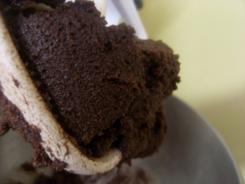 Start by mixing the peanut butter and butter with a mixer for about 30 seconds, then add sugar, cocoa powder and baking powder. Once it's combined, beat in eggs and vanilla.
Then beat in the flour (unless you've got a serious mixer, you may need to switch to a wooden spoon at this point), and then stir in the chopped chocolate and you're ready to shape the dough into loaves.
Make sure your countertop is floured and divide your dough in half. Shape each half into a 9″ long roll, and flatten them out a little so they're about 2″ wide. Put them both on a parchment paper lined baking sheet, 3″ apart and bake for 20 minutes. Cool for 1 hour.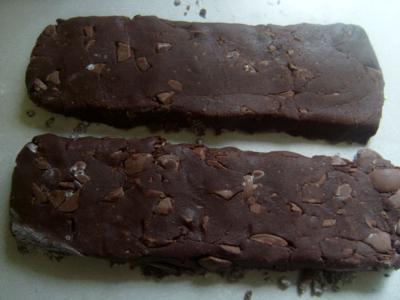 Slice each baked and cooled log into 1/2″ thick slices (16 pieces, give or take a couple), arrange on a parchment paper lined baking sheet and bake them for 5-10 minutes more, flip them, and bake for another 5-10 minutes. Sidebar; please note that much like how 'Tres Leches' cake (translation: three milk cake) has four kinds of milk in it, 'biscotti' (translation: twiced baked) is actually baked three times…sorry for digressing. Ahem, moving on.
Let them cool on a wire rack while you make the icing.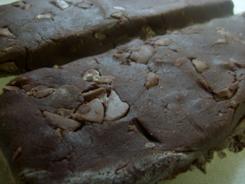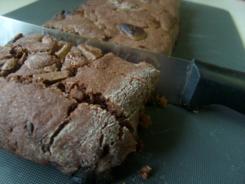 To make the icing, stir together 1/2 cup icing sugar, 2 tablespoons peanut butter and about 1 or 2 tablespoons of milk – just add enough to make the icing the right consistency for dipping. I just dunked them in a little, upside down and set them aside to dry.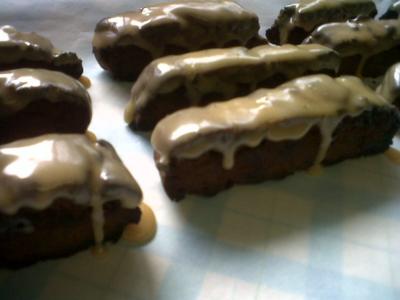 These froze very well (lasted 2 weeks in the deep freeze before we raided it) and according to the recipe, they can be frozen for 3 months and soak up my Italian roast like no other. 🙂
Hopefully, anyone here from Social Parade likes my biscotti!