In this post, I'm participating in Tempt My Tummy Tuesdays, Tuesdays at the Table, Tuesday Night Supper Club, and Hearth 'n Soul.
The 5th recipe I made from Jessica Seinfeld's Deceptively Delicious
was Ranch Dressing that I served with fish.
I'm a huge ranch dressing fan. I love it on salads naturally, but I also love it as a dip – for pretty much everything. The only bummer about this recipe, if it's even a bummer, is that it makes quite a bit but only lasts a few days. I gave some away to my husband's cousin and his girlfriend and the rest I used as a dip with fish, then on a salad and finally on the third day when Wee One #2's Godparent's came for their annual visit we used the last of it as pizza crust dip!
Ranch Dressing (with navy beans) – from Deceptively Delicious
(p. 123)
1 cup lowfat buttermilk
1 cup canned navy beans*
1 tbsp low fat sour cream
1 clove garlic, chopped
1 tbsp grated Parmesan
1 tbsp dried parsley flakes
1/2 tsp salt
1/4 tsp pepper
1/8 tsp chili powder
*great northern beans are listed as an either/or suggestion
First drain, rinse and mash the beans. Set aside.
Mix the buttermilk, beans, sour cream, garlic, Parmesan and seasonings in a magic bullet
or something similar
. Blend till smooth!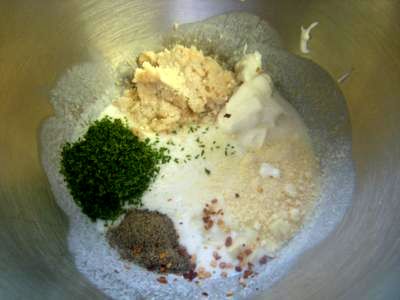 Use right away and store what's left in an air tight container for up to 3 days – eat it quick!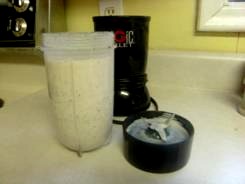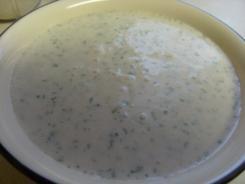 Some notes, the dressing is thin enough as a sauce to drizzle over chicken or fish if you like it with those. Otherwise, next time I will add more navy beans to make it thicker and more dressing-like.