May 6, 2013

California
,
Kids
Do I just gloss over the five weeks I've been absent from the blog? Please? No?
Two super exciting things have happened since I last posted (and a whole bunch of other amazing but less newsworthy things)! First, we moved into the bigger, better, all-we-need-in-an-apartment apartment and a little while after that, one of the besties came down for a visit! We stayed within the same apartment complex, we had been literally waiting for this apartment to become available since we decided to stay past our initial plan of six months. Moving to a tiny apartment from our house in the woods was a serious adjustment and while we are still nowhere close to what we had, this is much, much better and is perfect for us right now. The second bathroom and the backyard really put it over for us. Happy campers over here!
Miss Talea visiting was a glorious and way too fast 5 days. We managed to squeeze a whole lot into those five days though! We did the Aquarium of the Pacific, Hollywood, The Le Brea Tar Pits, Santa Monica, Pacific Park, Redondo Pier, Hermosa Pier and a little Corner Bakery and In n Out for good measure. 😉 We also watched some bad tv, drank some local wine and knitted some puffs. A lovely visit, but of course, too short.
The littles and I have been up to all kinds of hilarity with their buddies. In these last five weeks we have celebrated a friend's 2nd birthday, made sand castles at Redondo Beach, went out for a mama's night with some of my ladies, celebrated a friend's 4th birthday, broke in my girl Jennifer's Slip n Slide, went adventuring with Talea, finally celebrated Wee One #3's 4th birthday, celebrated Children's Book Day at our local library, celebrated a friend's 3rd birthday, checked out a new (to us) park or two, celebrated a friend's 1st birthday and prepared for Wee One #2's first big dance show! I'm pooped!!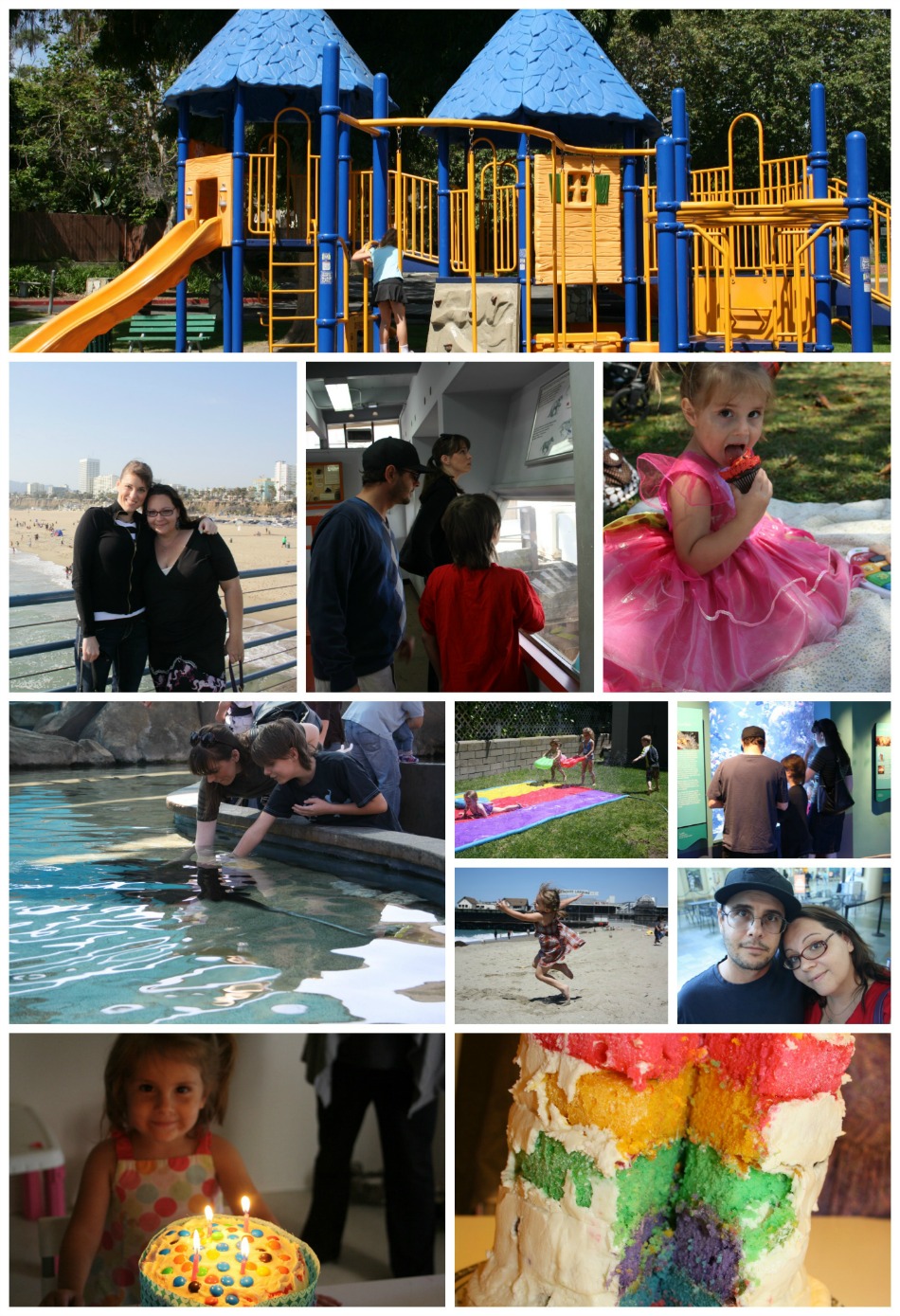 Much cooking and baking and knitting and crafting and homeschooling have been going on as well! Tomorrow, back to as close to usual as I can get – with some Red Velvet Cookies!