Dec 14, 2010

Domestic
In this post, I'm participating in Tempt My Tummy Tuesdays, Tuesdays at the Table, Tuesday Night Supper Club, Hearth 'n Soul, and of course, The Daring Cooks.
Jenn and Jill have challenged The Daring Cooks to learn to perfect the technique of poaching an egg. They chose Eggs Benedict recipe from Alton Brown, Oeufs en Meurette from Cooking with Wine by Anne Willan, and Homemade Sundried Tomato & Pine Nut Seitan Sausages (poached) courtesy of Trudy of Veggie num num.
I have watched Julie and Julia about 1000 times lately, so I was all over poaching a egg! I really wanted to do it, and since I live in the woods now, it's not hard to find farm fresh eggs! I decided to go with Eggs Benedict for the whole Julie and Julia butter references.
I have been peaking in at the Daring Kitchen message boards, as I always do, and I found that mostly out of necessity a lot of my fellow Daring Cooks had made their own English muffins. Naturally, I had to jump on this bandwagon! The very first blogger, Audax Artifex, to post their finished creation often comments here – how lucky! He included a recipe for English muffins based on Alton Brown's recipe.
English Muffins – from Alton Brown
1/2 cup non-fat powdered milk (skim milk powder)
1 cup very hot water (you can use 1 cup of very hot evaporated milk instead of the powdered milk and very hot water) <– that's what I did
1/2 tablespoon sugar
1 teaspoon salt
1 tablespoon butter, melted
1 teaspoon dry active yeast
1/8 teaspoon sugar
1/3 cup warm water
2 cups all-purpose (plain) flour, sifted
Non-stick vegetable spray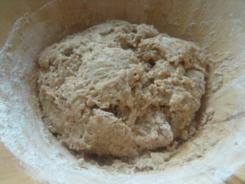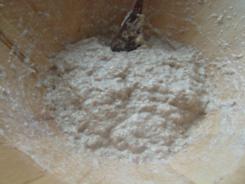 Mix your really hot evaporated milk (or your really hot water and milk powder), with 1 tbsp sugar, 1/2 tsp salt, butter until the sugar and the salt are dissolved. Set aside to cool.
Separately, combine the yeast and 1/8 tbsp sugar in 1/3 cup of warm water. Let it sit until the yeast has dissolved, then add to the milk mixture.
Add the sifted flour and and mix (it says with a wooden spoon), then cover the bowl and let it rest in a warm spot for 15-30 minutes until a few small bubbles form on the top of the batter and it becomes very sticky and thick.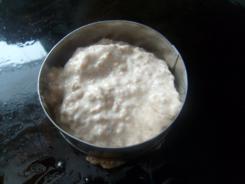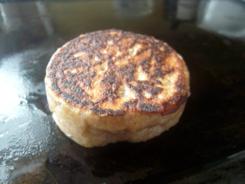 Preheat your griddle to 300, add the leftover 1/2 tsp salt and mix till totally combined. Now the recipe says to put 3″ metal rings onto the griddle and coat them with vegetable spray (4″ for the giant ones). My metal ring is 2.5″, and while I read on Daring Bakers that a tuna can is the perfect size for the huge ones, I went with minis! 1/4 cup of batter per muffin for about 5 minutes each side and they're so cute!!
Split with a fork to get that nook and cranny goodness!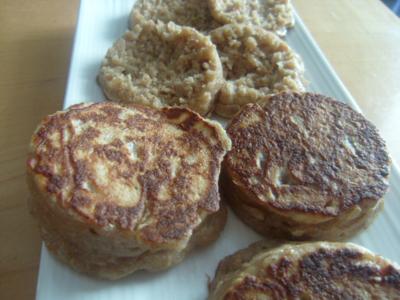 Now that that's out of the way, it was time for the Hollandaise sauce and poach the eggs! I had never made Hollandaise sauce before, but I've wanted to do forever.
Eggs Benedict w/ Hollandaise Sauce – from Alton Brown
4 eggs
2 English muffins
4 slices of Canadian bacon/back bacon
Chives, for garnish
Splash of vinegar (for poaching)
3 large egg yolks
1 tsp water
1/4 tsp sugar
12 tbsp unsalted butter, chilled and cut in small pieces
1/2 tsp kosher salt
2 tsp freshly squeezed lemon juice
Pinch cayenne pepper (optional)
1. Fill a medium saucepan halfway with water and bring to a simmer.
2. Cut the chilled butter into small pieces and set aside.
3. Whisk egg yolks and 1 tsp. (5 ml) water in a mixing bowl large enough to sit on the saucepan without touching the water (or in top portion of a double boiler). Whisk for 1–2 minutes, until egg yolks lighten. Add the sugar and whisk 30 seconds more.
4. Place bowl on saucepan over simmering water and whisk steadily 3–5 minutes (it only took about 3 for me) until the yolks thicken to coat the back of a spoon.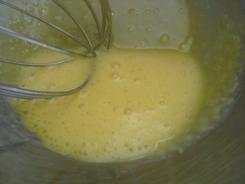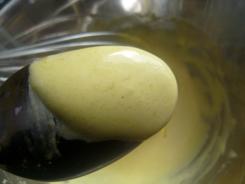 5. Remove from heat (but let the water continue to simmer) and whisk in the butter, 1 piece at a time. Move the bowl to the pan again as needed to melt the butter, making sure to whisk constantly.
6. Once all the butter is incorporated, remove from heat and whisk in the salt, lemon juice, and cayenne pepper (if using).
7. Keep the hollandaise warm while you poach your eggs in a thermos, carafe, or bowl that you've preheated with warm water.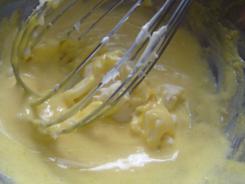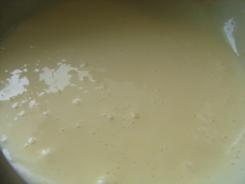 8. If the water simmering in your pan has gotten too low, add enough so that you have 2–3 inches of water and bring back to a simmer.
9. Add salt and a splash of vinegar (any kind will do). I added about a tablespoon of vinegar to my small saucepan (about 3 cups of water/720 ml of water), but you may need more if you're using a larger pan with more water.
10. Crack eggs directly into the very gently simmering water (or crack first into a bowl and gently drop into the water), making sure they're separated. Cook for 3 minutes for a viscous but still runny yolk.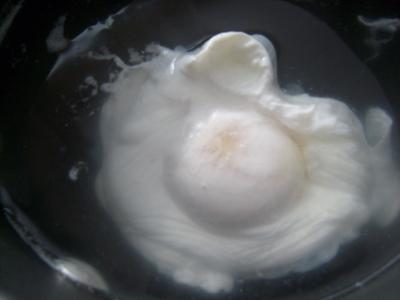 11. While waiting for the eggs, quickly fry the Canadian/back bacon and toast your English muffin.
12. Top each half of English muffin with a piece of bacon. Remove the eggs with a slotted spoon, draining well, and place on top of the bacon. Top with hollandaise and chopped chives, and enjoy!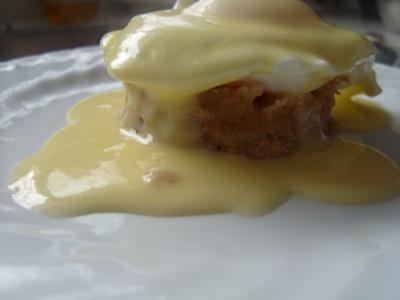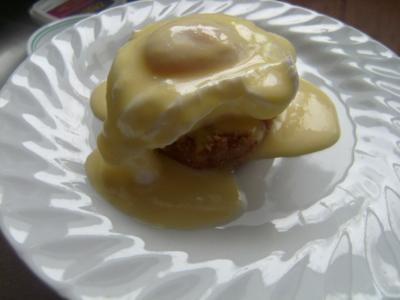 That was so fun. We discovered that wee one #1 loves my homemade English muffins with butter and wee one #2 loves them with jam. Our littlest one was snacking on her plain. 🙂
I am so hyped for this month's Daring Baker challenge. Stay tuned!