This is the first in another weekly series for this blog, Thursday will be a review day for local spots! With all the places we check out around the city, especially foodie and crafty spots, this weekly was bound to happen eventually. First up is Creme, a new gelato spot on College in Little Italy.
Creme – 703 College St – www.cremebuzz.com
I hadn't read anything about Creme before I went in for the first time, so I had no real expectation. I immediately loved the design of the cafe. There is a row of bench seating with tables and accompanying chairs by the front window. There is a lot of nice light in the afternoon and it would be a good spot to get some work done (WiFi coming soon, I've been told) while still enjoying the day.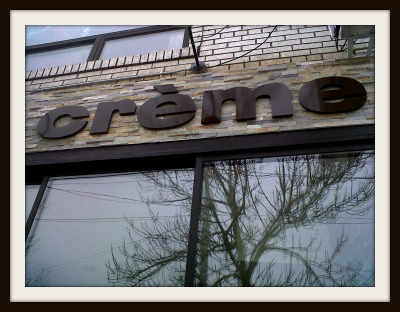 Our trip to Creme started with my wee ones asking politely for gelato. Our out of town guests thought the concept of polite children was so crazy they decided we must all go for gelato. Choosing flavours was as hard for the adults as it was for the kids and when it came to truffles, it was even harder for the adults! We ended up with three different kinds; chocolate, green mint and 'vanilla' (it wasn't technically called vanilla and had wee chocolate flecks in it). All three kinds were devoured immediately, except for one wee one, who managed to hold on to her unfinished cone all the way to Lillian Smith library! This gelato was much creamier than others I've tried recently, and the flavours were also much stronger (in the best possible way).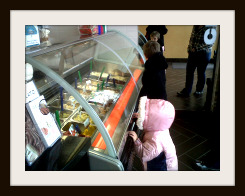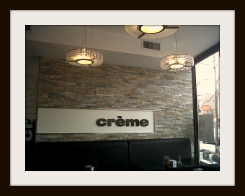 The presentation of their cakes and truffles reminded me of the Sweet Gallery in Bloor West Village, but the prices at Creme are so much better! The selection of the chocolates was nice for a cafe, and the small portion size goes along very well with a small coffee or espresso.