This is the fourth recipe in my little kitchen adventure of cooking and baking my way through Jessica Seinfield's Deceptively Delicious.
This recipe was a winner for the kids and myself, but my husband was not at all a fan of the chicken meatballs. He also commented that the pasta sauce tasted like the dipping sauce at Swiss Chalet (that's a painfully Canadian reference, it just tastes sort of tangy). So this was an epic fail as far as my husband was concerned but the kids happily ate the pasta and the meatballs, so the next time I make this will be a lunch for the wee ones.
Spaghetti & Meatballs (with butternut squash and carrots) – from Deceptively Delicious
(p. 120)
1/2 lb lean ground turkey (or chicken)
1 cup breadcrumbs
1/2 cup butternut squash puree
1 clove garlic, minced
1 tsp salt
1/4 cup + 1/8 tsp black pepper
cooking spray
2 tsp olive oil
1 (26-oz) can whole peeled tomatoes with their juice, pureed
1/2 cup water
1/4cup carrot puree
1/4 tsp garlic powder
pinch cayenne pepper
1 bay leaf
1 lb whole wheat pasta
When I made this I already had some butternut squash puree in the fridge, but I didn't have any carrot puree so I whipped some up on the spot by steaming in a little water in a frying pan for about 15 minutes, till they were really tender.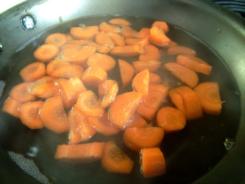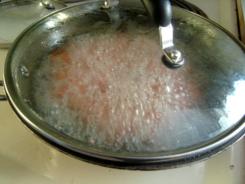 Then I tossed the carrot pieces, along with the teeny bit of water that was left in the pan with them into the blender and voila. Once that was out of the way I could get going with the actual recipe.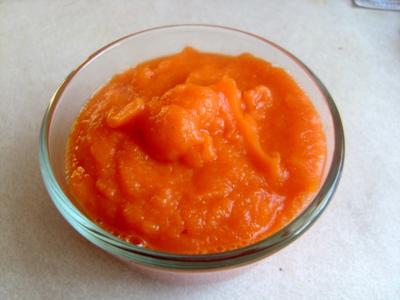 Mix the ground turkey or chicken with thebreadcrumbs, butternut squash puree, garlic, 1/2 tsp of the salt, and 1/4 tsp of the black pepper till they're totally mixed, you will have to use your hands a bit! Which is fine because you'll be using your hands to shape the meatballs anyway! Make them about 1″ and put them on a parchment paper lined baking sheet.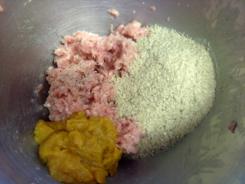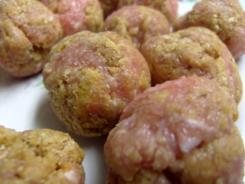 Coat a frying pan with non stick cooking spray, add the olive oil and brown the meatballs for about 5 minutes. I'm paranoid about chicken though so I cooked them for twice as long.
Then I pureed the tomatoes with their juice, and plunked over the meatballs with the water, carrot puree I just made.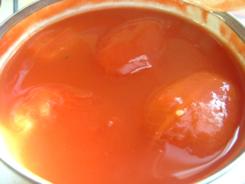 Next add the garlic powder, cayenne, bay leaf and the rest of the salt and pepper. Simmer over low heat for about 20 minutes, or till the meatballs are cooked all the way through. Take out the bay leaf.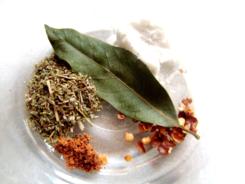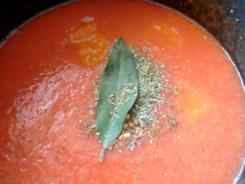 I found the sauce as is to be really loose and watery at this point. It tasted great but wasn't really thick enough for pasta, you know? So I added cornstarch. A rookie mistake is to just plunk a tablespoon or so of cornstarch directly into the sauce and try to whisk it in. That will give you serious clumps – everytime. Instead, take a little of the sauce, add the cornstarch to it and whisk it in the cup or small bowl. Then when that little bit is totally mixed in with no clumps, pour it into the rest of the sauce and whisk that in.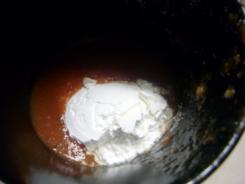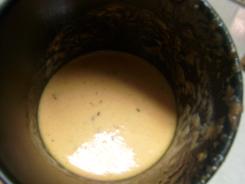 Then? Perfection. I turned it off but left it on the burner for a little heat while I boiled water, made the pasta and set the table. Rotini is a favourite around here so that's what I went with. Nothing could save this dish for my red meat loving husband, but as I said the rest of us loved it so I will likely make it again for lunch.