Feb 9, 2009

Crafty
I kicked off my knitting this month with the most traditional knitting there is – a cozy! A hot water bottle cozy, at that! I found a wonderful pattern for a cabled one with a ribbed turtleneck-like trim so it really looks like a wee sweater. I made it from some Red Heart I got for Christmas for my Uncle Peter, the first birthday of the month!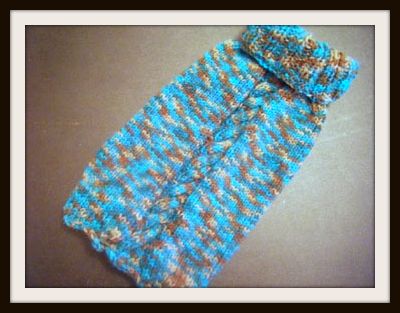 It photographs a little brighter than it is, it's only slightly darker and the brown is bang on. He'll likely use it every night, I love giving gifts like that!
I got a random call from my mother just before I hit the bind off row on the cozy telling me she needed a pair of pink mittens for a friend at work. Since my days lately are mostly spent knitting and waiting for wee one #3 to arrive (when is that stork going to show up anyway?!), I had time to knit them up for her and still pretty much stay on schedule. She was happy.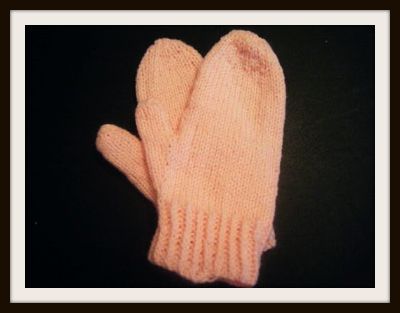 I also just finished a couple of Transformers facecloths, I found the pattern on Ravelry, natch. These are for my dear friend Nichole's wee one #1, Evan. He's 5 today, and very much into Transformers. I hope he likes them! My husband machine and wee one #1 have asked me to make some for them since they've seen these.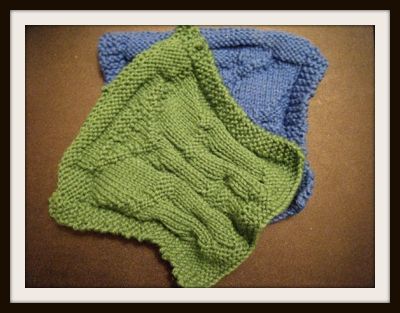 I made wee cards for him and my Uncle Peter, and a larger one for Maeve, the daughter of another good friend, who also turns 5 today!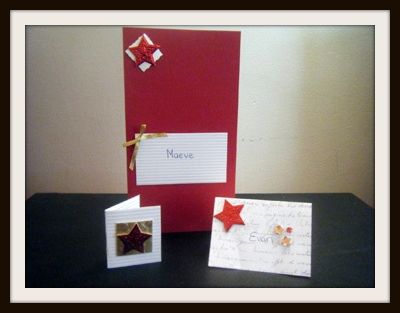 Last weekend was heaps of fun, loud and busy and congested in my kitchen. This weekend I decided to go the way of the quiet knitting evening, where just three of us gathered, ate and knit. A fantastic way to spend a Saturday night! I was making broccoli soup, and had enough for a whole pot all chopped up on the kitchen counter, when wee one #2 came over to help. She got her apron on, asked for a ponytail and promptly ate so much of that broccoli, I had to cut up some carrots too and make it Carrot-Broccoli soup!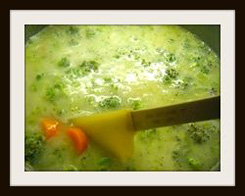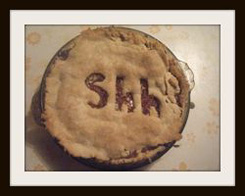 Not that I am complaining about my kids eating veggies, it was just hilarious to be looking at about 1/4 cup less every time I turned from the pie I was also making.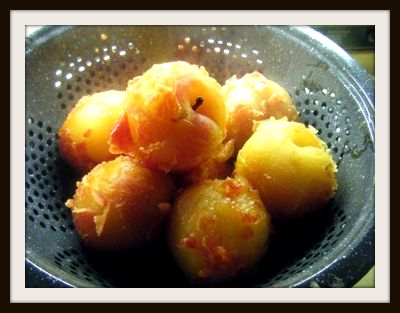 This week's pie was Red Plum Pie! I boiled the plums first for two reasons – one to help the skins slide off and one to cook them some before they were done up on the stove. I cut 'Shh' into the crust to underscore the difference in volume between last week and this week (and possibly next week), funny and yummy!
I've been procrastinating on knitting up a Brant toy. Mostly because I am looking for exactly the right pattern. I was going to make him out of Kimberly Chapman's pattern (the one I made these guys from), but I'd like him to be bigger and I'm not sure the legs are right for this project. So I was thinking I could make him from the Kate from Knitty pattern, but I think it makes him too tubby! So I've moved on to Valentine's Day prep instead.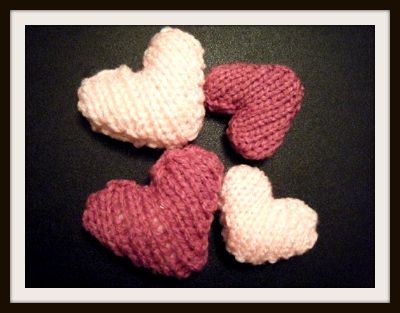 After dinner I spent most of the evening leading up to bathtime on these little treasures. They knit up really quickly from whatever is on hand and they're really cute. The pattern came from Martha Stewart, technically it's to be stuffed with catnip but I've filled them with stuffing. I want to make a whole lot more, hang them in the window and make a garland from them!
I'm looking forward to getting the rest of the Valentine gear ready, while we wait for this wee one to decide she's ready and make her grand entrance. I have to admit, it's really unsettling not knowing when!