At the end of 2008, I declared 2009 'Pie Year', for a dear friend who would choose pie over cake or ice cream or brownies – every time. Most of the pies I've made this year have been adored by everyone who ate them, with a few exceptions but generally if one person didn't like a certain pie someone else did. This held true until I attempted Shoo Fly Pie aka Maple Syrup Pie. Either I can't read a recipe (and 6 months of successful pies would say otherwise) or this pie just isn't very good. I wont even post photos of it. Once a slice was cut and you looked away, it would all sort of fall back into itself and you'd never even know a slice was removed. Scary. So the following week I had to redeem myself by baking two of the easiest pies known to man – Pumpkin Pie and Cherry Pie.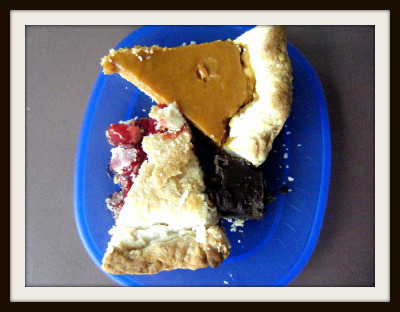 These two are not the only pies in this post, but they are both fantastically simple and worth mentioning. Generally, when I make Cherry Pie, I use Martha's Sour Cherry Pie recipe. This week however, I was asked to use a can (the horror!) because one of my knitting group ladies loves cherry pie filling from a can. For the Pumpkin Pie, I often use my Grandmother's recipe but this time I used a Paula Deen recipe and it was fantastic! Cream cheese and half and half isn't exactly the best for the waistline, but really if you go healthy with the pumpkin pie it's just not the same. This recipe had the added treat of a bit of fresh ginger, too!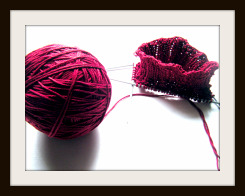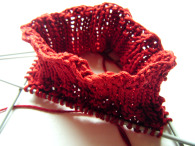 These socks were painstakingly made for my wonderful Mother in Law, and of course, they're too small. I have to block them. I have wanted to make her socks for a while, but she's allergic to the fun sock yarns I always have on hand and can only wear cotton socks. I didn't want to just make her some boring socks so I searched for some nice cotton sock yarn and found this beautiful crimson cotton yarn from Butterfly 10! It's a bonus that happens to be Greek yarn too! I used the Menehune Cobblestones Socks pattern from Straw. There is a whole gallery of free sock patterns on their site, the toddler socks are so cute and are going in my cue!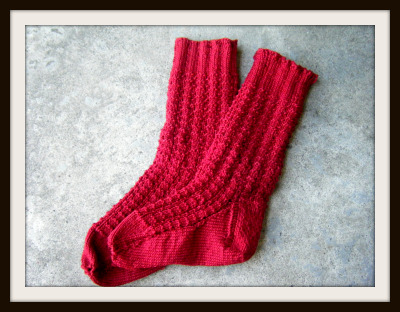 I'm sort of bummed that I have to block these because I don't want to hurt them – but I really, really love the way they knit up.
This next pie is my 31st of the year (yes, I'm slacking a little in updating them here), it's called Satan's Choice, my sister found it in a book our Grandmother gave me called Pies and Tarts with Schmecks Appeal by a very sweet little lady, Edna Staebler
.
#31 – Satan's Choice
Crumb Crust:
1-1/2 cups cookie crumbs
1/3 to 1/2 cup melted butter
1/3 to 1/2 cup sugar
Filling:
15 large marshmallows
4 almond chocolate bars
1/2 cup milk
1 cup whipping cream
reserved crumbs from crust
This pie was fairly easy to make, if a little alarming after reading the ingredients. The crumb is a standard crumb and Becel combo, with some sugar as well. Just mix the cookie crumbs with the sugar, add the butter/marg/Becel and pat into your pie pan.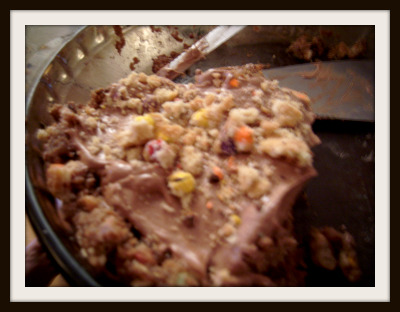 Then melt the marshmallows and chocolate bars with the milk in a double boiler. Cool it in the fridge for half an hour or so, then whip the cream and fold that into the chilled chocolate mixture before pouring the whole thing into the crumb crust. Top it with the rest of the cookie crumbs and chill it again before you cut into it. This was one of my sister's favorite pies this year and she's asked me to make it again for her birthday!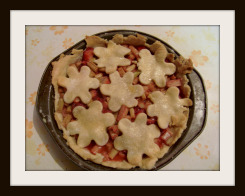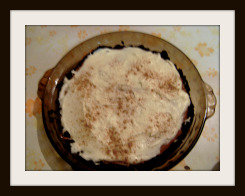 This Strawberry Rhubarb Pie doesn't count toward my 'pie a week' challenge because I already made this one as my 22nd pie this year. The Mud Pie beside (#32) it does though! This recipe came from the Kraft Kitchens. A lot of people have an issue with the big box sites like theirs, but I find it very useful and helpful and I'm sure due to their test kitchens their recipes always work! This pie was a hit and is one of those pies I've made this year that I will be recreating again I'm sure.
I've recently fallen head over heels for scones. All kinds of scones! I've been making apple scones the most often because we always have apples on hand. I have had this recipe for years and no longer know where I got it from. I hadn't used it much before recently and now I've used it 5 or 6 times this month!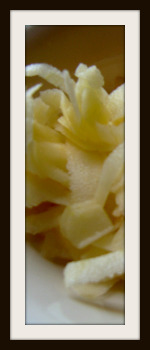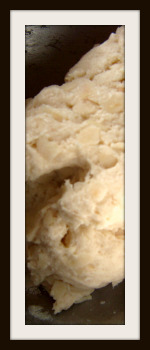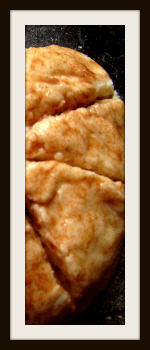 Apple Cinnamon Scones
2 cups flour
1/4 cup + 2tbsp sugar
2 tsp baking powder
1/2 tsp baking soda
1/2 tsp salt
1/4 cup cold butter
1 shredded apple
1/2 cup + 2 tbsp cup milk
1 + 1 tsp ground cinnamon

These scones are so easy (and quick) to make, especially with the mixer it's a 10 minute operation. Mix flour, the 1/4 cup sugar, baking powder, baking soda and salt. In a separate bowl, mix the shredded apple, 1/2 cup milk and cinnamon. Cut the cold butter into the flour mixture and (using the hook attachment) add the milk mixture to it. It forms a dough fairly quickly.
Roll the dough, with the assistance of a handful of flour, into two equal balls. Squish them down a little, and using a sharp knife score slice wedges into them. Whisk the reserved milk, sugar and cinnamon together and brush the dough with it. Bake for 10 minutes at 375, take out to brush with the milk mixture again, and bake for an additional 10 minutes. Ready! This recipe made these.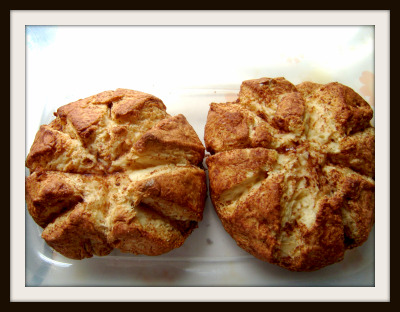 Next up is more pie, naturally, and weekly pie on vacation!