In this post, I'm participating in Tempt My Tummy Tuesdays, Tuesdays at the Table, Tuesday Night Supper Club, and Hearth 'n Soul.
I was looking forward to making this because I love French Toast and the kids usually do too. I say usually because if you add too much to it it's not always acceptable to their discerning palettes, dontcha know?
Not sure exactly why one would need to hide bananas in other foods (I thought all kids loved bananas), but she also offered up pineapple, sweet potato, carrot, butternut squash and pumpkin as alternatives). I went with banana even though I just made fun of it because I didn't have any purees on hand and making a banana puree is well, the easiest thing in the world.
French Toast (with banana) – from Deceptively Delicious
(p. 49)
4 large eggs
1 table spoons banana puree
1/ tsp cinnamon
4 slices whole wheat bread
nonstick cooking spray
2 tsps Becel
maple syrup
flaxseed meal (optional)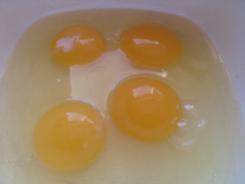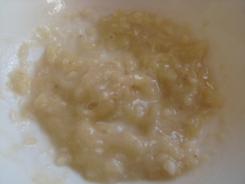 So, of course, start by whisking your eggs with your banana puree and cinnamon. Once it's blended well together, plunk your bread in.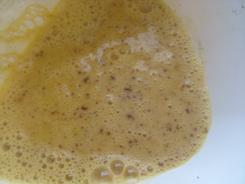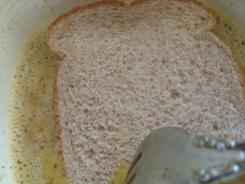 Some people have trouble with how long to leave the bread in the egg mixture or they get hung up in which is the correct tool for flipping the bread. Leave it in a few seconds past 'just wet' and use a fork!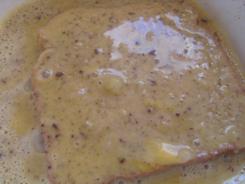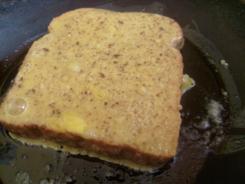 Just a few minutes each side and it's done!! French Toast is so fast! I love it! By now, the house smells like cinnamon and banana (and really strong coffee) and at around 150 cals per piece I was game to have one with the kids.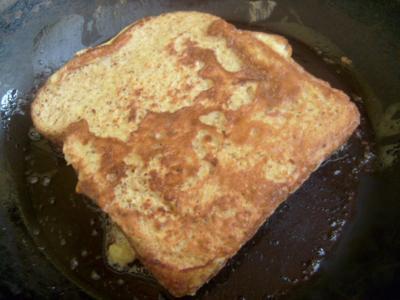 I was a little nervous they'd think the banana taste was weird by they were down and all three wee ones at it up like it was a tray of pancakes! Hey pancakes! I bet I could hide things in there too!!