I'm late to the game on this one, but it was just too cute and too fun to wait till next year!
While stocking up on yarn in November for my annual knitting marathon (every evening in November and December) at Knit Picks, I came across this pattern for Smitten, a Holiday Garland and, naturally, I bought everything I needed for it that very second. So so so cute!
From http://www.ravelry.com/patterns/library/smitten-a-holiday-garland

Rounds 1-8: *K1, P1 repeat from * to end of round (8 rounds of ribbing)
Switch to stockinette and begin the body of the mitten
Round 9: K3, M1R, K6, M1R, K6, M1L, K6, M1L, K3 (28 sts)
Round 10: Knit
Round 11: K12, M1R, K4, M1L, K12
Rounds 12-15: Knit (4 rounds)
Round 16: K12, M1R, K6, M1L, K12
Rounds 17-19: Knit (3 rounds)
Round 20: K12, M1R, K8, M1L, K12
Rounds 21-22 Knit (2 rounds)
Round 23: K12 and move them onto needle 1, K10, move the remaining 2 stitches on needle 2
onto needle 3 for safe keeping (12-10-12)
Work back and forth on the 10 stitches on needle 2 to make the thumb.
Row 1 (WS): Purl
Row 2: Knit
Row 3: P2TOG 5 times
Break yarn, leaving a 6″ tail.
Draw the tail through the live stitches of the thumb, pull up and secure.
The tail will be used to sew up the side of the thumb when finishing.
Continue Round 23 by attaching the yarn at the beginning of needle three and knitting all of
the stitches on it.
Rearrange stitches evenly on three needles and mark start of round if needed. (8-8-8)
Round 24-30: Knit (7 rounds)
Round 31: SSK twice, K6, K2TOG, SSK, K6, K2TOG twice (18 sts)
Round 32: Knit
Round 33: *K2TOG repeat from * to end of round (9 sts)
Break yarn, draw tail through the remaining stitches, pull up and secure. Hide tail inside.
Using the tail on the thumb, sew up the side of the thumb. Yarn can be knotted with the cast on
tail (mid-round 23) at the thumb joint to secure. Hide the yarn ends inside.
Fold the end of the i-cord to the mitten cuff and sew in place with the cast-on tail to form a loop
for hanging. Weave in (or hide) all yarn ends.
I knitted them up over the course of a few nights at the end of November. You just knit 24 tiny mittens, feel free to use whatever colors go with the room you're putting this in or just whatever makes you happy. I used six different colors, so I made four of each. I used Knit Picks worsted weight yarn Swish in Serrano (holly red), Rouge (pink), Honey (yellow), Gulfstream (bright blue), Dublin (green) and Amethyst Heather (purple). Each mitten has it's own little i-cord knitted into the cuff to hang! Then you knit a long i-cord to hang them all from, I also used Split Rings
to mark the countdown.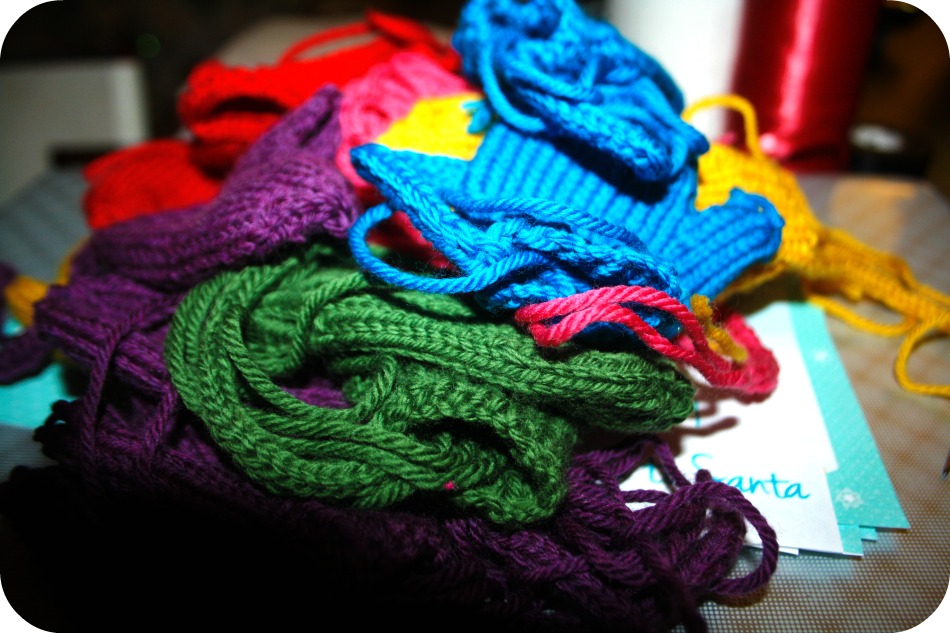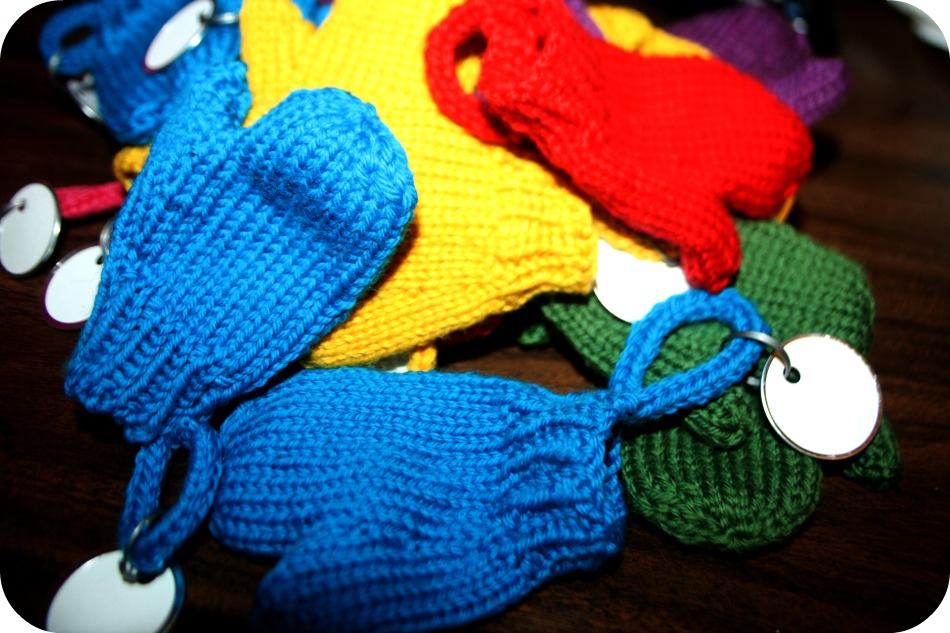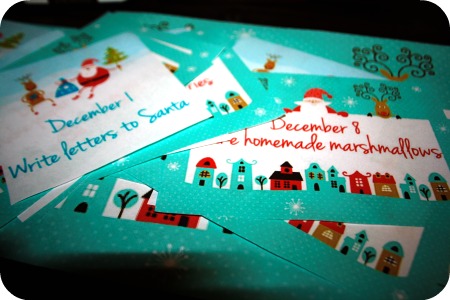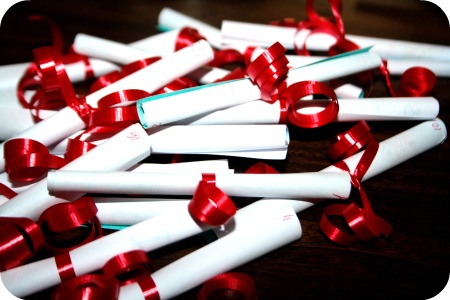 Instead of putting candy or toys inside (we have a few advent calendars, our kids are big on counting down and we didn't want to add any more trinkets or candy to our lives), my husband and I dreamed up 24 fun activities and opened these cute little characters in Photoshop and got to work. We printed them, cut them out, rolled them and tied them with red curling ribbon. Then we stuffed each mitten with an activity! The kids have such a blast picking out the activity for the day and since we know what they are, we can make sure we are prepared for them!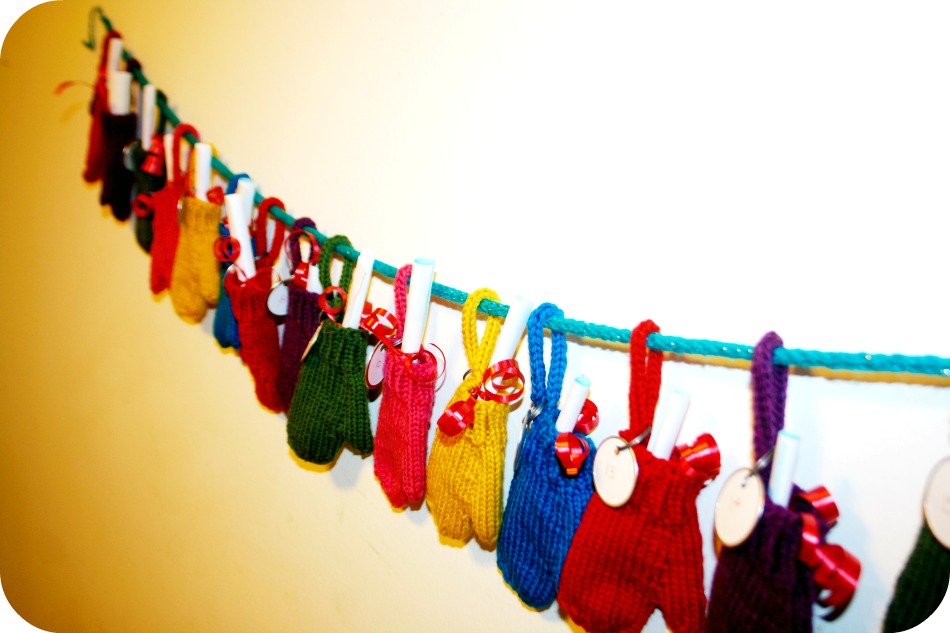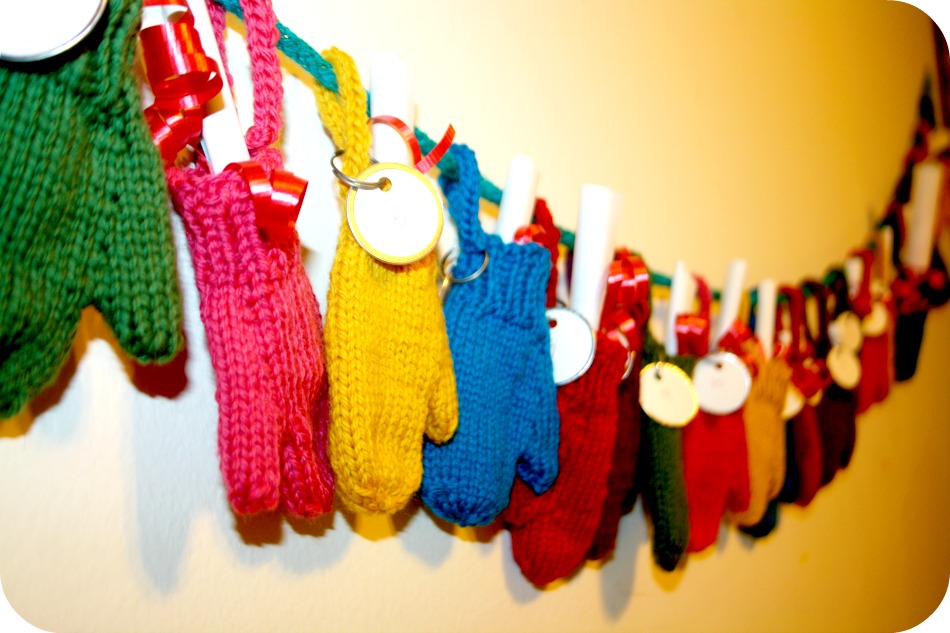 When we're done, I'll post pictures of all the activities we did! Here is the list:

1 – write letters to Santa
2 – make paper snowflakes
3 – make paper chain dolls
4 – bake bread
5 – make cinnamon ornaments
6 – read Christmas stories
7 – Christmas movie marathon
8 – make homemade marshmallows
9 – paint Christmasy pictures
10 – make hot chocolate balls
11 – have an M&M race (more on this later)
12 – make Borax snowflakes
13 – decorate a gingerbread house
14 – play minute it win it games
15 – make snow globes
16 – make botttlecap snowmen
17 – make gifts for each other
18 – make window clings
19 – make gingerbread and star garland
20 – try a new recipe
21 – make a huge blanket fort in the living room
22 – watch The Polar Express and drink hot chocolate
23 – play reindeer games
24 – read The Night Before Christmas
---

Stuff from this post:
Avery Key Tags
,
Red Curling Ribbon
and
Knit Picks Swish Worsted yarn
in Serrano, Rouge, Honey, Gulfstream, Dublin and Amethyst Heather.