Jan 26, 2011

Crafty
In this post, I'm participating in three WIP Wednesdays; Freshly Pieced, Tami's Amis and Musings from the Fishbowl.
This is my 5th Work in Progress Wednesday and while we all know I post other weeklies (Marriage Monday has been going on since last summer), this weekly specifically really calls attention to what you managed to (not) get done in a week. I mean, yes I have three kids that I enjoy spending a lot of time with, and yes my husband has turned me into such a serious neat freak I can't knit or sew or…well anything, until the house is clean, and yes, I cook everyday and bake almost everyday, but I'm not really thinking about any of that when Wednesday rolls around and I am posting about a single 3/4 done sock – that I started LAST Wednesday.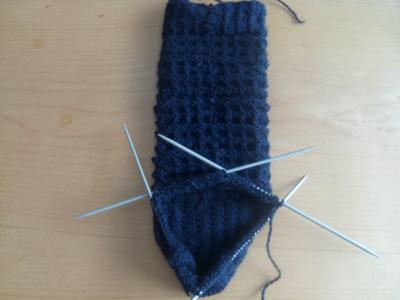 Anyhoo, let's show some love to these socks, for my Uncle Peter's birthday, called Jules. They're actually a pretty quick knit. Pretty much all of this knitting was done over three short sessions while watching Law and Order at night. 😉
This is a close up of the waffley pattern in the leg of the sock. I think they'll be extra warm because they look like thermal underwear!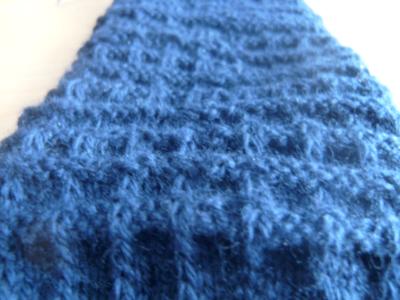 So! I've carved out a piece of my nightly schedule to get more done around here, craft-wise. If I don't, Wee One #1's curtains will never be sewn and I will not get this amazing blanket done by July. I haven't even touched it again yet because there are birthday socks in the way!
This is the heel of the sock. I adore socks with a slightly patterned heel. Especially if it's not painful to knit!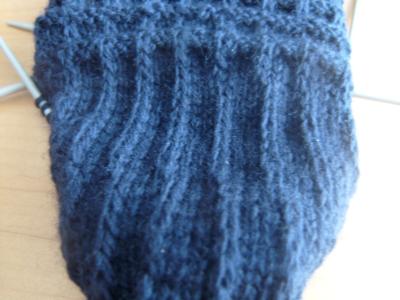 My goal this week is to have at least finished these socks, if not finished these socks and started on the next ones. I need some pressure lol. I'm always a fast knitter in December!