Introducing the second cookie of the year – Peanut Butter Chocolate Chip. I bet your Granny made these, or makes if you're lucky. My Granny made them, and then I made them with her. This isn't her recipe exactly, unfortunately. I got a bunch of her kitchen gear and two cookbooks after she passed, but I don't have her scribbled down recipes on messy and stained index cards – yet. That's what I really want.
So, anyhoo. These cookies are very close to the one she used to make, I adapted the recipe just a teeny bit by swapping chocolate chips for whole peanuts from the excellent cookbook, Great Cookies
. I have used this book over and over, and I'm sure I'll be turning to it a lot during this Year of the Cookie.
Peanut Butter Chocolate Chip Cookies – adapted from the Peanut Jumbles in Great Cookies
2 1/2 cups sifted cake flour
1/2 teaspoon baking powder
1/2 teaspoon salt
1/4 teaspoon baking soda
3/4 cup butter
3/4 cup smooth peanut butter
1 cup lightly packed brown sugar
1/2 cup granulated sugar
2 large eggs
2 teaspoons vanilla
2 cups chocolate chips
First up, of course, you sift together the flour, baking powder, salt, and baking soda, and set that aside. Then, using a stand up mixer if you have one, cream the butter till smooth and add the peanut butter. I love the way it looks, so silky! Next add the brown sugar and granulated sugar.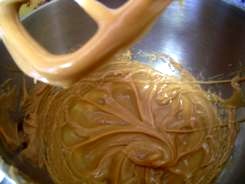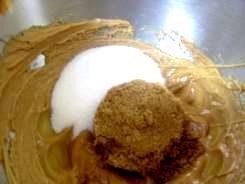 Plunk in your eggs, one at a time while mixing, then the vanilla. Now put your mixer on the lowest speed, and add your dry ingredient mix very slowly so it all gets combined properly, but don't over mix! The take it off your stand mixer and fold in the chocolate chips with a wooden spoon.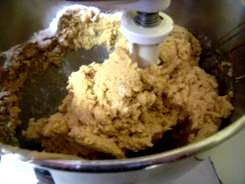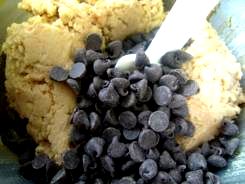 I have always, always, always put the cross hatch marks on top of peanut butter cookies with a fork. I don't know if that's a thing or if it's just a thing my family did, but I've always done it. The addition of chocolate chips didn't deter me from doing it here too. 😉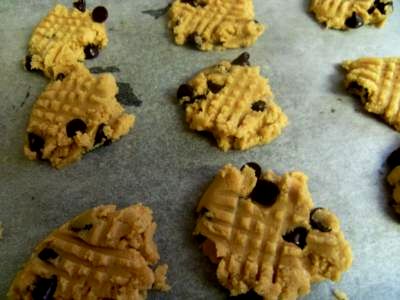 8 minutes at 375 and they were perfect. I made great time on these treats too because as soon as I was done pulling the last batch from the oven….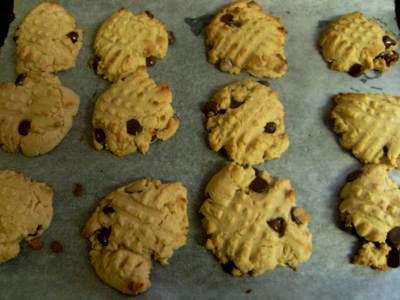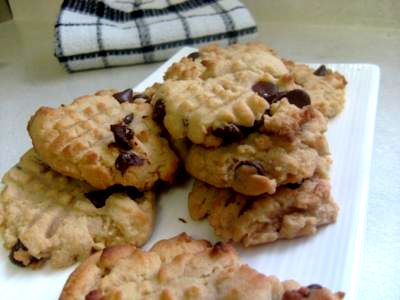 …it was time to set the table for the kids' after school snack!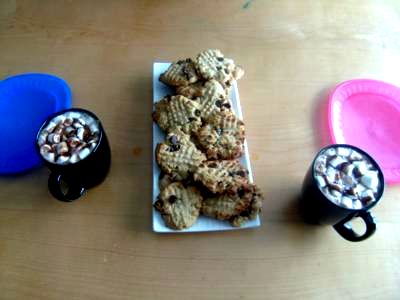 Yes, I set a little tea party for my kids every day after school. Trust me, they're amazing and totally deserve it