Oct 15, 2010
That's right people, I'm knitting again. And not just picking up a sad sock from last fall and doing a few rows, I am finally back to my 'knit a pair of socks in a little over a week while baking from scratch and keeping a clean house' self. Phew. My poor husband lost his June Clever there for a while and it must have been a little scary. Trust me, I was more nervous than he'll ever be and maybe one day I'll post about that. For now, however, the domestic goddess is back at it. Let's talk about socks, shall we?
Wee one #2 started senior kindergarten this year and her teacher is bananas. Bananas in the same way that I am bananas, so I'm really looking forward to this year at school. I really wanted to make her something extra sweet for Christmas, and as any knitter will tell you I'm already behind when it comes to Christmas knitting. I have a queue on Ravelry as long as my leg (maybe longer actually), and this pattern, Socks of Kindness struck me as something she'd really like. Simple but cute.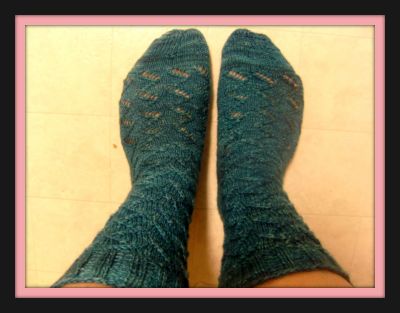 It's a 12 row pattern repeat, and really knits up quickly. I mentioned on Ravelry already that it's a great pattern for getting your knitting mojo back if you lose it because it's simple enough to knit up without thinking too much, but it's got some substance to it so it's not a horribly boring knit. This is also the first time I managed a short row heel! It was easier than I thought it'd be, after a few failed attempts last year it worked this time for some reason. I like the look of this heel better, though it's less 'fun' to knit than the heel flap I usually knit.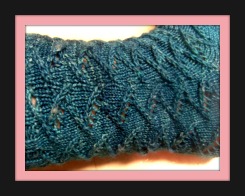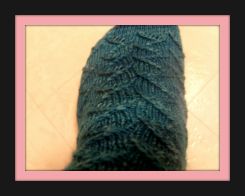 I am aware that it is a little nutty to be knitting socks for my kid's teacher (teachers actually, I'm knitting up a pair for wee one #1's teacher too…) but I want them to know that I appreciate the one on one teaching that comes from being in this tiny town. So much one on one time also means they'll get to know my kids in ways that none of their former teachers in Toronto ever could and that deserves something a little extra, right? Oh, so glad you agree! 😛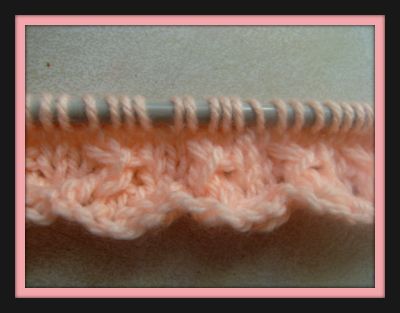 I just cast on for the Shifting Sands scarf last night and I had to rip it back – twice. I have no idea why, but I always seem to forget how to cable when I start a new cabling project. I always realize after I've knitted a couple of rows and it looks off. One day, I'll get it on the first row! So, not much progress, but I've got one Christmas gift off my list and I'm starting on another.
This afternoon, I'm cooking up my Daring Cook challenge and some treats for my birthday weekend this weekend. I killed my oven on Thanksgiving (sooooo lucky that it was *after* I was done all my baking), so I'm doing stove top, no bake and bread machine baking. That's right, in the bread machine!
My actual birthday is next weekend, but my ladies (and Andrew) are coming up tomorrow to help me celebrate and I could not possibly be more excited. I'm Greek, I show both love and excitement with food. Get ready!!