The first time I sat down to write this post, it opened with 'my granny died 10 days ago', and that was three weeks ago. I'm still not sure if I want to write about her just yet, but I do know that I want to write and I also know that I wont post anything else until I write about her because I can't just ignore that she's gone.
She was 87. 87! That is seriously old and she didn't squander those years either. I don't know if I can put it to words in a way that would do justice to her life, but I don't want to cop out before I've started so I'm going to try. Just know that she was a force to be reckoned with.
Even her quick bio is a little awesome to me. She was born in 1923 – think about that for a minute! The town in Saskatchewan that she grew up in had a population of 600 – she even rode a horse to school and that horse's name was…wait for it…Maude. If I was reading this blog and I didn't know my family I might not believe that, but it's true. Her mother died when she was a young girl and she moved with her sisters and brother to Winnipeg where she did most of the cooking and baking for the whole family. She joined the army at 18, was stationed in Montreal and eventually met my Grandfather as a result – he was also in the army and Montreal was his hometown.
After marrying my Grandfather, they had four children. My Uncle Bob was born in a hospital in Montreal in 1947, my father was born in a hospital in Toronto in 1949, and by 1952 my grandparents had moved to the middle of nowhere, on the northern tip of Lake Superior where my Granny gave birth to my Uncle Glenn in a cabin in the woods with no running water or electricity. A few years later they had moved back to Toronto and my Granny gave birth one more time, to my Aunt Wendy, at home in their apartment – so quietly that no one else in the building knew she had a baby!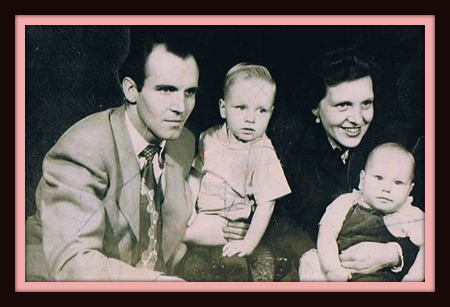 Grandpa, Uncle Bob, Grandma and Daddy, 1950
She waitressesed her way through her 20s, 30s, 40s and 50s, (with a brief break in her late 20s when they lived in nowhere land), and worked hard until she she retired. And even then, she was still up at dawn every single day. When my mother went back to work after I was born, she and my Grandpa not only took care of me and walked me back and forth to school but she taught me real life skills and lessons I may not otherwise know (I can make all the tricky stuff in the kitchen because of her). The very first pie she taught me to bake was Lemon Meringue, how convenient that would turn out to be one of my future husband's favourite pies! We made a lot of bread, muffins and cakes and HEAPS and HEAPS of cookies. Man, she loved to bake cookies. To me pie represents what I think cookies must have represented to her – the ultimate domestic staple. I'll even add bread to that catagory, if my house smells like either it just feels so right.
When my aunt and uncle bought a neighbourhood restaurant, she baked all the pies, tarts, muffins and other treats from scratch. Every inch the typical Granny in this way, she'd always go to bed by 10, when everyone else was still having fun and get up while it was still dark to do her baking before the rest of the house even woke up!
There are so many things about her that I aim to emulate, she hosted Sunday supper every weekend without fail from 1975 till the weekend before she passed (though to be fair, my aunt did all the actual work in the last few years because my Granny couldn't). What a wonderful legacy! There are 35 years of weekly memories created because she wanted to be sure we all stayed connected to each other. It worked. We have always been, for better or worse, one of the tightest families I've ever met.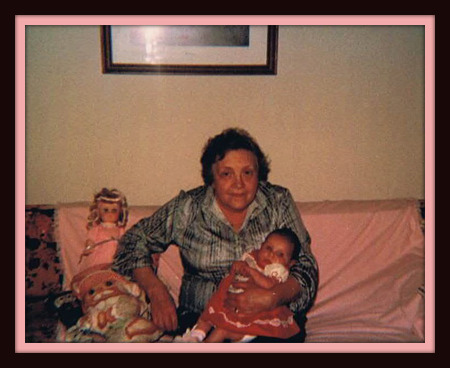 Grandma and Baby May, 1980
Rando facts that I find endearing:
-she loooooved Glenn Miller (so much that she and my Grandpa named one of my uncles after him) and Christmas music (year round)
-she hated wee one #3's name when we picked it before she was born, and then she kept forgetting it after (but never forgot the names of the other two wee ones)
-from the time I was wee until I got married, we would go to Fabricland together and pick out patterns for dresses or skirts and heaps and heaps of placemats and napkins, I loved it
-she always buttered both crackers and bread before putting peanut butter on and when asked would always say 'you can't just put peanut butter directly onto the bread/dry cracker', and give a stink eye like you had 10 heads
-when I was a teenager, she'd send me to the store with way too much money and let me keep the change
I thought this would be easier but tears are trying to break through and it's biting. I am so thankful for the time I had with her, but I am also so bummed with myself that I had even more opportunity to hang out with her that I didn't take. It's easy to say that I have a busy life, but it's not right to use that as an excuse.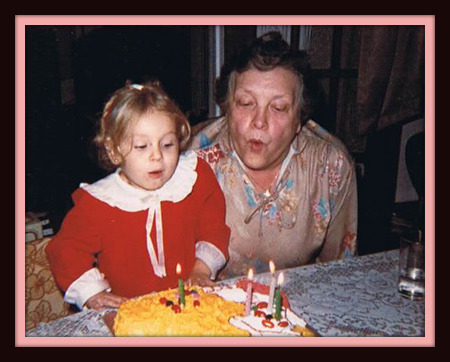 Grandma and 4 Year-Old May, 1984.
My eldest uncle passed this March, which I have no doubt had a serious effect on my Granny's health, and I felt the same way after his funeral. So I've been proactive about it I think. I make sure I check in with my folks everyday and my aunts and uncles hear from me weekly. More importantly, I go hang out and insist they visit us as well. It's important that I stay in touch, of course, but it's just as important that my kids nurture the bonds they have with every member of our family. For that, naturally, we need face time. <3