Apr 10, 2010

Crafty
,
Interviews
Let's start with your shop, Paper Boat Boutique and Gallery. What
was behind your plan to open a shop devoted to independent crafts?
Paper Boat opened in June of 2005 as a result of myself and my business partner Kim Kisiolek realizing there was no brick and mortar space in Milwaukee that specialized specifically in indie designers. I had made a lot of connections online through my business at the time Flying Fish Design as well as through coordinating Art vs. Craft (Milwaukee's indie craft fair), so it was a fluid step to get things going on a retail level.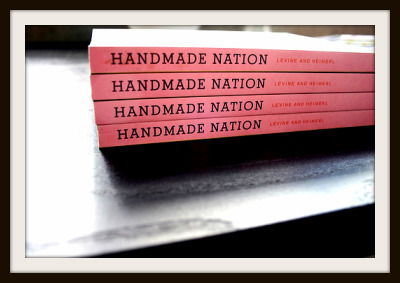 Tell me about your shop! What sort of items do you carry, is there
an online counterpart?
Paper Boat works directly with makers who produce their work in house or have it manufactured on a small scale. We carry stationary, jewelry, household items, clothing, books, plush and art objects. We also have a small gallery space that has hosted shows by Jill Bliss, Jenny Hart, Katy Horan and Monica Canilao to name a few. We are looking forward to the solo show with Lisa Congdon (of Rare Device) this December! We don't have an on-line shop because the whole point is for the Milwaukee public to be able to come in and interact with the work, most of the makers have their work available online and we direct people to their sites if necessary.
The bi-annual craft festival you put together, Art vs Craft, seems
like more than your average craft show. What do you feel makes it
different?
We receive over 3 times as many applications as spaces for Art vs. Craft and this allows us to hand pick the vendors that we feel are bringing the most innovative, quality, unique work to the event. Every year we have returning vendors new people apply as well.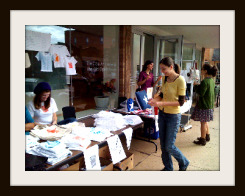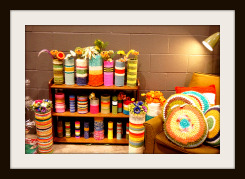 Do you have help putting the show together? Plug your friends!
Art vs. Craft is coordinated by myself and Kim Kisiolek. There are a handful of amazing volunteers that help the day before and day of to make the event run smoothly.
What sparked the concept of Handmade Nation, the documentary?
As a maker I found myself immersed in the emerging indie craft community. In 2003 I participated in the first Renegade Craft Fair in Chicago and was blow away at the amount of people who where vending as well as there to support the makers. At that time I knew there was something big going on, it took 3 years to realize that this "scene" was a huge movement that needed to be documented. So, with my DIY spirt I took it upon myself to begin documenting what was going on around me.
You travelled 19,000 miles to talk with indie crafters all over
America, how long did that take and how did you go about it?
We began shooting in June of 2006. Initially it was myself and the Director of Photography Micaela O'Herlihy who traveled around. At the time Micaela was a full time working artist and also a single mother so we scheduled our shoot dates over weekends around craft fairs happening indifferent cities so we could get the most footage out of a trip possible. There were a few instances where Micaela couldn't make the trip and I had my friend Drew Rosas step in and shoot. The actual logistics of producing the documentary were pretty easy since I had all the connections already made for the most part. People were happy to meet with me and be a part of the project. We ended up interviewing over 80 individuals over the course of 2 years.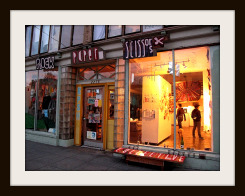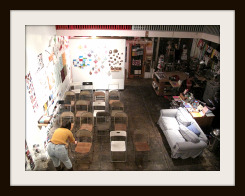 Being an indie crafter yourself, what new things did you learn
during your journey?
I learned that I was not the only one struggling with balancing my artistic life with trying to make a living. I learned that I wasn't the only one who was battling not being able to keep up with production of my goods once there was a demand, and I learned that there was much more amazing work being produced that I could ever document.
At what point in planning the documentary did you decide to make a book from the idea as well?
In 2007 after we released the 8 minute clip on youtube I received way more attention toward the film then I ever expected. I received hoards of emails about people who wanted to be a part of the project, wanted to support the project as well as three emails from publishers who were interested in the possibility of a book, one of which was Princeton Architectural Press. I was familiar with their books and a big fan of their aesthetic. At that point I realized I needed help and asked friend and artist Cortney Heimerl to join on as co-author and pitch a proposal. Princeton gave us the go-ahead and the rest is history (fun fact: our book has been out less than a month and is already in it's third printing!).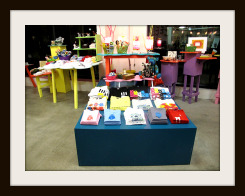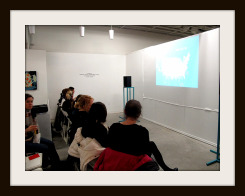 What is the difference between the book and the movie?
The book starts off with a time line of the indie craft community fantastically illustrated by Kate Bingaman-Burt. The is broken up into regions for the chapters which are divided by essays by community members. There are 24 makers featured in the book with a page of text for each and then 3-6 pages of images of their work, studio space, process, etc. The book gave us the ability to feature in depth more people than we can in the film. The film features 13 "featurettes" on specific people with a ton of smaller interviews and cameo's from community members.
I have to ask about the Handmade Nation stitch pattern being
released by Sublime Stitching. How did that hook up come about and can you tell me about the designer?
I am so excited about the Sublime Stitching pattern we did. We are so lucky to have Jenny Hart and her company Sublime Stitching as a part of the indie craft community and she has been overly supportive of the documentary and book. We talked awhile back about doing a pattern with her company and it just madesense for our book illustrator/telegraphist Kate Bingaman-Burt to design it. Kate is an amazing designer now based out of Portland, OR who has a fascinating website called www.obsessiveconsumption.com where she illustrates and documents her daily purchases. I suggest checking it out. Kate and I have continued to work together on many projects after the book was complete and I look forward to working with her more in the future. The Handmade Nation / Sublime Stitching patterns went live this month and will be up until they sell out, they are a limited edition and a percentage of the sales go towards the expenses of the film.