Jan 21, 2009

Crafty
With six of the seven January events on my calendar taken care of (not counting wee one #3's impending birth, since we really have no idea when she's coming), I'm feeling really on top of things for a change.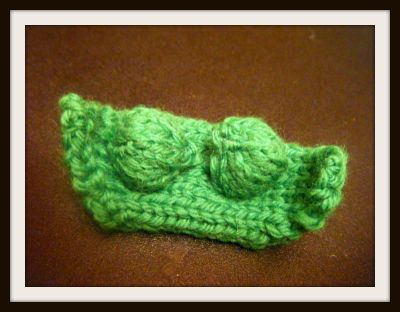 I posted a few days ago with a pic of the bowl of veggies I'm making for my Dad's birthday, I've added another veggie to the mix, peas in a pod.
I found the pattern on Purls Gone Wild through a search for veggies on Ravelry (along with the one for the celery). Oh, Ravelry search, is there nothing you can't find for me?! The corn is from Kimberly Chapman, the eggplant is from Jimmy Beans Wool. I still want to make the carrot from Jimmie Beans but I don't have the right orange on hand and I'll get to the tomato from Purls Gone Wild. So silly, I love it!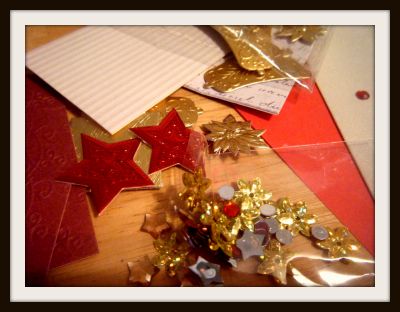 I got to play with my box of card making gear! My fave thing about making cards is all the glitter and paper and blankness of the cardstock.
The next birthday in order is for a very sweet 6 year old, Madeline. Maddie's mom and I met years and years ago in a former life several hours north of Toronto. I miss her and her sisters all the time, but never, ever the snow. 😛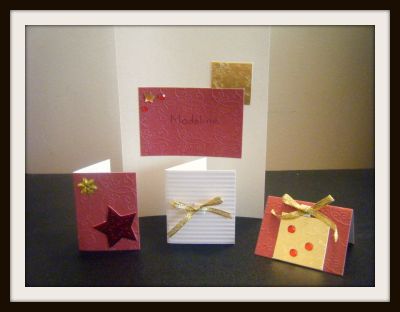 So I made Maddie her card and then made wee little ones as tags for Melissa, Jason and Nichole. The kids will made another one for Melissa since they're close to her and of course one for my Dad. I think they came out really cute.
Monday was a double birthday, for my husband machine's bestie and for the daughter of a schoolyard friend. So for my husband machine's bestie, whom I've known as long as I've know him, I made Tux, the Linux penguin. I got the pattern from Knitty, where they refer to it as Pasha, but they know who it really is. 😉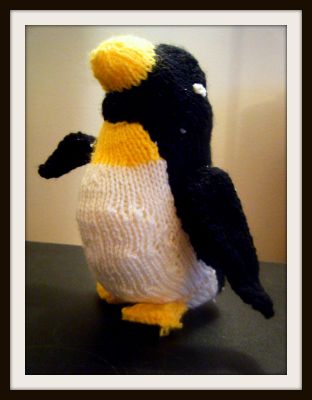 I'd imagine Tux will either come to live on his Linux machine, or he'll be adopted by his wee little son, either way I'm sure it'll go over well, getting the Linux penguin from the Linux family. 😛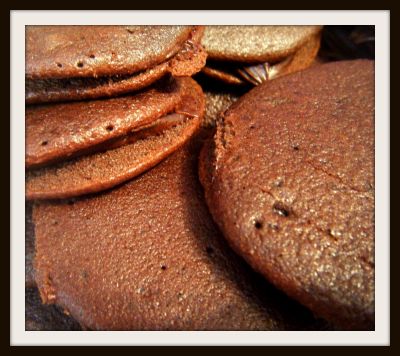 As for the daughter of my schoolyard friend, I should qualify. I stick out a bit in the schoolyard, not too awkwardly but still. So does she, plus we're both the same age and that goes a long way. Our Facebook 'how we met' reads; they met in a sea of children one afternoon – the mom with the pink hair hooked up with the mom covered in tattoos. So these cookies are my version of the Oreo Cakesters, except they're chocolate on chocolate for her littlest one. My kids looooove them, I hope they're a hit at her house too.
The last birthday of the month is tomorrow, my dear, dear friend Nichole. We are so very far from each other, but always there for each other, and though I've crafted many things for her and her kids over the years, I've yet to actually pop anything in the mail. I think generally I just get ahead of myself with her and plan something too grand to mail, or mail on time and then I just don't. So this year? I made her a super simple wee bag to carry her essentials to the park! Done!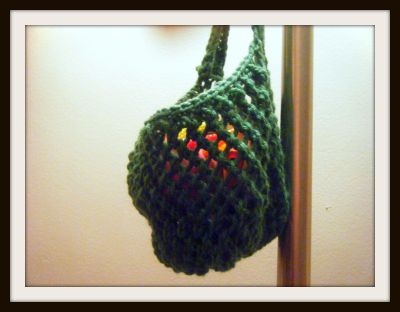 When I get my sorry butt out to the post office on Friday I'll have to snap a pic of actually mailing this stuff out!
And now, the great time consumer. I am hosting a Chinese New Year party next weekend for a bunch of close friends, and a few of them (those that celebrate it aside from munching at my place) are getting fun gifts. Before I can start on the other two gifts, and before I can even get the decorations or anything else going, I must, must finish this afghan/throw for my dear Gill & Andrew. I'm not shy to post it here because neither of them have this address and they're not really the craft blogger types. 😉 Though, naturally now that I've said that they'll both probably be tracking the progress of this project!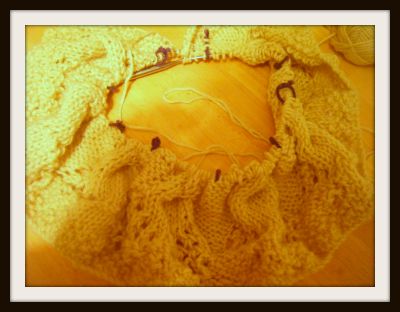 It's the Cable Knit Throw in my sidebar from Coats and Clark and I'm not even a whole repeat into it yet, though I did just start and then I stopped to do Jon's penguin, Nichole's bag, the cookies and the cards. Here's hoping I can just knit and knit on it till it's done. We'll see!