Sep 5, 2011
Even though there is only one recipe in this whole post, I'm calling it a Tasty Tuesday and I'm participating in all my favorite foodie link ups – Tempt My Tummy Tuesdays, Tuesdays at the Table, Made From Scratch Tuesday, Tasty Tuesday (@ 33 Shades of Green), Tasty Tuesday, Delectable Tuesday, Tea Party Tuesday, and Hearth 'n Soul. And since this is a very crafty post, I'm also linking up with Get Your Craft On, Made With Love, Craftastic, Tip Me Tuesday, Tuesday Crafty Confessions, and Totally Tuesday.
Before I even get into what I posted on the site in the last few days or the collection of crazy cute iPhone photos I'm amassing thanks to a ridic app that I can't stop playing with – I bring you my kitchen. I posted a crooked picture of it when our offer was officially accepted, 90 days before we closed (longest – and somehow also shortest – 90 days ever). So here it is, a much better view of the room I spend the most time in. The other half of the kitchen has the eating area, the cookbook bookshelf and Wee One #2's play kitchen – and the pantry! That deserves it's own post. I have never lived in a house with a walk in pantry or one with this many cabinets, so when we set out to buy a house both of those things were on my wish list. What I really love about it, though I know I've said it before, is the working triangle of the fridge to sink to stove. I honestly hadn't even noticed it until my uncle in law was here on moving day (I can't call him 'my husband's uncle' after being married for 11 years, as I now adore him like my own uncle) and mentioned that it'll be a great kitchen for cooking and baking because of the triangle! I had no idea it was an actual 'thing', I thought it was just something he said till I later read about it.

Anyhoooooo, out the sink window is the 'main road' of this wee town, I guess there are actually two main roads in this town and this window shows the corner of them. There is a whole lot of tractor and horse trailer action on this corner. Also, every single house in town (except ours, I'm not lying) has a dog and they all walk it by this window. (Sidebar- yes we are now entertaining the idea of getting a dog and we are trying to settle on a breed, it will likely be a year until we actually welcome one home). On one hand, a curtain would be a good thing so randos can't peep in, but on the other hand, there are no randos in a town this small and I like waving like an 80 year old Granny at everyone. For reals. The big patio doors are just out of the frame in the second photo, but you can see where they are from the curtain, just beside the stove. Those doors are very high traffic around here, and I can keep mixing while I glance out to do a quick head count and be sure everyone is accounted for. Love!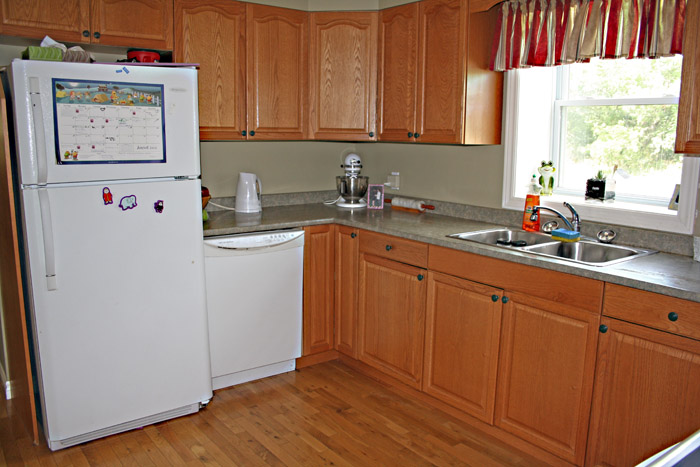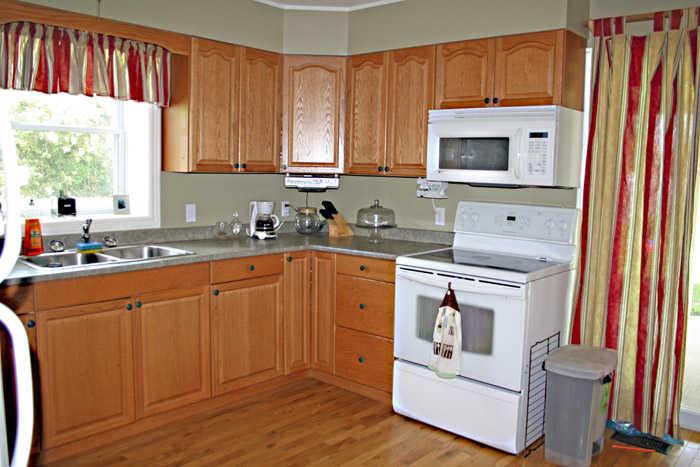 I will take photos of my pantry this week – I could make an entire post out of all the weird ingredients in there. You never know when you might need actual honeycomb or hazelnuts or oat flour or dehydrated sugar cane or condensed/evaporated/powdered milk! Not to mention of course the stockpile of apple juice – three kids can easily go through a single can a day.
This week so much of the additions around here have been crafty! I've been baking up a storm of course, but most of the projects I've added to the site were in the crafty section. There was one recipe added though! It's another recipe on the health(ier) side of things, a burger from Jessica Seinfeld's Deceptively Delicious – with mushrooms and zucchini!
| | |
| --- | --- |
| | Homemade Plastic Bowls – Am I really writing about a boxed kid's craft kit? Sorta. I have always been a fan of crafts like these Makit & Bakit type things. The concept of putting plastic in the oven is so alarming and amazing at the same time, I've loved it since I made my first record bowl about 15 years ago. These little 'Makit & Bakit' crystals were different and I wanted to try them but I couldn't find them outside of a kit. |
| | Birthday Wishes – My mother has always made a really fun and (often a really big) to do out of everyone's birthdays. Not just my Dad & my sister, but also my aunts and uncles and close friends have had serious birthdays courtesy of my mother. As is the case with a lot of people who work hard for other people, she hasn't had many serious birthdays of her own. |
| | Adhesive Bookplates – Finding crafty ideas for teachers can be rough because even after only a few years of teaching, with an average of 20 kids in each class just imagine how many hilariously crafted gifts they already have. Or how many 'incredibly useful' mugs they must have! I'm not out to always give the best gift, but I do aim to give each teacher something they'll actually use. |
| | Crayon Monogram – I am aware that this is one of those teacher gifts that serves no purpose other than being extremely cute but just look at it! Look! I originally found the idea on Tip Junkie, the inspiration post is over here at Keeping Up With the Comptons – it was posted two years ago and I just did it this June. A quick search turns up so many versions of this craft; Two Peans in a Bucket, Well, How Nice, Dollar Store Crafts, Rainy Tuesday Mornings, Creative Mommas and my personal favorite version from Chic & Cheap Nursery. |
| | Fabric Bookmarks – These were part of the collection of things we made as end of school year thank yous to the teachers and staff at the wee ones' school. These were made for the librarians, who are a retired couple and so sweet with the kids. I have no doubt that between the two of them they have a great deal of bookmarks, but they are so often lost or in need of replacing I figured it was a safe gift. Plus after seeing these ones on How About Orange I had to make some myself! |
| | Deceptively Delicious Burgers, Part 2 – These burgers are the 15th recipe I've made from this book. I can't say these burgers were amazing, because they were not. However, I can say that not one out of all five of us didn't finish their burger – loaded with mushrooms and zucchini. None of us like zucchini and only one person likes mushrooms. I think that counts as a success, because while no one raved over them, no one complained about them either and we all got a shot of immune system boosting mushrooms, selenium and B2! |
I also went and fell in love with the Instagram iPhone app. I fell hard. It's addicting to have your already super cute phone pictures made extra adorable. See evidence below. There are 16 filters (I think) and the effects range from fading the image slightly to giving it a different 'mashed potatoey' feel with a border. My favorite filter is called Nashville, (the first, and last 2 image). I wonder if there's a 12 step for this sort of addiction??