My parents celebrated their 30th anniversary a few weeks ago, I had a few silly ideas for the pearl anniversary that involved patterns with lots of 'purls' in them but nothing seemed quite right. If you've been reading this blog for any length of time you know how much I love knitting creatures and toys so I just went with knitting pearls, 30 of them!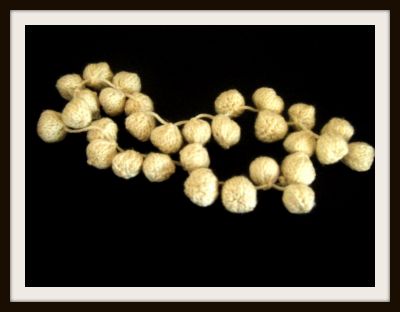 I didn't intend for either of them to actually wear them, I assumed they'd put them where ever they put all the other random knitted stuff they have from me. I've been told that when held up and dangling, this looks like a string of garlic. As far as I know my folks don't believe in vampires…
On to the recap portion of this recap post, so much has happened – both crafty and otherwise – since my Valentines Day Rewind post a few weeks ago. First, we had a (sort of) surprise party for our dear friend Andrew, then another birthday party for our dear friend Talea, and then I finally gave birth to wee one #3 and we had a little welcome to the world party for her. Many, many things were knitted, and many, many things were baked (and cooked) since then.
A bunch of my friends are turning 29 this year, myself included, and Andrew was the first. So we started planning his fete as a surprise – which isn't how it ended up at all, unless you ask wee one #2, she's certain he had no idea. She hid under the dining room table and jumped out at him yelling 'suuuuuurprise!!' 😛
Food themes for tonight (aside from 102 Warhead sour candies) were cheese and chocolate – two of our favorite things as a collective. The cheddar crackers are from a recipe my Dad and I put together last summer with not much else to do one afternoon. Every time I make them they're a little different, sometimes I switch up the cheese, sometimes I add onion or chives. This version is made with cheddar and has diced onions. The cheese souffles were also made with cheddar, and borderlined just enough on being quiche-like that both those who love and hate quiche loved these babies.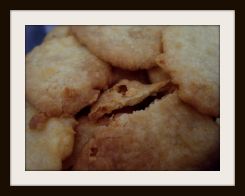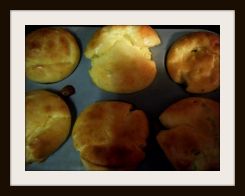 The actual surprise of the evening was the cake Gill had made for him. We Photoshopped Andrew's head on to Burt Reynolds' very naked body (very naked body on a bear skin rug!), and had that put on an ice cream cake. To keep him from discovering, or even asking about his cake, we made a decoy. Wee one #2 and I made a banana chocolate chip cake and she painstakingly put on each of these chocolate chips herself, one at a time.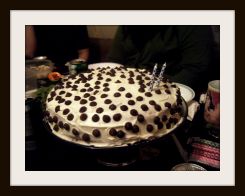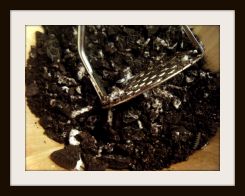 This week's pie of the week was a tray of chocolate cinnamon tarts. My resident pie fanatic assured me that as mini pies, tarts count! The crust is my usual pie crust, minus 1/4 cup of flour for 1/4 cup of cocoa and a bit of milk instead of water. The filling is essentially scratch chocolate pudding with 1 tsp of cinnamon, topped with fresh whipped cream and a chocolate chip, naturally! Wee one #1 crushed some Oreos for me so we could make Oreo fudge. Fudge used to be such a mystery to me and now I can hardly believe how simple it is to make!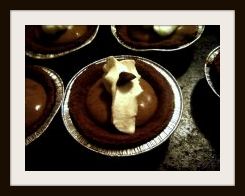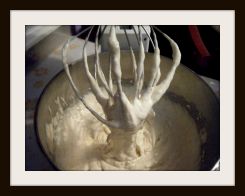 On to his gift, his gloriously unfinished gift! I'm knitting him up a pair of Skull Socks of Fury from Hello Yarn! I made him the Pirate Mittens from the same site for Christmas, so I'm keeping with the theme. The pattern in these socks is pretty simple to follow, it's just the time consuming factor of knitting socks for men and their giant feet. 😛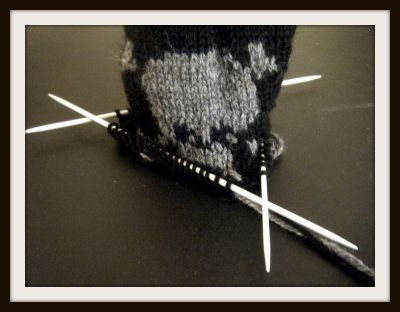 I love how big the skull is on this little guy, clearly he has an overactive brain.
So now, fast forward one week, I'd been having contractions here and there and it was making it tricky for even me to get things done. Talea's 26th birthday landed on the Saturday, the day *after* my official due date with wee one #3. I had so many fun ideas for her birthday party, and I wont list all the neat things I didn't do this year because I'll just do them next year when she's 27! 😛
I did manage to get some fun things done for her birthday fete though! Talea is my pie fanatic, the reason I vowed to make a pie a week for at least a year (this week's potato/cheese/chive pie was week 13), and she is my one and only sock knitting protege. So really, it wouldn't make sense to not use the themes of sock knitting and pie. Naturally, from one sock knitter to another, my first thought was to make heaps of teeny tiny socks and litter the table with them.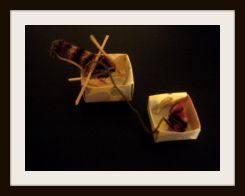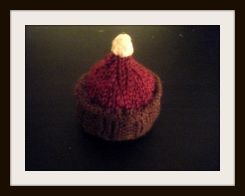 This actually lead to knitting baby socks, (which consumed the rest of my week – more on that later), so I casted on again to make really, really wee socks and left them partly unfinished with toothpicks in them as wee double pointed needles! I also knit up a chocolate-raspberry tart for her! My husband machine thought the wee socks and 'needles' were cute but they needed a knitting basket for the wee balls of yarn they were being knitted from so he made me some origami boxes!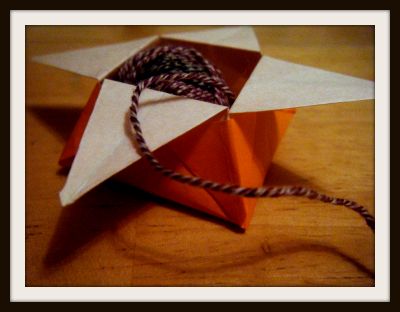 The wee ones wanted to get in on the crafting action, of course, so they made some tissue paper flowers for her! Her fiancee totally showed them up by having 26 red roses delivered here that night to surprise her! Ha!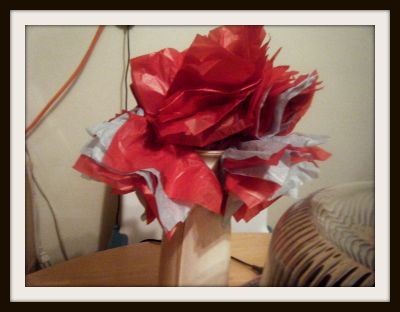 I'm not posting photos of this week's pie because it was sort of blah and I'm not happy with the crust. I cut balloons out of the crust, but it just wasn't what I was aiming for. It was yummy though – Potato Cheese and Chive! I will post a photo of the birthday gal's treats! I got her Lorna's Laces sock yarn and Gill and Andrew got her a huge goblet and a bottle of her fave wine. What I loved most about this gathering was how quickly the addition of a few hanks of yarn turned it into a yarn winding party!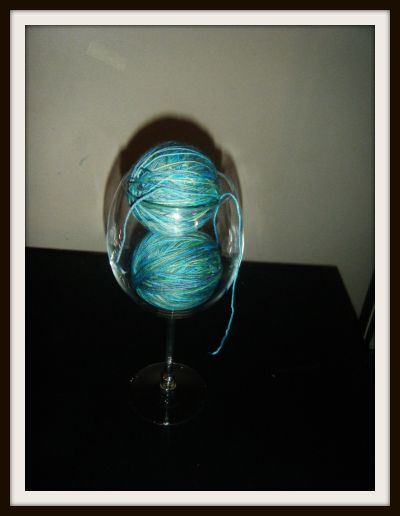 At Talea's birthday fete I had two pretty serious contractions, enough to make me think that wee one #3 may actually join us that weekend – I wasn't far off. I spent the rest of the weekend knitting wee socks for her, keeping my fingers crossed that she was a girl as the tech had said she was (the husband machine and I were having a really hard time coming up with a boy name), and hoping to meet her soon. Monday night (one week ago tonight) she was born…here she is: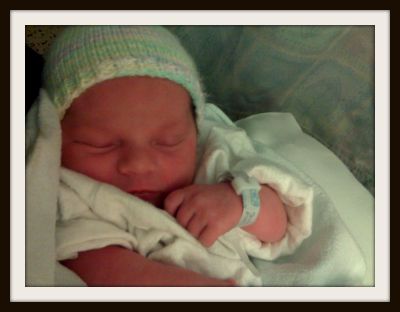 And here is one of the many pairs of socks I made for her last weekend while we were all waiting for her to be ready to come out!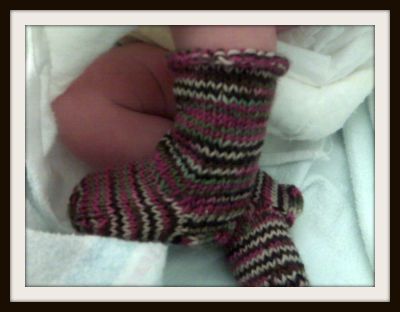 I'll leave you to chew on that for now and post again about the Welcome to the World gathering we had on Friday…with the most delicious pie there ever was.