In this post, I'm participating in three WIP Wednesdays; Freshly Pieced, Tami's Amis and Musings from the Fishbowl.
I have something that isn't being knitted this week!! Do you need a moment?
It's hard to believe that I haven't knitted at all this week, but I have been sewing! So far, I've stuck to very small items, like baby dresses and bags. Technically, curtains should be incredibly easy after making cute little baby dresses that actually fit and were totally wearable. So I figured instead of potentially ruining new fabric, I did just what I did with the baby dresses – I used sheets!
Hilariously, even after measuring the window, I cut my panels too short. Of course. They cover the window…mostly. Also, it really looks like I used the wrong stitch for my hems too, doesn't it? Like it was too tight because it almost looks like it's puckering. I think. I dunno, but it looks 'weird'. I definitely need a do over, but after having made that mistake with practice sheets, next time I'll do them properly, with more fabric.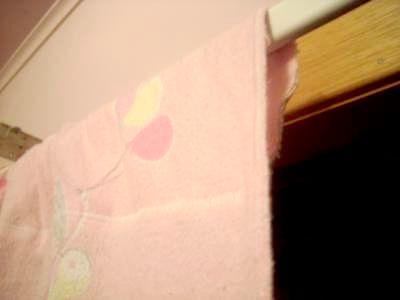 These curtains are as plain as humanly possible – to try to minimize the mishaps lol! I made a little folded over sleeve from the wide hem at the top of the sheet, then I hemmed the edges. They're a WIP, not a FO because (if I was going to keep them, but I'm not) they'd need a backing before they could be officially finished and some kind of trim would be nice. However, I'm not keeping them so they'll serve their purpose while I find more fabric and and try again.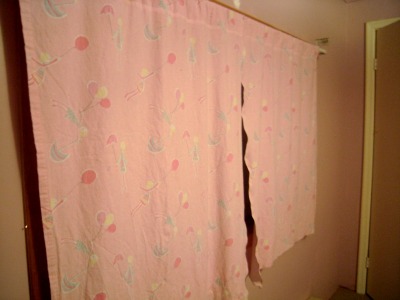 I also ordered some fabric from Fabric Closet for Wee One #1's bedroom. No pink princesses here. I know I ordered enough and hopefully this time, I wont find a different way to muck it up. 😉