I was so annoyed when ripping out Lindsay's sock last week I had to snap a pic and go over it again. Obviously there is no give in a tightly (or even just not loosely) knit intarsia sock, but I honestly didn't think I'd have to knit as loosely as I now know I do. I will not make the same mistake twice. Such a painful lesson to learn, I was honestly enjoying knitting polka dots. So I've cast on again and have made as much progress as the first photo I posted, without polka dots just the cuff.
In news as great as the sock is painful, my order from Rainbow Fabrics arrived! I got seven fat quarter packs, and eight half yards all in different fabrics. I am so excited! I think how well I do any given craft is directly proportionate to how cute the supplies are. I did recently get a bunch of new yarn and it has almost all been delegated to projects already, but I really wanted to play with my sewing machine. I also picked up some really, really cute cotton flannel to make diapers with but it's not here yet. We'll get into that when I have a phottie. For now I'm going to make some pouches as loot bags for our Easter stitch n bitch from two of the fat quarter packs, and I have two dresses in mind for wee ones #2 and #3. I have to catch up on the March and April birthdays and then there isn't as much going on during the summer so I'll hopefully have a chance to sew them up, but the pouches will be done for Easter.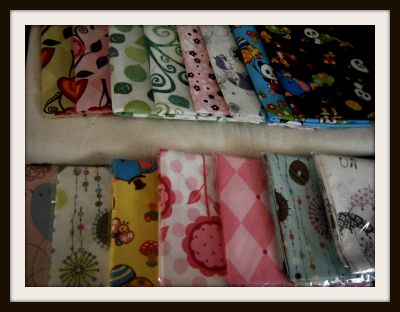 It feels like we've had a birthday almost every weekend lately. Lindsay's fete here was on Saturday, and then we celebrated Romi's on Tuesday! The kids and I did up the window and made a 3 layer birthday cake in her honor. The top two layers were vanilla with chocolate frosting, the bottom was chocolate with vanilla frosting.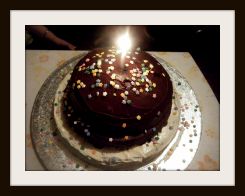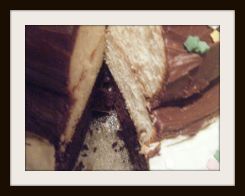 I also made bite size brownies, but I've started making them with Becel instead of butter, because this is getting out of hand. They're very soft and chewy on the inside with just a wee bit of a crust. I modified the brownie recipe I've been making for years and years and just baked them in my silicone mini tart tray. They're great on their own, and I think they'd make a really naughty (and equally delicious) addition to a trifle for a kids party. Cut into quarters, they'd also be amazing in a milkshake. 😛