Apr 7, 2010

Crafty
,
Window Shopping
Part 4 of this new weekly venture features a seemingly random collection of wish list worthy gear I found while digging through a 'must have' folder in my bookmarks. Some items have sold out, but there are so many other treasures to be found with these sellers!
I was looking for ribbons to use as handles on a knitted bag and I found Griffith Gardens, full of beautiful ribbons and crocheted flowers. I especially love the double sided black satin ribbon! The crocheted flowers are well crafted – most of the stock at this shop is crocheted; scarves, letters even (love this!), coasters, throws and on and on.
I adore this bag more than any other in this week's collection. Love, love, love it! It's so sweet and girly and then you look a little closer and BAM, skulls. <3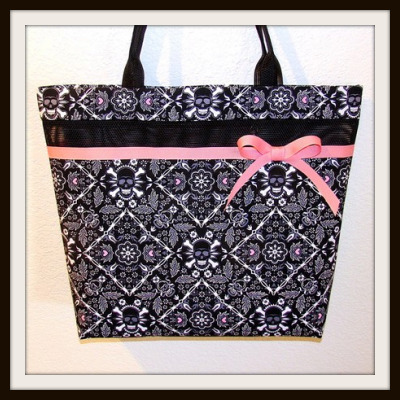 Once on a bag rampage, I came across HautTotes, and immediately I was in love and I think these four examples can help explain why. Especially the Christmas pin up girls and the zebra print. I'd wear them all. the. time. The wee bows on the collection are sweet, enough to make them part of a set but not so much that it takes away from the bag. Pretty!
This apron is officially on my personal wish list. Last time I posted something here hoping I'd get it for Christmas the hint was not taken (joke's on me) so this time around, I will buy this for myself! There are even matching pot holders!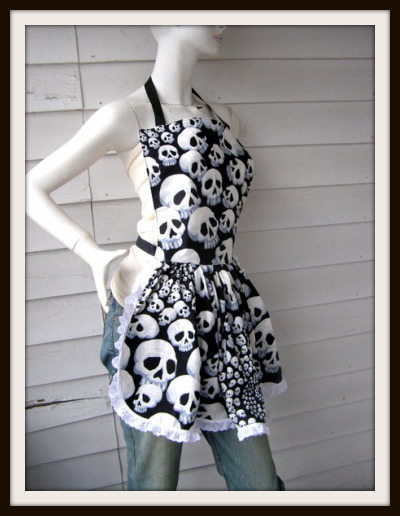 Of course this little gingerbread number stole my heart, but seems to have been moved or taken down or lost in the dark recesses of the internet, but it was lovely and so very festive! The Zelda pillow is really close to home for me. Mr. SoVeryDomestic has an original Nintendo comforter that we still use from his childhood. On it are Mario and Luigi of course, the Princess, Bowser and hilariously, Link! I can't think of a good reason to wear a vendor apron, aside from being a vendor, but they're so cute I'd love to wear one.
Naturally, the next event in this chain is shopping for fabric to make amazing aprons! Duh! I was going for robots and man, did I ever find them over at Voodoo Rabbit. Not only robots but, 'fabric, buttons & sewing supplies for the dark arts & craftist'. Fantastic! We'll start with robots and move on to Spidery Web, Pink Skull Pinstripe, How to Get a Husband fabric is beyond amazing. <3