In this post, I'm participating in Tempt My Tummy Tuesdays, Tuesdays at the Table, Tuesday Night Supper Club, and Hearth 'n Soul.
I mentioned a few days ago that I'd be cooking and baking my way through Jessica Seinfeld's Deceptively Delicious cookbook this year, and I'm not making you wait! Her butternut squash infused coffee cake was my first project, and it was fun!
Every recipe in this book sneaks in a nutrient packed veggie or fruit. They're all pureed ahead of time (though there's no reason you can't just make the puree before you make the recipe). So before we get into the recipe, let's talk about pureeing the squash in the first place, shall we? I swear, it's a cinch!
Just cut the stem off, cut the squash in half lengthwise and scrape out the seeds. Put them fleshy side down on a baking sheet and roast them naked for about 45 minutes. Then just scoop the flesh out and pop it in your blender or food processor till it's baby food! Tah-dah!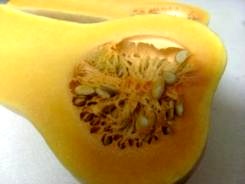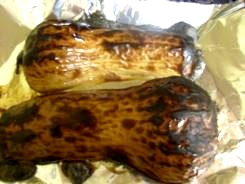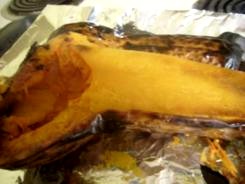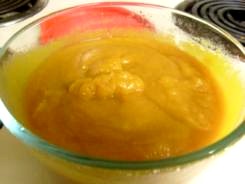 Coffee Cake (with butternut squash) – from Deceptively Delicious
(p. 61)
Batter:
1 cup firmly packed light or dark brown sugar
4 tbsp Becel
1 1/4 cups low fat buttermilk or nonfat milk
1 cup reduced fat sour cream
1 large egg
2 tsp vanilla extract
2 cups whole wheat flour
2 tsp baking powder
1/2 tsp cinnamon
1/2 teaspoon salt
1 cup butternut squash puree
1/2 cup mini-marshmallows
Topping:
1/2 cup chopped pecans or walnuts
1/4 cup firmly packed light or dark brown sugar
2 tsp cinnamon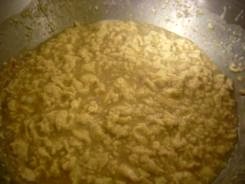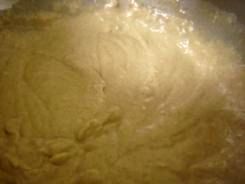 I'll warn you right now that after following the directions to beat the sugar and the butter till creamy and then add 1 cup of the buttermilk, sour cream, egg and vanilla it did not look pretty (left). However, just like that vanilla cake I made a lot of last year, once I added the flour, baking powder, cinnamon and salt it started to look a whole lot better (right).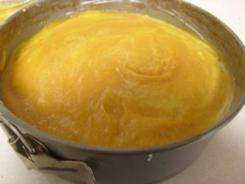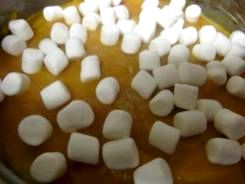 Then comes the super weird part. Pour half the batter into your buttered or sprayed cake pan (9″ will do it) and smooth out the top. Now, spread your cup of squash puree over the batter. I know, right? THEN, sprinkle with the mini marshmallows and, as you can see, half a cup doesn't totally cover the cake but I don't think it's supposed to. Now, take the rest of the milk (1/4 cup) and the other half of the batter, mix them together and then spread over the squash filling and marshmallows.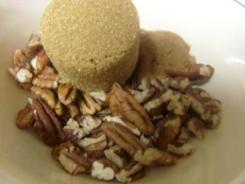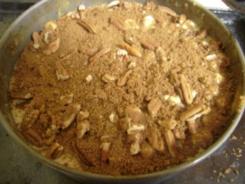 Now mix your topping ingredients together and sprinkle that over the batter. Bake at 350 for about 45 minutes.
My crust looks burnt, but it's not bad at all. The photo in the book has a dark looking crust as well. This cake is probably the heaviest cake (for it's size) that I've ever made, very dense – and also very good. I like squash anyway, but you can't taste it at all.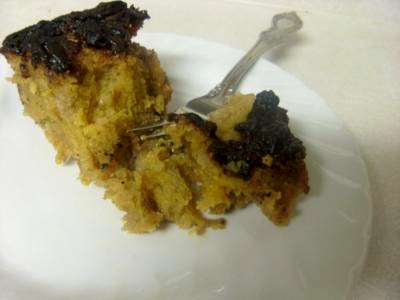 P to the S, your leftover butternut squash puree can be frozen for months or made into soup. I looooove butternut squash, and at just 63 calories a cup, if you're careful how you prep the soup it can be a really filling and healthy low cal snack!