I have a lot of catching up to do here, but instead of breaking it all up, I'm just going to post a serious roundup of yummy and crafty stuff cranked out of my kitchen!
First up are these brownies, made the same as the cocoa brownies I usually make, except I've been using whole wheat flour. I posted the recipe in this post, and didn't change anything else. I didn't find that the dough behaved any differently, and no one noticed a change in taste at all. I don't know how much healthier they actually are, given that there's a cup of sugar in them, but we can safely say healthier.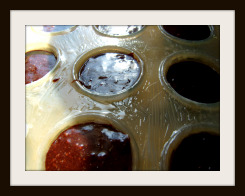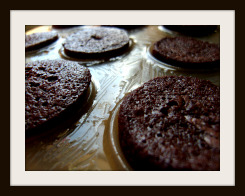 Whole wheat blueberry pie!! It has slightly less sugar than it's white flour counterpart…slightly. Friends of mine who don't 'get' Food Gawker, ask me why I post so many photos of food. Ha! Just look at how beautiful that blueberry mix is, that's why! 😛



This pie next was amazing. More than one of my Stitch n Bitch ladies has voted this their favorite pie of the year!
Pie #41 – Ginger-Pear Pie with Almond Crust
Crust:
2 cup flour
1 cup ground almonds
1/4 cup sugar
3/4 cup cold butter
1/4 tsp salt
2-3 tbsp ice water
Filling:
5 pears, peeled and sliced
1/2 tsp fresh ground ginger
3 tbsp cornstarch
2 tsp lemon juice
1 tbsp butter
2 tbsp packed brown sugar
Topping:
1/2 tsp ground ginger
1/4 cup chopped almonds
2 tbsp packed brown sugar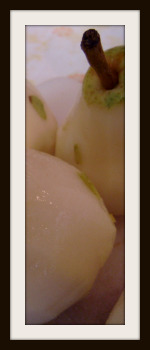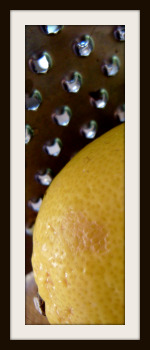 Another really self-explanatory recipe! To make the crust, sift the flour, ground almonds, sugar and salt. Add the butter by small chunks, and cut in either with two butter knives or a pastry cutter. Once it's all oatmealy, use a fork to mush in the ice water. The put it on a floured surface, and roll it out!
The order of the filling likely doesn't matter, but for what it's worth this is what I did. I put the sliced pears in a bowl, and added the lemon juice, ginger and and brown sugar. Then I mixed in the (very soft) butter, and last the cornstarch.
Bake it at 375 for about 20 minutes, longer if your crust isn't holding up yet. Take it out, add the topping, and pop it back in for another 10, just so the brown sugar can work it's magic.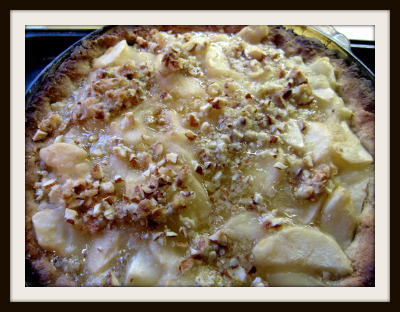 Below are whole wheat sugar cookies and the beginnings of my Monster Chunks family for Miss Hayley, daughter of a very dear friend!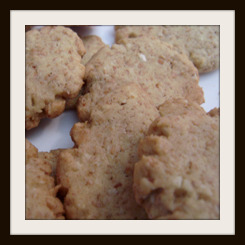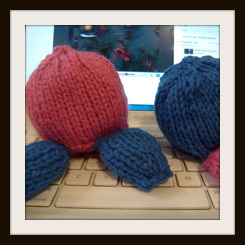 My wee one #1 has a serious appreciation for the handmade, especially the handknit, which is nice because that's not a quality many 9 year olds can say they possess. These Basketcase Socks were chosen by him, as was the yarn from my stash. This is his second pair (since he grows a little slower now and can wear them for more than two months)! Also pictured here are a batch of what turned out to be pretty disappointing Butter Tarts. The recipe was not good at all so I wont post it, I will get my Granmother's recipe and try it again with that. So far, none of her recipes tanked – she's 87 though so I should hope she's got the hang of it by now. 😉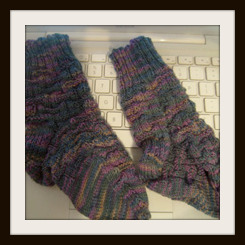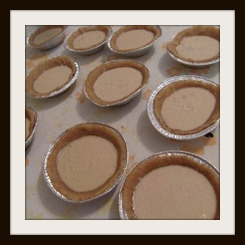 This blackberry cake was inspired by my dear friend Gill, who had picked up two bags of very sour frozen blackberries and brought them over for me to salvage them. 2010 has been declared the year of the cake and cupcake, so I thought I'd try out a berry cake since I never have before. It was so good! Bananas, even!
This is even a neat German recipe, called Blackberry Kuchen, which I know just means Blackberry Cake, but it's not made in the sense I'm used to, read on.
Blackberry Kuchen
Filling:
1 qt blackberries
1/3 cup sugar
1/4 cup flour
Dough:
2 cups flour
1/3 cup sugar
1 tsp baking powder
1/3 cup very soft butter
3 eggs
Streusel:
1/3 cup sugar
1/2 tsp cinnamon
2/3 cup flour
1/2 cup butter
First off, this cake requires you to make three separate mixes. One is the dough for the bottom and sides of your pan, like a case for the cake. The second is the berry filling that goes on top and there's also a streusel part to this that goes on top of the berries!
Mix the sugar and flour with the berries and set aside. Make the dough by mixing the flour, sugar and baking powder, add butter and eggs. Mix gently with a fork till you can press it down into the pan (bottom and sides). Any cake pan will do, but I did mine in a springform – it was easy and didn't fall apart.
Then sift the sugar, flour and cinnamon for the streusel. Cut in the butter again with two butter knives until its really crumbly. Now you pour the berry mixture into the dough-lined pan and plop the streusel mix on top randomly. When it bakes (about 30 minutes at 350), the struesel spreads out a bit and bakes where ever it lands. So good!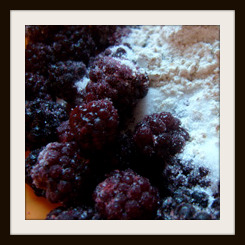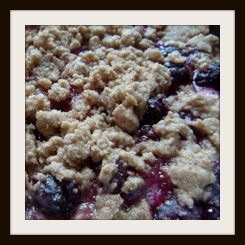 A few days later I took the kids to visit my mother and she was making batches of peach jam! So naturally, I had to help and get some photos.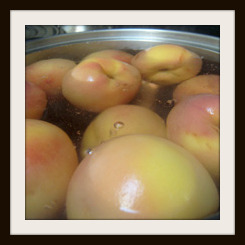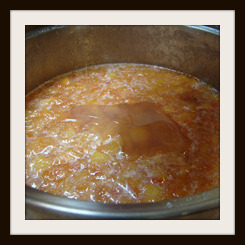 My weekly Stitch n Bitch ladies and I are doing a knit a long on Corona, it's described as 'a hoodie with a youthful edge'. It's super cute and form fitting but not too. I am so excited about this sweater.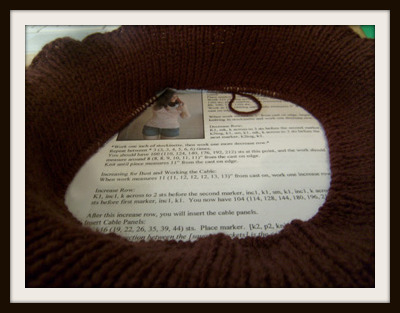 Brownie Pie with a Chocolate Crust, pie #44. Mmmm. Perfect with vanilla ice cream.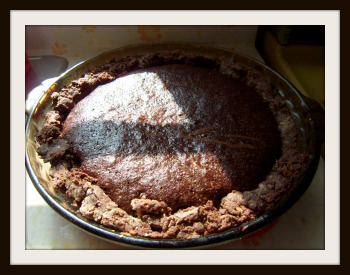 | | |
| --- | --- |
| | This is about the time this little sweater died. First it was pointed out to me that even though I clearly know how to cable, I had totally forgotten what I was doing and messed it up that far! I am so far into the cable at this point! Arg. So I ripped it back, I ripped it back to the armholes and started again, this time cabling the right way. Again, maybe half this far into it a second time, I gimped out on the cable again. I decided right there that even though I had already sunk invested so many hours in the arms alone, I was only going to give it one more shot. It's not happening. To be honest, I was pretty quick about putting it out of it's misery too and it's all rolled up in three balls now, ready to be made into useful pretty things for Christmas! |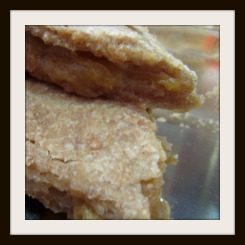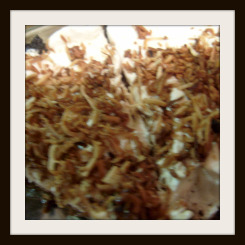 That concludes this way-too-long parade of baked goods and finished objects! I'll wrap up the rest of the leftovers in my next update post on Saturday. Tomorrow I've got a new interview to post! 🙂