Yes, this happened two weeks ago, but it was a great day and the treats were really fun to make and turned out exactly as I had hoped. There are other fun creative domestic adventures that have happened even before the last day of school, but I really wanted to share these photos first.
I plunked down with the wee ones and the laptop and they picked what they wanted to bring to their last day of school parties. Wee one #1 picked Barerella's Oreo Truffles and Wee One #2 picked Bakerella's Candy Apple Pops. I love that they both picked from the same site, even with all their other options!
Oreo Truffles – from Bakerella.com
1 package Oreo cookies (divided, but use the creamy filling too)
1 8oz. package softened cream cheese
white chocolate (or whatever you like)
Oreo crumbs (optional)
1. Crush about 7 cookies and keep them for topping the truffles, or use a box of Oreo crumbs.
2. Crush the rest of the cookies and mash the cookies and cream cheese together. Bakerella suggested using the back of a spoon for the mashing, and it was a great help – so use the back of a spoon!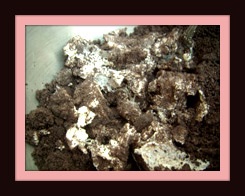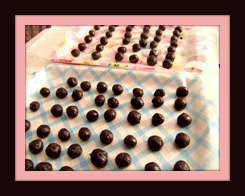 3. Roll the mix into 1″ balls and line up on wax paper covered cookie sheets.
4. Pop them in the fridge as you melt the chocolate to make it a little easier on yourself. Coat in chocolate, sprinkle some of the crushed cookies crumbs on top and transfer back to wax paper. Sprinkle with the cookie crumbs and let them dry. Pop them back in the fridge for a few to set up – don't eat them yet!!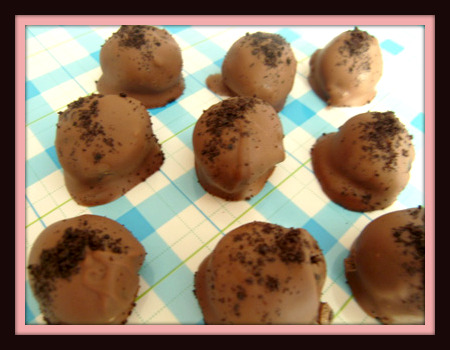 The recipe used white chocolate, and the look that gives is way more visually appealing than milk chocolate. It just looks more Oreoy, you know? However, wee one #1 and his friends are not fond of white chocolate, and they were the ones eating them, so milk chocolate it was.
Once the chocolate has set up and hardened in the fridge, they are amazing. They're amazing even before they go in the fridge, but if you wait till they've been in the fridge for a few hours, they have a perfect little crackle when you bite into the hardened chocolate. Mmmm.
Apparently, these went very fast at his school party and all of his friends asked him to bring them to school parties next year! A few of them even asked
Candy Apple Pops – from Bakerella.com
1 batch of cake pops
Red candy melts
Pretzel sticks
Green candies (I used green apple licorice)
My husband does all of the grocery shopping and errand running around here – which I am eternally grateful for – and this list was no exception. He knows that school treats are a big deal around here and rightly assumed that meant that last day of school treats would be a very big deal. He must have called me 10 times during that shopping trip with thoughtful questions!
Regular pretzels or pretzel sticks?
Is a pound of candy melts enough?
What kind of green candy? I'll get green apple flavour for the apples!
Do you need packaging for them?
Can I eat one?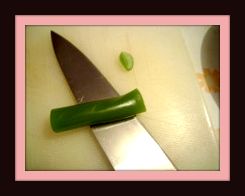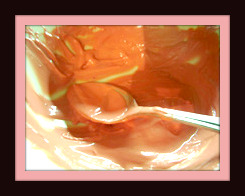 So first, make your cake pops. Either while the cake is baking or cooling, gather your leaves and stems. I cut up the green licorice leaves and I broke up the pretzel sticks. Set up a little assembly line to make putting them together go faster and smoother.
Once they've chilled and are ready to be coated in chocolate, melt down the red candy melts. I prefer the double boiler method, but you can just as easily use the microwave if you'd rather that or don't have a double boiler. I always dip my cake pop stick in the melted chocolate/candy first so it sticks to the inside of the pop better. Then I use a soup spoon to coat it evenly and set it on it's head to dry. In retrospect, I should have let them dry standing, in the contraption I fashioned to assemble them (I poked holes in a small cake board and balanced it over two tall glasses).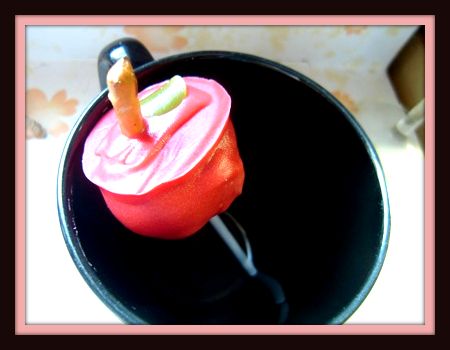 Poke the pretzel stem into the top of the apple pop, if you've let them dry first just dip the bottom of the pretzel in a little melted candy and poke it in. Same goes for the green candy leaves. They go from being a red cake pop to an apple cake pop in no time!
These were a serious hit at school, all of the kids loved them and almost all of the parents who saw them commented on them. They were very, very fun to make. My husband came into the kitchen and helped out with assembling them all and it was hilarious. He is very detail oriented and wanted to place each leaf just so.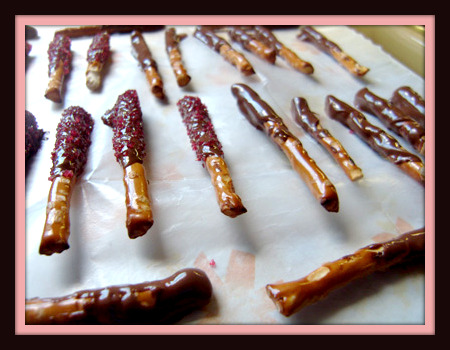 After school, we had a little 'Yay Summer' picnic on the porch and this is one of the wee treats I made for them. We had so many pretzel sticks left over, and I always have about a ton of chocolate in the pantry, so I made some chocolate covered pretzel sticks. I also saved some Oreo Truffles and Candy Apple Pops for them to share with the kids on our street. I've got big plans for a Yay Summer party next year now!