Oct 19, 2010

Domestic
Our October 2010 hostess, Lori of Lori's Lipsmacking Goodness, has challenged The Daring Cooks to stuff grape leaves. Lori chose a recipe from Aromas of Aleppo and a recipe from The New Book of Middle Eastern Food.
I am four days late to posting this because I threw myself an early birthday and five of my dearest made the road trip out to see me for the weekend! <3 I will post about that another day. This was my second Daring Kitchen challenge, and my first Daring Cook! I was excited when I first read the challenge because I'm Greek and would love to make Dolmathes. However, we just moved to the woods and there are no grape leaves here. Anywhere. My husband went on a mission and drove to two other towns (bless!!) with no luck. So I caved and went with cabbage leaves, an acceptable alternative listed in the challenge. The recipe called for 2 21oz jars of grape leaves, so I went with two heads of cabbage.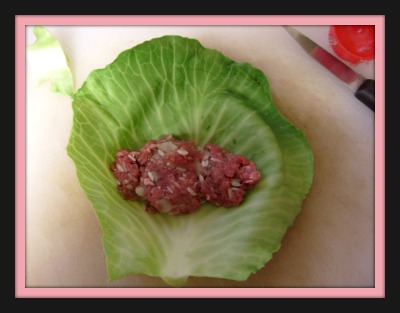 The recipe from the challenge turned out so well! So let's back up a little and go through the recipe.
1 pound ground beef
1/3 cup short grain rice, soaked for 30 minutes
1 teaspoon allspice
2 tablespoons vegetable oil
1 teaspoon cinnamon
1 teaspoon Kosher salt (or 1/2 teaspoon table salt)
1/4 teaspoon white pepper
1 onion chopped (optional)
1 cup pine nuts (optional)
The filling is the easy part, as I'm sure you can imagine. Soak your rice as you mix up all the other ingredients. You'll also need to blanch your leaves (regardless of what kind you're using) for a few seconds before you use them (to soften them up enough to roll with). Do this just before you need them.
Rolling Dolmathes is nothing new to me, actually if I ever have the opportunity to host a challenge, it'll be Spanakopita (my hands down fave Greek appetizer and it includes a lot of rolling and wrapping). Growing up in a half-Greek, half cabbage-roll loving family, we made a lot of these. However, I had never made this exact recipe before and I had never done it on my own, so this was a lot of fun for me!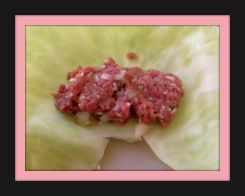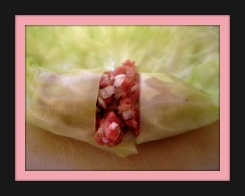 Place about 2 tesapoons, or maybe a little more, in the bottom center of the leaf. In the case of cabbage, you're going to want to cut away the hard part of the stem at the bottom. You can see in the first photo where I put the filling and in the second one, how close to the filling I came when I cut the stem out.
Then take the little flaps, roll them over the filling, (one at a time if you need to), and then tuck them under the filling. You'll likely have a little pouching out like mine. 😛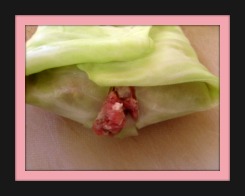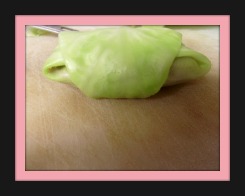 Now just roll this little log towards the rest of the leaf, tucking the sides in as you go. Voila, it looks like a weird little wrap sandwich! Finally, you just make the final roll and tuck the top of the leaf over the whole little package and you're done rolling!
Just like with origami, there is a whole lot of room for variation and technique – and also like with origami, some of your little packages may totally fall apart and need to be re rolled.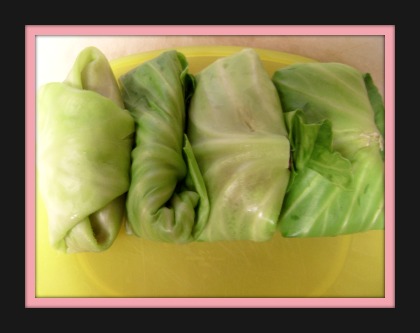 /p>
Next you line a pan with them and 'sweat' them for about 5 minutes with a little oil, lemon juice and water. Then you can cook them over a low heat in whatever kind of sauce you like. In the supplied recipe, there is seasoning made and apricots are placed with the rolls in the pan. When I made them, I used a tomato sauce with a little bit of oregano. I am not a fan of cabbage rolls to be honest, but everyone here that night loved them! I made myself (and my sister who is also not that into it) what my parents called 'stuffed nothings' when I was a kid, which is just the same recipe with a bit more rice! A dollop of sour cream on that and we were set!
I am really loving these Daring Kitchen challenges. I've already baked up and photographed my Daring Baker challenge for this month – it will be posted on the 27th! So fun!