Aug 5, 2013
Amazing to me that summer break is almost over for us! We had intended to be pretty laid back this summer (yeah, yeah, I know I can't) and get some summer school work done. The first two weeks of summer break we ran around South Bay hanging out with my dear friend Jennifer and her kids before they moved back to Texas (sadface), and we really did manage to do a lot in those two weeks. Wee One #2 had a dance performance at a fair and our oldest was promoted to a second stripe white belt in jiu jitsu!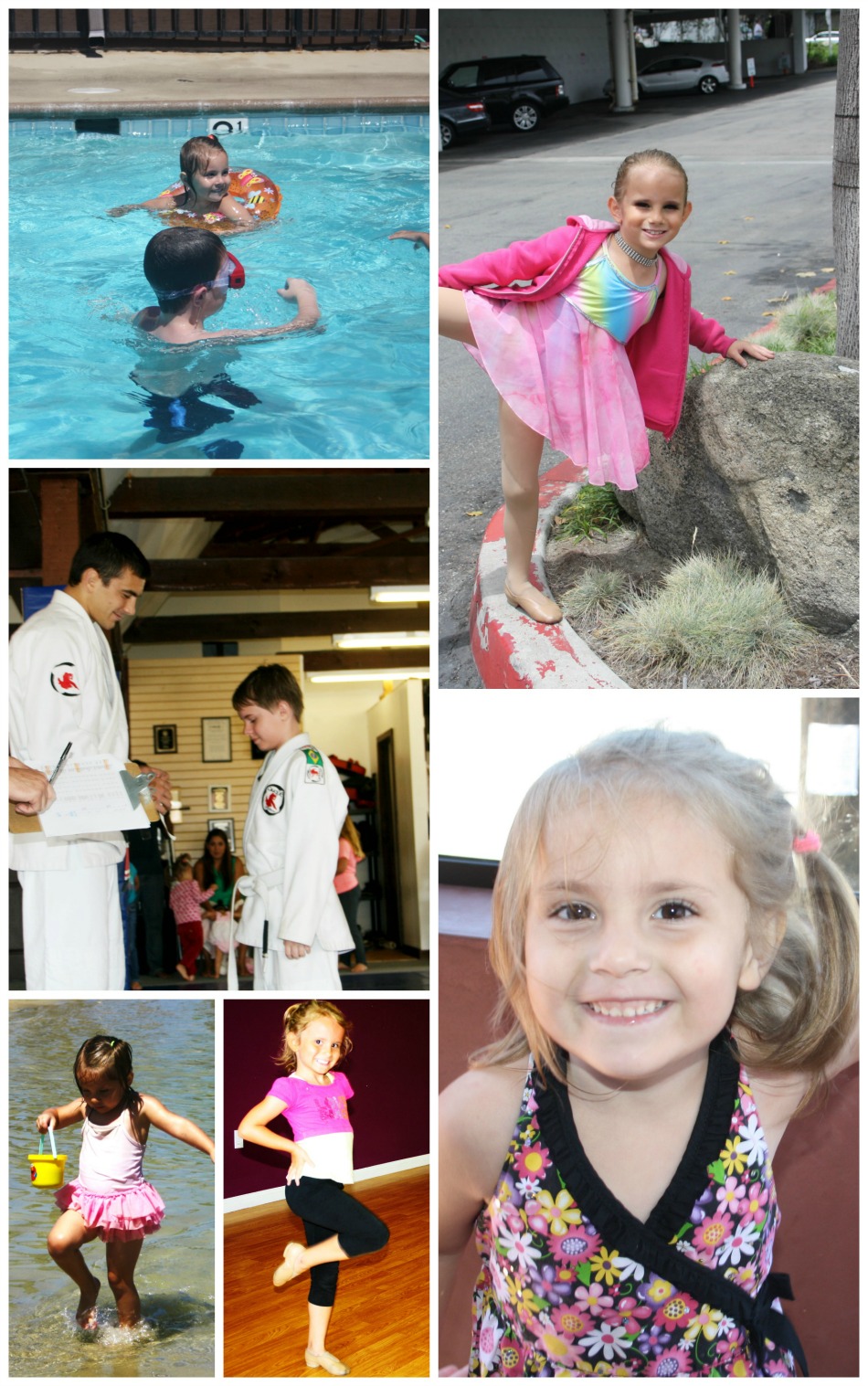 Then? July happened. The oldest two started swimming lessons three days a week, Wee One #2 started dance camp, and evening classes at the studio started up again as well. Most days she was at the studio for half a day, but at least once a week she was there all day. The window of her at dance camp in the morning and the second window of her home from dance camp in the afternoon wasn't really long enough to go far, but I had fun in the pool and the yard with the other two. Our oldest had jiu jitsu camp this summer as well, every afternoon plus he has regular classes three days a week plus one additional lesson. Wee One #3 made running around our little 'hood all month feel fun. The library is very close and she'd always suggest a trip over there to get new books between dropping off and picking up the big kids. <3 We had a break last week from the studio, and now our tiny dancer is starting her 'summer dance intensive' schedule today. Half day of dance classes from lunch until just before dinner. The catch for her is that she has her first check in day for school during the second week of intensives but I'm sure we can make that work. So just like that, our summer break is over and it feels both like it didn't even happen (where's the 'break' part?) and like it was well spent! We did manage to sneak in a weekend in Vegas with the kids to hang out with my girl Nichole and her kids and do some tourist stuff too. I am especially grateful to live somewhere that feels like summer so much of the year that you didn't really miss it, even if you missed it. You know? 😉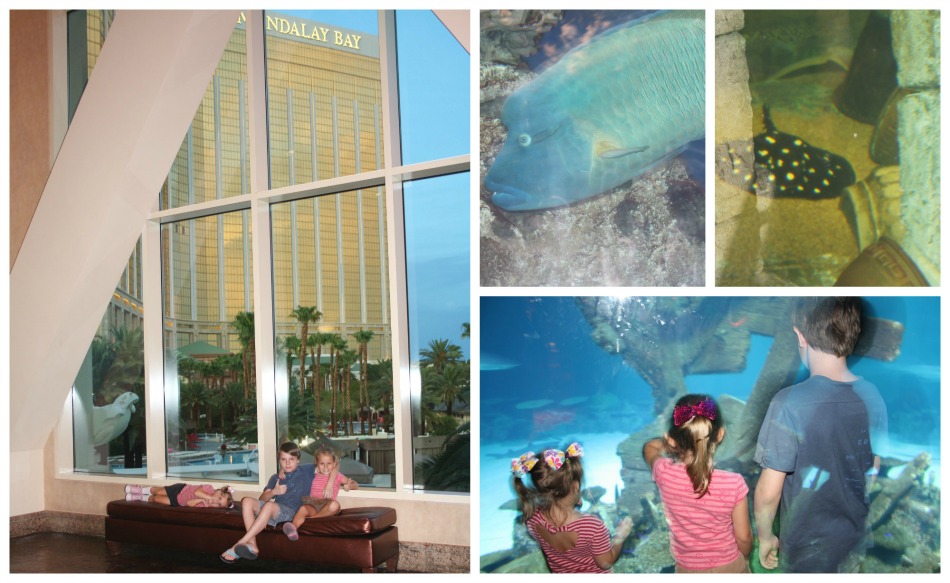 This week, I'm trying to make my husband's favorite meals paired with desserts that will win our kids over if they didn't love dinner as much as their Daddy. 😛
This Week's Menu August 5-11
Monday – Lasagna with Savory Onion Bread and Pioneer Woman's Apple Dumplings for dessert
Tuesday – Parmesan Breaded Chicken Breasts, Creamy Broccoli Noodles with Corn and Pioneer Woman's Knock You Naked Brownies for dessert
Wednesday – Shredded Chipotle Chuck Roast with Bacon Mashed Potatoes and Roasted Cauliflower with Apple Cobbler for dessert
Thursday – BBQ Steaks, Hassleback Potatoes and Corn on the Cob with Pioneer Woman's Homemade Glazed Donuts for dessert
Friday – Roasted Chicken, Baked Potatoes with Carrots and Pioneer Woman's Malted Milk Chocolate Chip Cookies
Saturday – Tacos with Lime Jello Cubes and Whipped Cream for dessert
Sunday – Homemade Pizza with Ice Cream Sundaes for dessert
Apple Cobbler is hands down one of my husband's all time favorite desserts and our kids are all big on apples. This was a hit, I loved it so much I shared with our neighbors. 🙂

Apple Cobbler via Baking Bites
1/3 cup sugar
1 1/2 teaspoon cinnamon
5 medium apples (about 2 lbs)
1/2 cup brown sugar
1 tablespoon cornstarch
1/8 teaspoon salt
1 1/3 cups flour
1/4 cup quick oatmeal
1 1/2 teaspoon baking powder
1/4 teaspoon salt
4 tablespoons butter, chilled and cut into small pieces
1/2 cup milk
Preheat oven to 350, and mix the sugar and cinnamon, you'll need this later. Peel and core your apples, and chop them up. Mix the apple pieces with the brown sugar, cornstarch, and salt. Pour this into your baking dish and make the topping!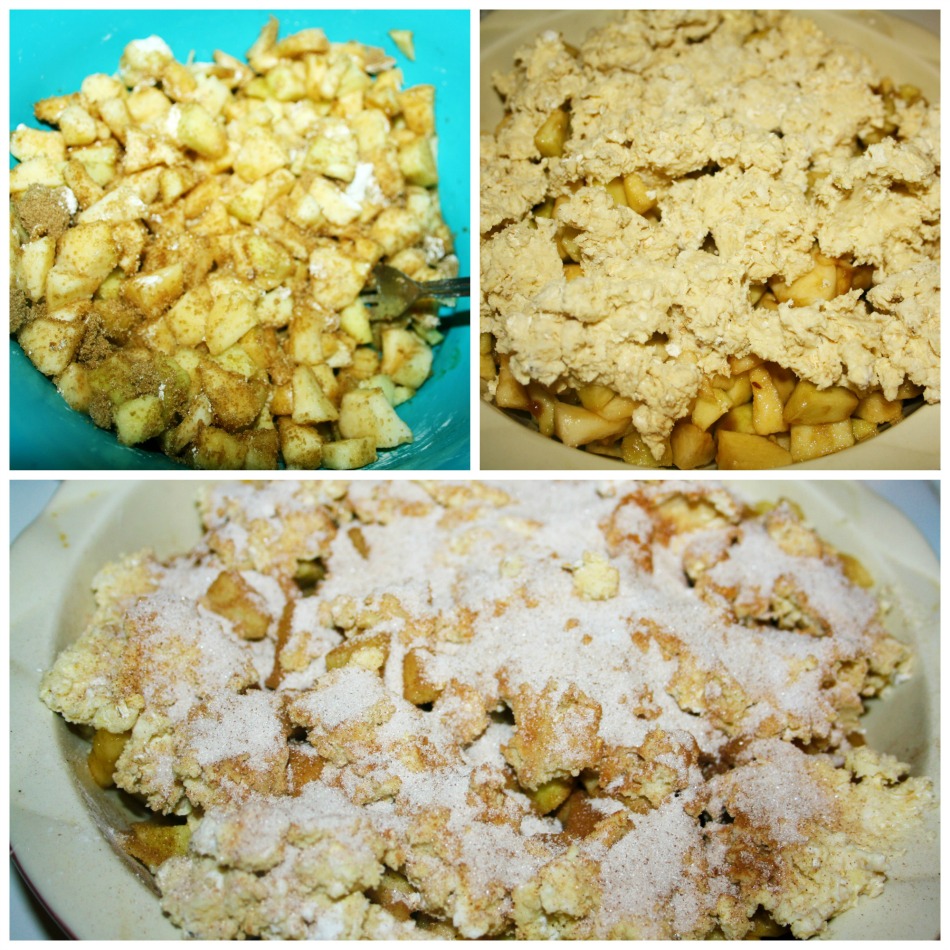 The topping is really simple and so so good! Just combine the flour, oatmeal, baking powder, salt and 1/4 cup of the cinnamon-sugar mixture you made first. Mash the butter in with your fingers to get it all combined. Drop this all over the top of your apples to form a messy crust, sprinkle with the rest of the cinnamon-sugar and bake for about 45 minutes.
I served it with hard cider from Angry Orchard but it was just as amazing later with coffee. 😉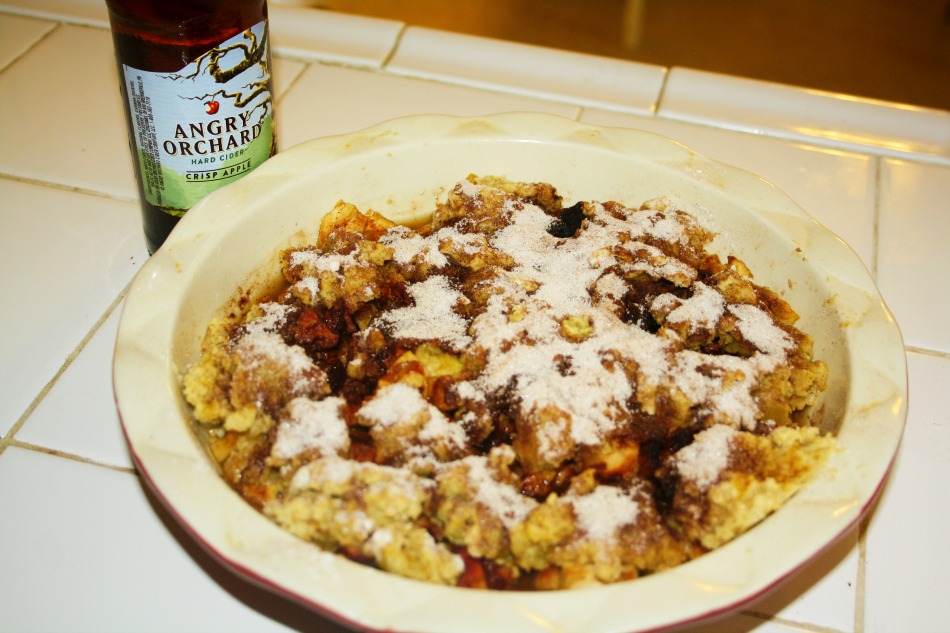 It was so good I ended up bringing some around to our neighbors!