Oct 3, 2013

Domestic
Truthfully, when my littlest tossed the orange and dark chocolate chocolate chips in the cart last week I had no idea what I was going to do with them. I did know however, that there can never be enough orange and black around this month. I'm trying to avoid random baking this month since I want to do up as many Halloweeny treats as possible, and when I saw that one of my favorite Canadian chefs, Michael Smith posted what he claimed to be the best chocolate chip recipe ever, I was tempted to just go off course and bake them because I wanted to see if they really were the best ever (so far each of his 'best ever' claims that I've tested have absolutely been the best). Then, I remembered those seasonal chocolate chips and started making them pretty much right away because now that they could be deemed Halloweeny, there was no reason not to make them! Right?! I know!
As I was making them I realized I had used the last of the brown sugar on some butter tarts and though I swear there is an extra bag (there is always an extra bag) I couldn't find it anywhere and ended up using granulated sugar instead. Guess what? They're amazing. I'm going to do them again with brown sugar and I have no doubt they'll be even better.
Best (Halloweeny) Chocolate Chip Cookies Ever
1 1/2 cups all purpose flour
1 teaspoon baking powder
1/4 teaspoon salt
1/2 cup butter, softened
1 cup brown sugar
1 tablespoon corn syrup
1 egg
1 teaspoon pure vanilla extract
1 cup chocolate chips
Fairly simple. Preheat to 375 and whisk the flour, baking powder and salt.
With a mixer or food processor cream the butter and sugar until smooth. Then add the corn syrup, egg and vanilla. Scrape down the bowl before slowly adding the flour mixture. Now stir in your chocolate chips and you're ready to go!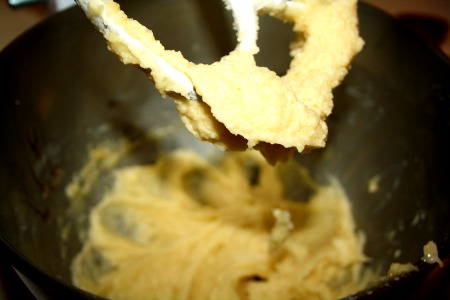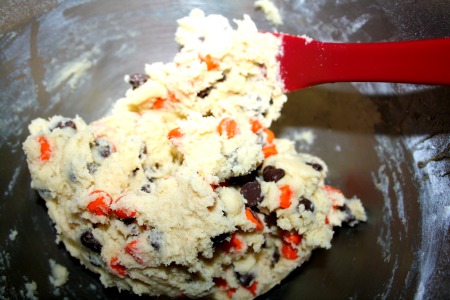 I scooped out the dough with a 1/2 tablespoon and overpacked it a little. I rolled it into a ball and then flattened it out with the bottom of a glass dipped in sugar for a little sparkle and crunch on the top of the cookie. I baked for exactly 13 minutes and my kids have nearly eaten the whole batch already. That's a win!