Dec 12, 2010

Crafty
I wish I could crank out knitting as quickly as baking! Ha! I tend to let baking get in the way of my knitting, which at this time of the year is as hard to avoid as it is necessary to avoid! Between that dilemma and being on Time of Use pricing for our hydro consumption, I only bake on the weekends now, so knitting should pick up. I'm posting these finished objects knowing that the recipients may be reading this so I wont say who they're for!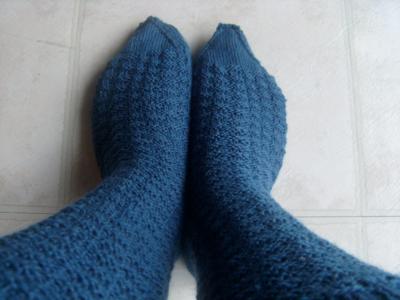 First up are these Wickerware Socks. They're knit in Knit Picks Palette in Delta, two skeins and a bit and while my official time on them is November 9 to November 15, if I hadn't taken two nights off for sketching up Christmas lists and baking brownies they would have come together even faster. Lovely!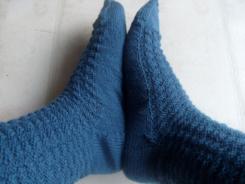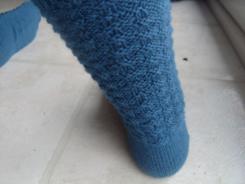 The person I made them for had commented on my knitted socks last time we hung out and I know he really wants a pair. He's the sort of person knitters love to knit for. He'll be careful with them, he'll wear them often and when he does, he'll tell people I made them for him. I know they wont end up at the back of his closet. I never knit for people like that anymore, that's one of the forces behind the sweater curse, dontcha know. 😉
Now, I couldn't possibly knit up a paid of socks for this man and not knit up a pair for his wife, who is equally delightful. Really. We are so lucky to have these people in our life. This sounds like Gill and Andrew doesn't it (minus the wife part)? It's not you guys, even though you are delightful! Just FYI, I'm not knitting anyone a second pair of socks until everyone I love has a single pair – they got socks for Christmas last year!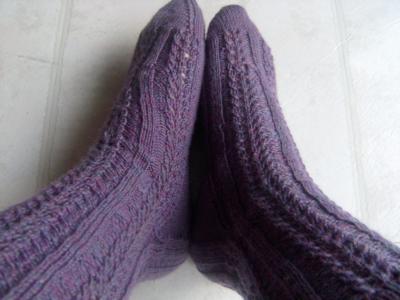 These lovelies were knit in Knit Picks Stroll in Sprinkle Heather and I adore them. When Talea saw how fast they were coming together for me (I did the entire leg of the first one in a single day), she casted on immediately too! The pattern is called Duckies, and according to my Ravelry queue, I've wanted to knit them since Christmas two years ago!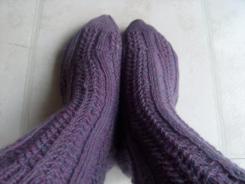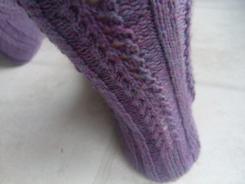 My official time on these socks was horrible (November 16 – December 8) because I hosted a Gothy Tea Party for my sister's 22nd birthday, and then I got obsessed with Christmas baking. Ahem. This yarn is delicious. Delicious. I loooooooved knitting with it and I will buy more in as many colours as possible this coming year. It's my new go-to sock yarn. Ok, maybe Lorna's Laces is still my top, but this is right up there.
Then this week, I've been dividing my time between Christmas crafts with the kids, baking, knitting and the usual to do's of daily life. Facecloths are the perfect way to feel like you're accomplishing a whole lot in a short time! Hooray!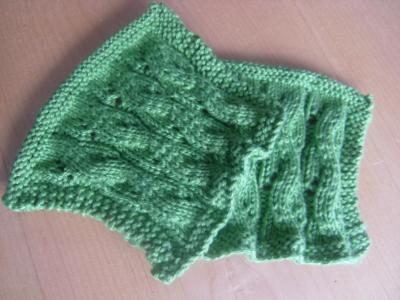 I wanted to get as much as I could out of the yarn I bought from Knit Picks, so instead of the size 6s the pattern calls for, I used size 4s and squeezed out two facecloths from a single skein of Knit Picks Shine in Worsted – these green ones in Green Apple. I was feeling pretty pleased with myself until my husband pointed out that they look 'mini'. Hmm. I can either block them and pray they'll grow a little OR I can leave them as is and call them makeup remover cloths. Yes? You don't need a whole facecloth to do the job, but you do need more than those little pads from the drug store. I haven't decided yet, but they are lovely and fast and look great in green! Four more to go! Two in Clementine and two in Wisteria!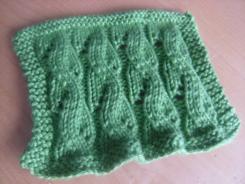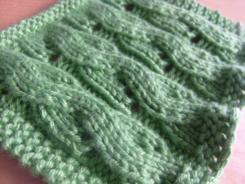 I will, at least, be posting my knitting on Wednesdays and just found these WIP Wednesday link ups at – Freshly Pieced, Tami Amis and Musings From The Fishbowl. Fun!