In this post, I'm participating in Foodie Friday, Friday Potluck, and Food on Fridays
Sugar cookies are amazing because they have got to be the most versatile treat when it comes to being festive with themes. You can cut them into any shape you can imagine and then decorate them however you want. The only trouble is, unlike tasty drop cookies, you can't just mix them, bake them and walk away!
I'm repeating this recipe for the eleventy billionth time here, but at least it's organized, right? Really, this post is all about the dramatic photos.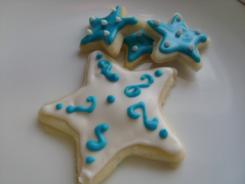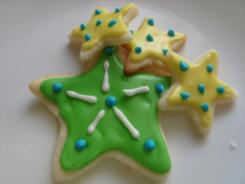 Basic Sugar Cookies
1/2 cup + 6 tablespoons unsalted butter, at room temperature
3 cups + 3 tablespoons all purpose flour
1 cup caster sugar
1 large egg, lightly beaten
1 tsp vanilla extract
Cream butter, sugar and vanilla. DO NOT OVERMIX. Beat in egg till well combined and not a second longer. 😛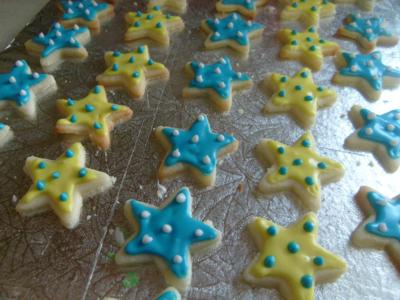 Add flour and mix till a sticky dough forms. Kneed into a ball and divide into 2 or 3 balls. Roll out each ball between two sheets of parchment paper for about half an hour. Preheat to 350, then take it out, peel off the first layer or parchment paper and slice it into strips like french fries!
Basic Royal Icing
2 tsp lemon juice
2 egg whites
3 cups icing sugar
Beat your lemon juice and egg whites together for a little bit before adding your icing sugar. You'll want to thin it out a little for spreading (add drops of water till it's the consistency you're after), or add a little more icing sugar to make it that seriously thick stuff you typically find on gignerbread people in bakeries. I find this recipe just needs the smallest little touch of water and it's perfect for spreading. It hardens just right and has a lovely shine.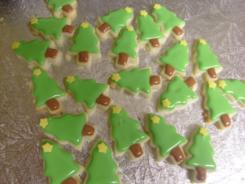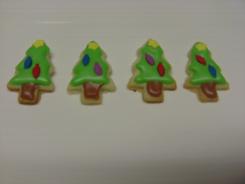 The fun thing about this icing really is the colours! I used paste food colouring for vibrant colours (and because it's all I know – I grew up with a cake decorator)!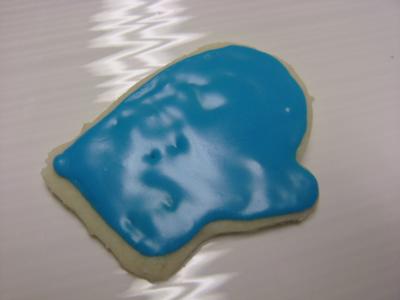 I first made these trees about a week ago, and tucked them away in tupperware for my massive decorating weekend. That weekend turned into another sugar cookie extravaganza so by Tuesday I had over 200 cookies to frost. Thankfully, frosting the cookies is one of my fave cookie activities!
Grand total sugar cookies to package up with the others; 22 stars, 22 trees, 44 small stars, 33 small trees and 11 mittens. Honestly? I loved every second of them. There were even more, but every time one broke, I had to give the kids the broken one – and the rest of the set lol!