Next up on the list of Christmas baking was Ooey Gooey Chewy S'more Bars from the same magazine as the treats I posted about yesterday. There is a batch of these babies in the basement freezer right now, though I think I may take them out before Christmas to see how they froze (the recipe says they're good in the freezer for 3 months). I had a tiny nibble of a piece that broke off and man these are so good. Essentially, you bake a spongey cake-like loaf with oatmeal and graham crackers. After it's baked you add the marshmallows and chocolate on top and pop it back in the oven for those to melt!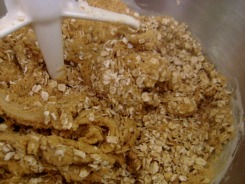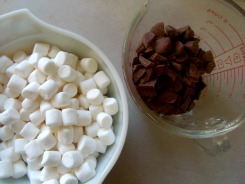 Ooey, Gooey, Chewy S'more Bars – from Christmas Cookies Magazine (Better Homes And Gardens, 2009)
3/4 cup butter, softened
1 1/2 cups packed brown sugar
2 eggs
2 teaspoons vanilla
1 cup flour
1 1/2 cups quick-cooking rolled oats
1 cup graham cracker crumbs
2 1/2 cups tiny marshmallows
1 1/4 cups semisweet chocolate baking chunks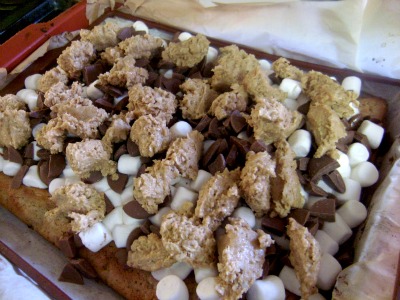 Preheat to 350, line your pan (13×9 was called for, but I used one more like 12×10) with aluminum foil and lightly grease the foil. I thought I was smart in using a silicone pan and skipped the foil – and my bottoms burned! Use foil, and butter it!
Beat butter on high for 30 seconds, add the brown sugar until combined scraping the sides of the bowl. Beat in eggs and vanilla until combined, then beat in the flour. Now stir in your oats and graham cracker crumbs.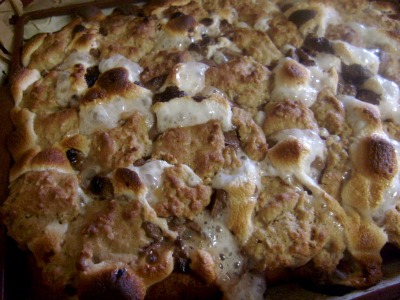 Set aside 1 cup of the mixture, and spread the rest of it in the pan (using the back of a wet spoon makes this eleventy billion times easier). Bake this for about 15 minutes or until lightly browned (mine was more like 10 minutes).
Now for the fun part! When you take it out, sprinkle the marshmallows and chocolate chunks over the top of it! Then take the 1 cup of the mixture you set aside and dot that over top of the marshmallows and chocolate. Now pop it back in the oven for another 15 minutes or so – just till the marshmallows are browned campfire-style.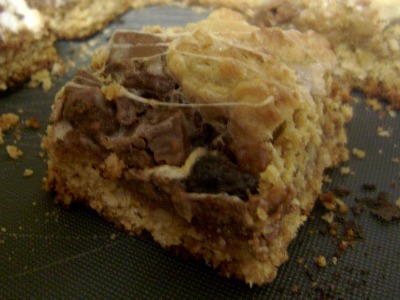 You'll have to let them cool completely on a wire rack before you cut them or you'll have a seriously gooey mess on your hands (ask me how I know lol). According to the recipe store them at room temp for up to 3 days or freeze for up to three months.
I was going to post my list of Christmas baking, but it's a little insane and full of surprises for other people. I'll post recipes as I bake them and do a recap as I thaw and package them all.
Switching gears, but keeping with the Christmas to do, are these men's socks. Men's socks are tricky because if there's too much detail in the pattern they end up looking too feminine but if there's not enough you're just knitting a plain tube and I literally fall asleep while knitting when I knit patterns like that.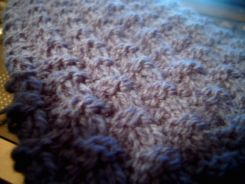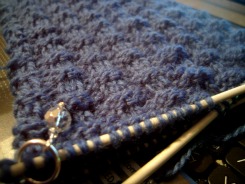 These socks are the cure for that! A very simple 6 row repeat that keeps you focused on the knitting, but lets you carry on a conversation and are clearly GUY socks. 🙂
Back to knitting now, the countdown to Christmas is only 42 days and stay tuned for preparations for my sister's birthday weekend!