Apr 12, 2010

Domestic
Last year, during my self-inflicted bake-a-pie-a-week challenge, I vowed to bake a cake a week in 2010. As soon as I did my friend Gill said she wanted to make Tiramisu! I loooooove Tiramisu, but I've never tried to make it before. She held out until March, then came over with all the ingredients and this recipe.
Cake #13 – Classic Tiramisu
6 eggs
1-1/4 cups white sugar
1-1/4 cups mascarpone cheese
1-3/4 cups heavy whipping cream
2 (12 oz) packages ladyfingers
1/3 cup coffee flavored liqueur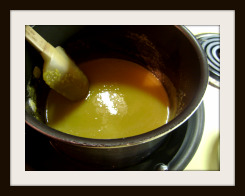 Gill broke up ladyfingers to lay in the bottom and coated them in Kahlua while I mixed the egg yolks and sugar over a double boiler (10 minutes or so). Then I whipped them till they were yellowy and thick. The mascarpone gets added to the whipped yolks and separately, Mr Kitchen Aid whipped the cream till it was perfect and that was very carefully folded into the mascarpone/whipped yolk mix.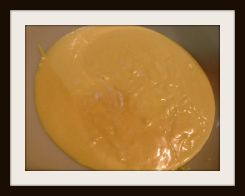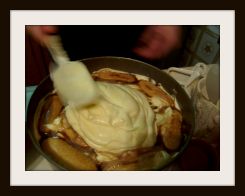 Then, we put it all together. Half the cream filling goes on top of the layer of Kahula-soaked ladyfingers, then more ladyfingers are broken and laid on top and also soaked in Kahula. Then the rest of the filling of course. We were going to cover the top of it in chocolate curls but all that cream seemed a little scary calorie-wise, so we just sprinkled some cocoa over it instead. We put it in the fridge, for much less time than we should have I'm sure, and it was amazing. It didn't hold it's shape as much as I would have liked but it was so good it didn't matter. Also pictured is a mug with four ladyfingers soaking in milk, to be crunched up and eaten 'once they're soft enough'. Even just writing that is grossing me out, thoughts? Do you put things in milk till they're all mushy?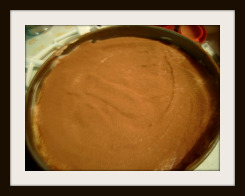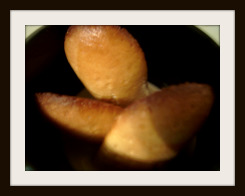 As you can imagine, with three wee ones under 10 I have read a whole lot of bedtime stories. Usually, there are a few that stick and have to be read over and over and over (and over) again. Elliot Bakes a Cake (An Elliot Moose Story)
is one of them. The recipe that Elliot uses in this book is included at the end. Naturally, I've been asked to make it for ages, so when I needed a simple cake for wee one #3's first birthday party I thought of it.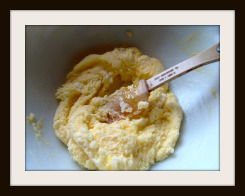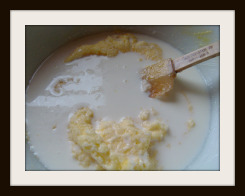 It was a great recipe for the kids to make themselves. They started out with a ceramic bowl and a wooden spoon (as they had in the story) but once it was time to blend in the milk they turned to the trusty Kitchen Aid, which is usually hands off.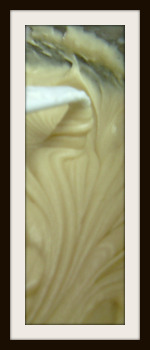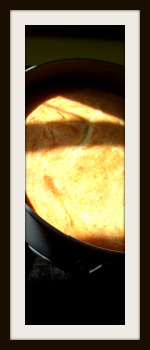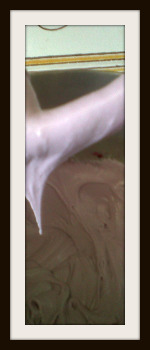 As expected, it mixed until smooth and the layers came out beautifully. We whipped up some purple frosting for it, too! We took it to my Grandmother's for Sunday supper and birthday presents. It was plain enough for a one year old, but it held it's own with coffee. I made this again and again after as bases for cakes where the topping was key. Officially, it's called A Very Special Cake in the book, and it was Cake #13 in Cake Year!