Aug 7, 2013

Healthy
A couple of years ago, I set out to cook and bake my way through Jessica Seinfield's book, Deceptively Delicious
. I did manage to cover a lot of the book, but I didn't do every recipe. I brought it with me to LA though, and I'm still working through it!
This is one of those recipe you'll likely enjoy of you're down with tofu. If you're not, this is probably not a winner! I made these for a handful of tofu-friendly friends and everyone really liked them, my husband and littles? Notsomuch.

Tofu Nuggets via Deceptively Delicious

1 cup whole wheat breadcrumbs
1 tablespoon ground flax
1 tablespoon grated Parmesan
1/2 teaspoon paprika
1 cup spinach or broccoli puree
1 large egg, beaten
1 14oz package extra form tofu
1/4 teaspoon salt
1 tablespoon olive oil
The process for these is, unsurprisingly, the same as for breading pretty much anything else. First dipped in vegged up egg and then in fibered up breadcrumbs. Bake or fry and voila!
To health up the breadcrumbs, mix them with the flax Parm and paprika. Then cut the tofu into nuggets. I sliced the block in half widthwise first so it was half as thick as it was, and then in half lengthwise so I had four blocks. Each of those blocks I cut into 6 more pieces for a total of 24 pieces.
Whisk the pureed broccoli or spinach (I used spinach) and you're ready for dredging!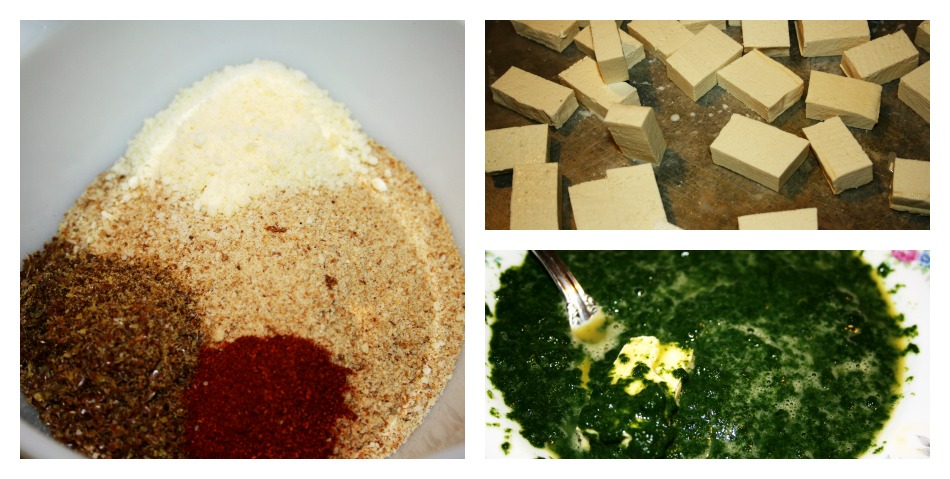 Each piece goes first into the egg and spinach mixture to have something for the coating to stick to, then into the breadcrumb. Done!
Add the olive oil to a frying pan and cook the nuggets for 3-5 minute each side.